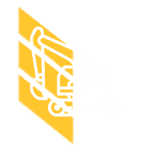 Tell us about your freight. Provide details about what you need shipped, where it is and where it is going.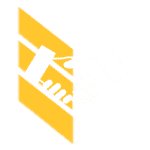 CONNECT WITH A CARRIER
Get Bids from Vetted Carriers and decide a transport provider for yourself, or book instantly and we'll match you with a qualified transport company.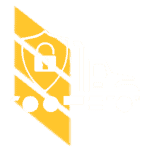 SIT BACK & RELAX
We've partnered with experienced and insured transporters so you know your equipment is in good hands.
Preparing Your Wheel Loader For Transport
Tips, Tricks, and Things You Should Know.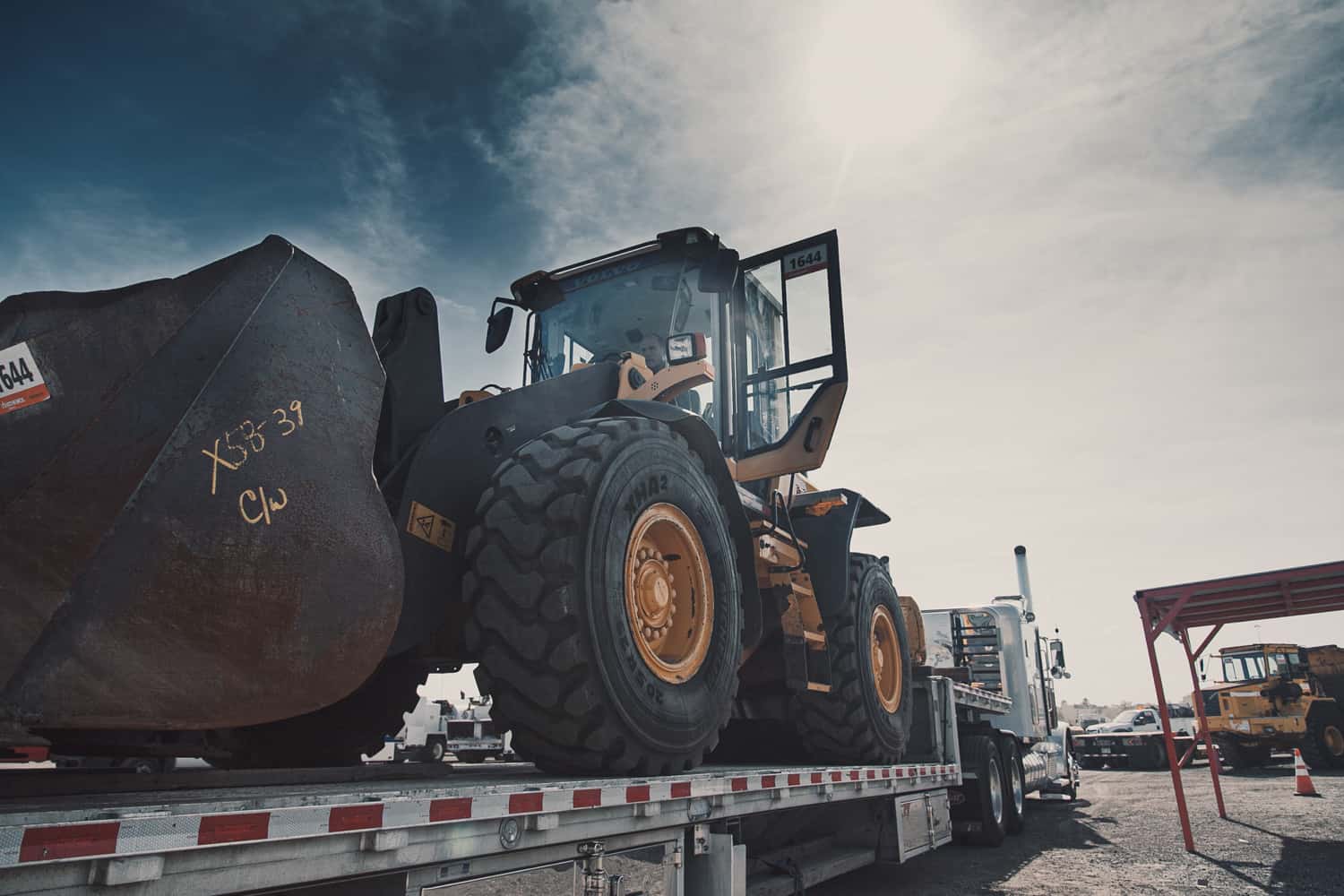 Large wheel loaders are too tall for most roads and bridges, so they rely on trailers to transport them. Lowboy trailers have become a popular choice due to their ability of keeping loads from triggering regulatory requirements such as escort vehicles with height poles or permits that may be required if the trailer is over 13 feet high (or 8 1/2 wide). The width limit is 12 ft.; however, any wider than this will require an OS permit which can make transporting even more difficult!
Machine weight is also a factor on trailer type. If you have a full-size wheel loader or one that is over 40,000 pounds then it will need to be transported on an RGN trailer. If it under 40,000 lbs and ll ft in height, a step deck trailer may be used if desired. Compact wheel loaders can travel aboard flatbed trailers. You'll need access to a dock to load your compact wheel loader aboard a flatbed trailer.
When shipping a wheel loader, the end with the bucket should face away from the rear of your trailer. After loading, make sure that the driver uses the wheel loader's intended transport points to chain it in place. The transport company should use chocks to immobilize the wheels. You may want to tape a sheet of cardboard across your cab window as protection from debris being kicked up during travel time and when dropping off at their destination site, most haulers will send you photos of everything loaded into both ends before hauling away which is great for peace-of-mind - but don't hesitate taking pictures yourself too!
Here are some other tips to make sure your loader is safe while it's in transit?
- Secure loose items
- Remove any extraneous materials (think trash, dirt, rocks)
- Close & latch all windows, hatches, doors.
- If there are poor weather conditions forecasted for the trip then talk with your hauler about how best to prepare!
Let VeriTread Locate A Wheel Loader Transport Company for You
We work with thousands of vetted and certified carriers that specialize in construction transport.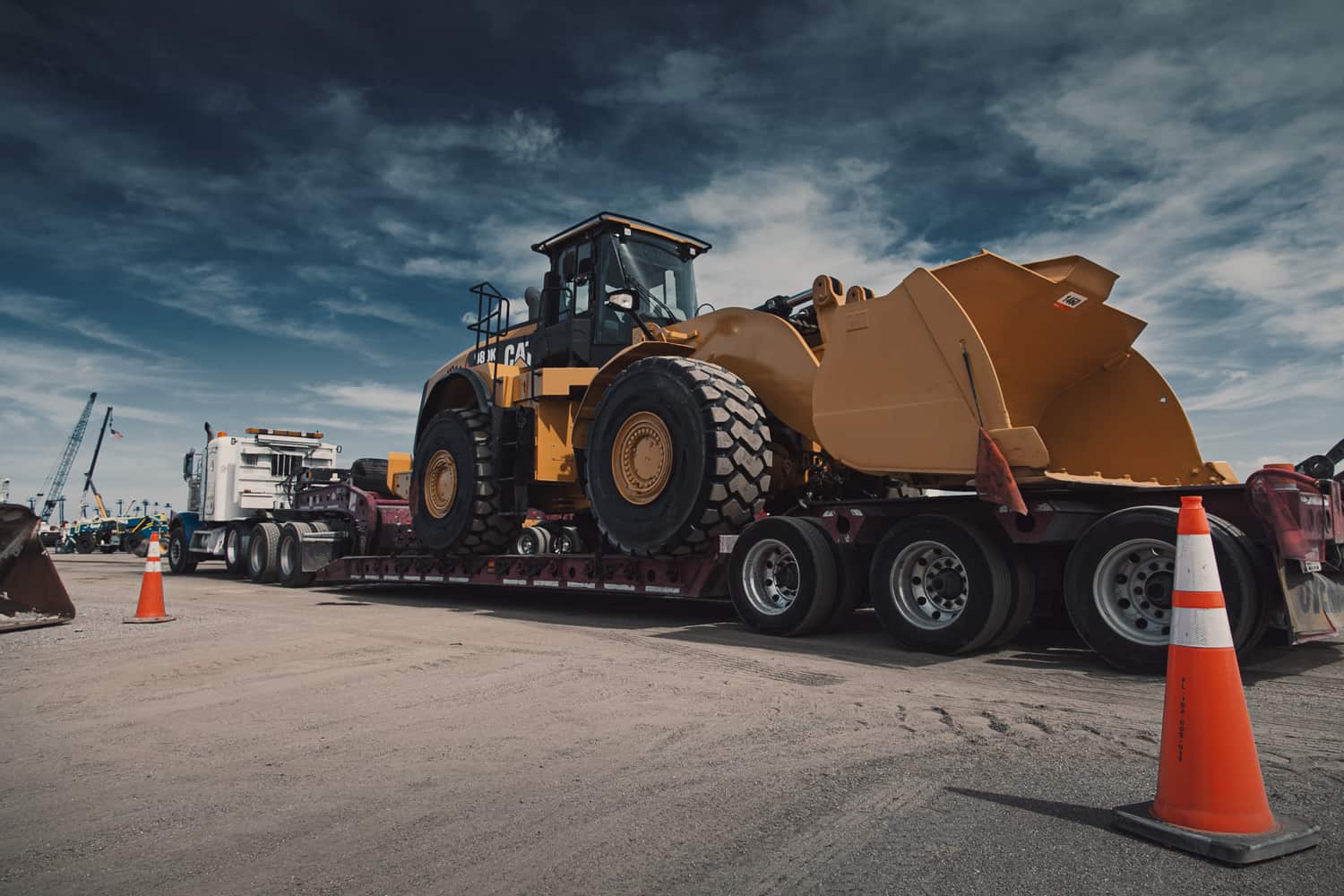 When shipping heavy equipment, it can be difficult and time-consuming to find the right truck that handles your load. Luckily, VeriTread is here for you! Our service connects shippers with qualified transport companies around the country who have extensive experience in transporting wheel loaders along with other heavy machinery and oversize loads.
VeriTread is your total solution to have your wheel loader delivered to any destination in North America. Our versatile platform gives you everything you need to quickly receive trusted quotes, manage your own shipment, or connect you with our full service brokerage team. We supply everything for a stress-free experience, including built-in equipment transport dimensions, expert advice, and cost-saving tips. We provide more detail in fewer steps, leading to better rates, less questions, and a more accountable transportation experience. It's not just easier, it's better and more complete.
Transport Construction Equipment With VeriTread