Flatbed Trailer Types & Transport
Tips, Tricks, and Things You Should Know.
Flatbed trailers are popular, especially because they're often perfect for hauling irregularly shaped cargo like ag machinery such as construction equipment or large vehicles which don't fit into the traditional dry van trailer (e.g., truck).  Flatbed trailers, a category that may also include lowboys or extendable trailers and drop decks among other types.  These trailers, also known as open deck, allow you to load and unload from either the front or back of the trailer without having to go through any doors on the other end. For example, they can be used in mining operations when dealing with excavators which don't fit easily onto car carriers because they're too large or have irregular shapes like buckets or hammers that need room for operation during transport. Flatbeds generally fall into three main types:
Standard Flatbed Trailers
Standard flatbeds are essentially box trailers with no sides, doors, or roof. The trailers are bare platforms that can be 20ft, 40ft, 48ft, or 53ft in length. These platforms are suitable for safely stowing cargo containers of all sizes, and they're regularly used as the transport method of choice between shipping terminals.
Drop Deck Trailers
Single drop-deck trailers are flatbeds with a bed that can be lowered to provide an extra 2ft of clearance overhead. Similarly, double drop-deck trailers have a central portion that lowers even further, allowing for greater flexibility when transporting tall items.
Extended Flatbed Trailers
Extended trailers can increase the usable length of flatbed trailers by almost double. An extended trailer may be the best option if your heavy equipment load is too long to fit on a standard 40ft trailer.
When working with a flatbed transport service, it's important to provide accurate dimensions to ensure the load doesn't exceed legal limits or require a special permit. For example, in Nebraska, loads measuring less than 8.5 feet in width, 14.5 feet in height, and 53 feet in length (for a standard semi-trailer) don't require special permits, and neither do loads with a gross weight of less than 80,000 pounds, although there are some exceptions.
If you are shipping a heavy load, make sure to measure the truck before loading it. If your load exceeds any of these restrictions, then an escort may be required which will delay delivery by days or weeks. However if your measurements fall under maximum height restriction and weight limits for interstate travel (no more than 80 feet in length), then you can avoid this problem altogether with a open deck trailer!
Let VeriTread Locate A Flatbed Transport Company for You
We work with thousands of vetted and certified carriers that specialize in flatbed transport.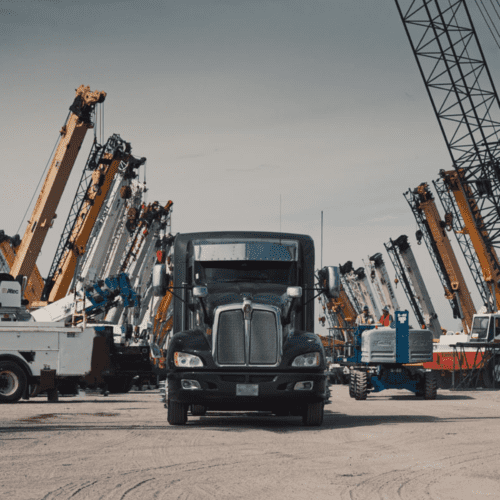 When shipping heavy equipment, it can be difficult and time-consuming to find the right flatbed transport company that can handle your load. Luckily, VeriTread is here for you! Our service connects shippers with qualified transport companies around the country who have extensive experience in transporting heavy machinery and oversize loads.
VeriTread is your total solution to have your flatbed freight delivered to any destination in North America. Our versatile platform gives you everything you need to quickly receive trusted quotes, manage your own shipment, or connect you with our full service brokerage team. We supply everything for a stress-free experience, including built-in equipment transport dimensions, expert advice, and cost-saving tips. We provide more detail in fewer steps, leading to better rates, less questions, and a more accountable transportation experience. It's not just easier, it's better and more complete.