RGN Transport Services
Tips, Tricks, and Things You Should Know.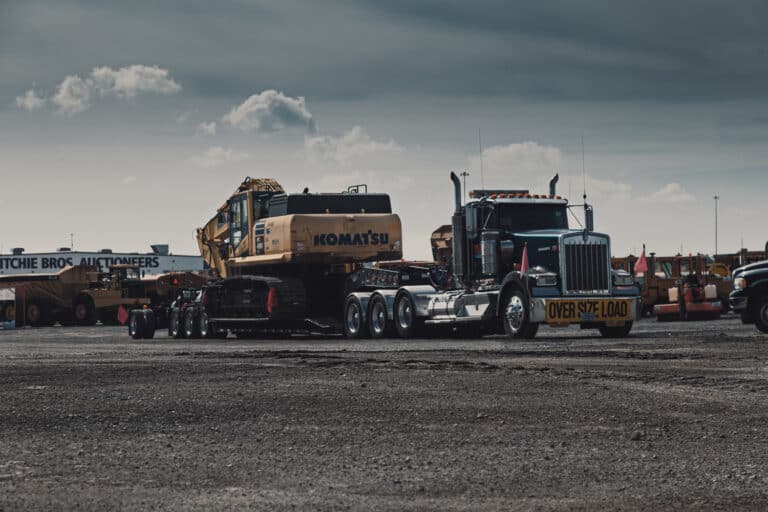 RGN trailers are perfect for carrying long and tall loads. The front detaches to create a ramp so that the load can be driven onto it, like large commercial trucks, construction machinery, or agricultural equipment. RGNs can go up to 20+ axles and carry 150,000 pounds of freight! With its deck detachable from the gooseneck, it's easy to drive machinery onto/off this type of platform without having to deal with ramps!
Maximum dimensions for a RGN trailer:
• Maximum freight weight: 42,000 pounds
• Maximum well length: 29 ft. (main deck)
• Maximum well width: 8.5 ft.
• Maximum legal freight height: 11.6 ft
RGN shipping equipment consists of three main elements, a gooseneck that connects the trailer to the truck cab, a drop deck, and a step back up over the rear axles of the trailer. The well created by the drop deck allows for taller equipment to meet the rules and regulations associated with heavy equipment transport, as it holds machinery lower to the ground so that they don't exceed maximum height restrictions.
• Easier to load via forklift
• Can transports taller loads without requiring additional permits
• Suitable for towing a wide variety of equipment
• Goods can be stacked on the lower level to transport more at a time
RGN and lowboy trailers are both great for hauling equipment, but depending on your needs one may be better than the other. If you need to drive a shipment onto your trailer or if it would just make life easier in general, RGN is going to work best because they're specially designed with this purpose. If you are looking for a low-cost option, consider using a lowboy instead of an RGN for transport if your load can be accommodated.
If you're looking for a qualified transport company or driver with extensive experience in RGN transport and oversize/overweight loads in general, you've found the right place at VeriTread.
Let VeriTread Locate A RGN Transport Company for You
We work with thousands of vetted and certified carriers that specialize in RGN transport.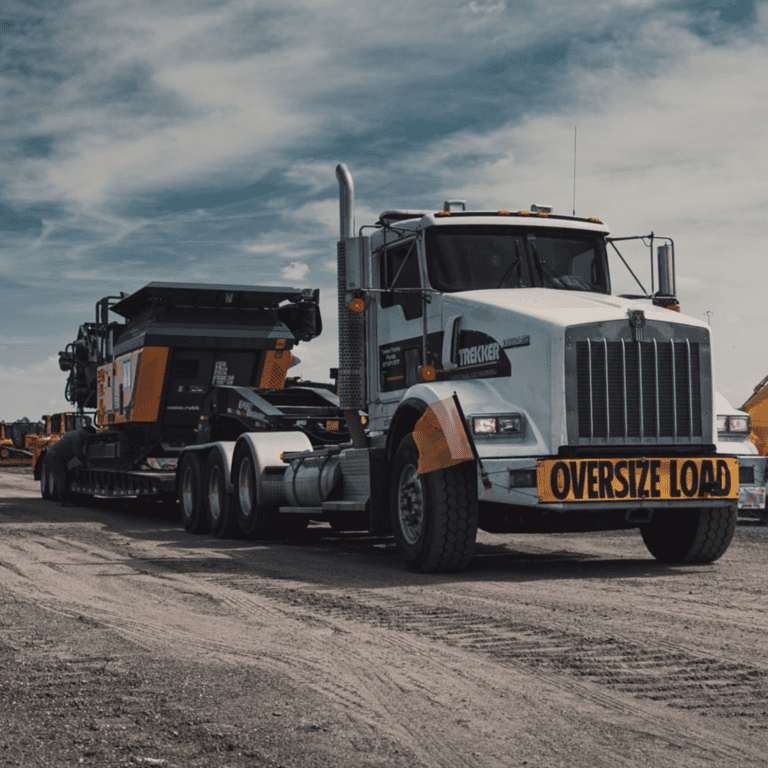 When shipping heavy equipment, it can be difficult and time-consuming to find the right truck that handles your RGN load. Luckily, VeriTread is here for you! Our service connects shippers with qualified transport companies around the country who have extensive experience in RGN transport along with other specialized and oversize loads.
VeriTread is your total solution to have your RGN load delivered to any destination in North America. Our versatile platform gives you everything you need to quickly receive trusted quotes, manage your own shipment, or connect you with our full service brokerage team. We supply everything for a stress-free experience, including built-in equipment transport dimensions, expert advice, and cost-saving tips. We provide more detail in fewer steps, leading to better rates, less questions, and a more accountable transportation experience. It's not just easier, it's better and more complete.