What is a Landoll | Sliding Axle Trailer?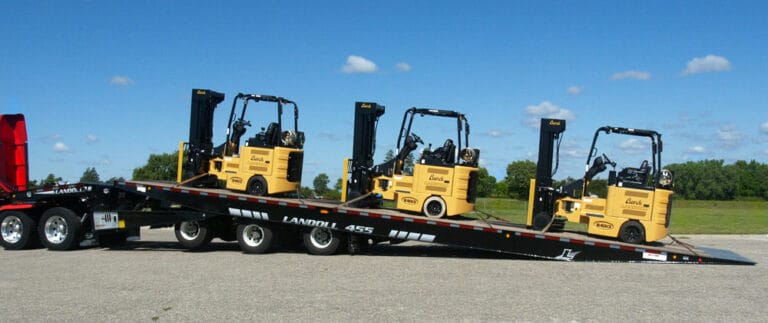 Many transport providers have found sliding axles trailers (aka landoll or traveling axle trailers) provide the ideal combination of features to increase safety and versatility. However, like any trailer, maximizing these benefits relies on a careful matching of product specs with the individual operation. There are three factors that can make for an excellent choice: load capacity, and deck length, and deck height
Next, what's your desired weight limits? Sliding axles typically come in two varieties: one designed specifically to handle larger machinery (making it good for those carrying excavator blades) need to pay close attention to the manufacturer's 10-ft. capacity rating. Those wanting to haul mixed loads of small and mid-sized construction machines, such as skid steers or lifts, should carefully consider the overall capacity. This number tells you how many pieces of equipment, such as mini-excavators or concrete road dividers, you can safely transport on the trailer deck.
Depending on your hauling needs, you may choose from a number of deck lengths. Short loaders will find customization especially cost effective because it allows them to select the length that is most useful for their hauling needs. This customization is great for businesses that often haul mixed or concentrated short loads, since it allows them to choose a length that works best in the areas they will be used.
Loaded deck height is another spec you should keep in mind to limit permit costs and maximize productivity. Within the U.S., legal load height is 13 ft. 6 in., but with many overhead obstacles that are even lower especially in urban environments. A traveling axle trailer with a low loaded deck height of 36 in. provides optimal flexibility for transporting taller equipment.
Let VeriTread Locate A Landoll | Sliding Axle Trailer Transport Company for You
We work with thousands of vetted and certified carriers that specialize in trailer transport.
When shipping heavy equipment, it can be difficult and time-consuming to find the right transport provider that handles your sliding axle - Landoll trailer load. Luckily, VeriTread is here for you! Our service connects shippers with qualified transport companies around the country who have extensive experience in traveling axle trailer transport along with other specialized and oversize loads.
VeriTread is your total solution to have your sliding axle load delivered to any destination in North America. Our versatile platform gives you everything you need to quickly receive trusted quotes, manage your own shipment, or connect you with our full service brokerage team. We supply everything for a stress-free experience, including built-in equipment transport dimensions, expert advice, and cost-saving tips. We provide more detail in fewer steps, leading to better rates, less questions, and a more accountable transportation experience. It's not just easier, it's better and more complete.