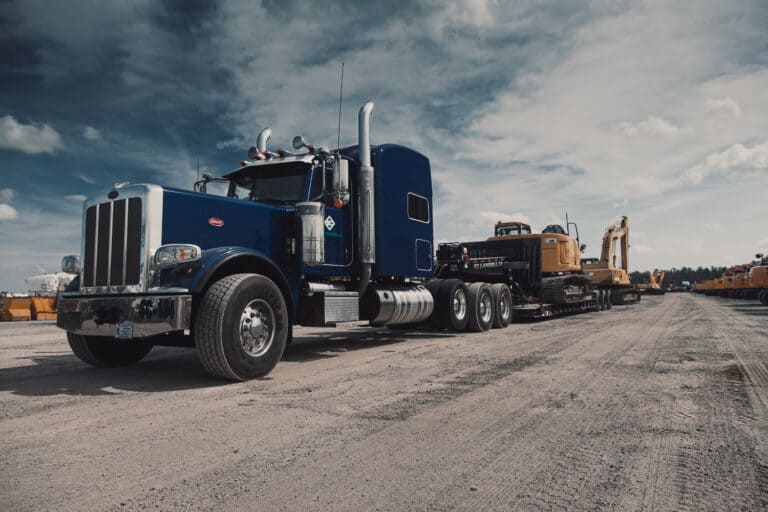 It started in the 1920s, Lowboy trailers became a popular trailer type and from there they became more in-demand. they got their name from having a deck that's lower to the ground than on other trailers. In terms of design, initial models utilized a riveted gooseneck at the front of the trailer to attach to the truck cab. On the rear, the trailer had solid rubber tires. For the first time, operable equipment could be driven onto the trailer's deck, with the solid rubber tires and rear axles bearing a lot of the weight during the loading process.
By the 1950s, lowboy trailer designs had improved enough to make heavy equipment loading much more comfortable and efficient for all involved, through improvements made to load-bearing capacity and making the front gooseneck detachable so that front-loading was also an option, in the beginning, the first lowboys could only be loaded from the rear end of the trailer, somewhat limiting how truckers could load heavy cargo.
Lowboy trailers are often used to transport machinery and heavy equipment. A lowboy trailer is a semi-trailer with a drop-deck. Its deck has two drops–one immediately behind the gooseneck and the other just before the wheels. That means the tail end of the lowboy trailer sits above the well but remains lower than its front. This is why lowboy trailers are also referred to as double drops, low-beds, low loaders, or floaters depending on where in the world you are.
The maximum dimensions of a lowboy trailer may vary slightly as follows:
● Maximum well length – 24 feet to 29.6 feet
● Maximum well height – 18 inches to 24 inches
● Maximum legal width – 8.5 feet
● Maximum legal freight height – 11.5 feet to 12 feet
● Maximum legal overall load height – 14 feet
A two-axle lowboy trailer's maximum weight is 40,000 pounds but can be increased to as much as 80,000 pounds depending on the number of axles. A 25-ton lowboy trailer can ship over 50,000 pounds while a 35-ton trailer can move more than 70,000 pounds. The most common truck and lowboy trailer configuration will have a tri-axle semi-trailer truck.
Different Types of Lowboy Trailers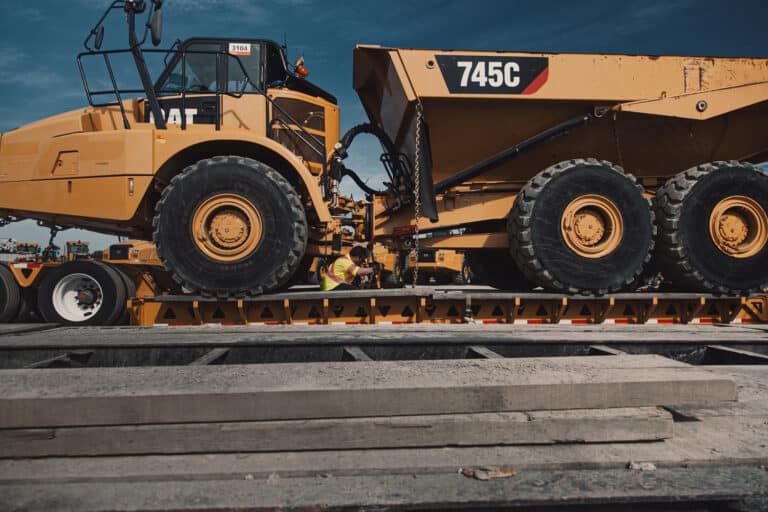 There are different types of lowboy trailers. The most widely-used categorization is based on how the gooseneck is attached to the trailer.
Fixed Neck Lowboy
A fixed neck lowboy is fitted to the trailer. This makes it a lightweight alternative. The fixed style implies it is harder to load from the front of the trailer.
Fixed Gooseneck Lowboy
Fixed gooseneck lowboys (FGLs) have drop decks that make them easy to load from both the back and the front. The gooseneck itself is adjustable and, once reattached, ensures the cargo on the trailer stays in position.
Removable Gooseneck Lowboy (RGN)
Removable gooseneck lowboys (RGNs) are the ultimate heavy duty haulers. RGNs can have as many as 20 axles giving them the power to carry as much as 150,000 pounds of cargo. They come in handy when the cargo needs to be pulled, pushed, rolled, or driven onto the trailer bed. You may also load bulkier, heavier items from above if need be. RGNs are also known as detachable gooseneck lowboys.
There are two types of RGNs.
Hydraulic RGNs
Hydraulic RGNs are the most common lowboy trailers. They use hydraulic cylinders that perform trailer detachment and height adjustment with ease. Trailer operators can retain a low center of gravity in instances where loads are unusually tall.
The hydraulic systems add significant weight to hydraulic RGN trailers thus lowering the overall carrying capacity. They require more frequent and elaborate maintenance than mechanical RGNs. Hydraulic RGNs are expensive as well.
Mechanical RGNs
Mechanical RGNs use a manual or spring mechanism to lift the ramp. Most people opt for hydraulic RGNs but there are situations where mechanical RGNs are the better option. For example, a mechanical RGN will be your best alternative in long-distance trucking where the load is expected to remain on the trailer for several days. They are also preferred where unloading must be done on hard, smooth surfaces. Mechanical RGNs are harder to operate, but also have lighter weight and less maintenance overall.
Why use a Lowboy Trailer?
Lowboy trailers are preferred for moving bulldozers, excavators, backhoe loaders, and other outsized equipment or cargo. While we've briefly touched on some of the advantages of using lowboy trailers, e.g., simpler front and rear loading, there are numerous reasons to consider using a lowboy trailer for your next heavy equipment order. Additional advantages compared to other trailer types include:
- Improved stability, thanks to the low center of gravity
- Improved safety, thanks to high-strength material construction
- Additional versatility in terms of load types
- Their ability to help oversized equipment comply with height regulations
- Suitability for both heavy loads and over-dimensional cargo transportation
Stability
The low-lying deck of lowboy trailers means they have a low center of gravity. They are more stable than other trailer types when moving heavy or large cargo.
Safety
Lowboy trailers are designed to carry heavy and large loads that would otherwise be dangerous to haul with other trailer types. Large, heavy cargo can be loaded and offloaded with relative ease.
Versatile
Lowboy trailers can carry not just heavy cargo but over-width loads. Heavy industrial and construction equipment is often unusually wide. A trucking company that handles a wide range of cargo does not need several different types of trailers. Lowboy trailers can handle almost any type of cargo as long as it falls within their carrying capacity.
Compliance with Height & Weight Restrictions
Some countries, regions, and areas have laws that outline the height of cargo that can be moved by road. Lowboy trailers allow trucking companies to transport large cargo without breaking applicable laws. Loads may be as tall as 14 feet. The lowboy trailer's design allows it to sit unusually close to the ground when compared to regular flatbed trailers. This makes it best-suited for transporting items whose height would otherwise exceed standard height limits for road freight if they were to be moved via other trailer types.
Certain states/providences have regulated weight requirements. They must comply with the federal bridge formula (disbursement of weight) as well as permissible travel times combined with length, width, height, and weight restrictions in able to be transported over the interstates, highways, and roads within each jurisdiction.
With support for extra tall and extra heavy loads, lowboy trailers are often used to transport heavy construction machinery like excavators or backhoe loaders, ag equipment like harvesters and tractors, and all kinds of oilfield equipment. A lowboy trailer's clearance is also a boon for machines with large rubber tires, such as articulated trucks, cranes, and dozers. Haulers might opt for RGN trailers for equipment that requires low load angles, such as pavers and scissor lifts.
Finding an expert in lowboy transportation services, such as the transport companies with VeriTread, eliminates the need for shippers to find the exact lowboy trailer to support the height, width, and weight restrictions for the heavy machinery in question.