May 25, 2022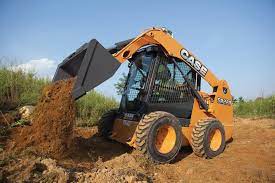 What is a Skid Steer?
The first skid steer loader was invented in 1957, by two brothers who needed to clean out a turkey barn. Today, Skid Steer loaders are popular pieces of heavy equipment with lots of attachment options. Skid Steer Loaders are used for construction, landscaping, agriculture and material handling.
Skid Steer loaders are generally four-wheeled or tracked vehicles with the front and back wheels on each side mechanically linked together to turn at the same speed, and where the left-side drive wheels can be driven independently of the right-side drive wheels. This is accomplished by having two separate and independent transmissions; one for the left side wheels and one for the right side wheels.
Skid Steers are small, versatile, and maneuverable, which makes them perfect for smaller jobs. A Skid Steer is usually equipped with a bucket and is used for lifting and moving heavy materials. Skid Steers are used for: excavating, construction, landscaping, trenching, digging, and clearing snow.
What are the parts of a Skid Steer?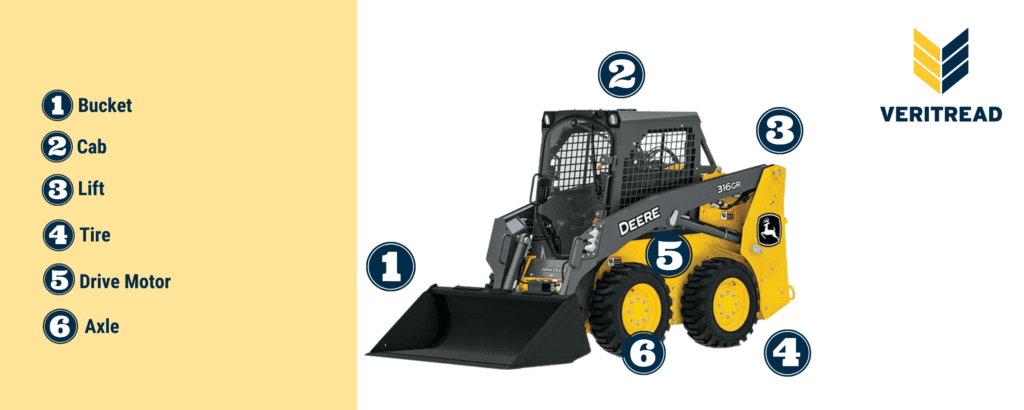 Skid Steers contain hundreds of mechanical parts, but the core components are:
Bucket
Cab
Lift
Tire
Drive Motor
Axle
What are the Controls for a Skid Steer?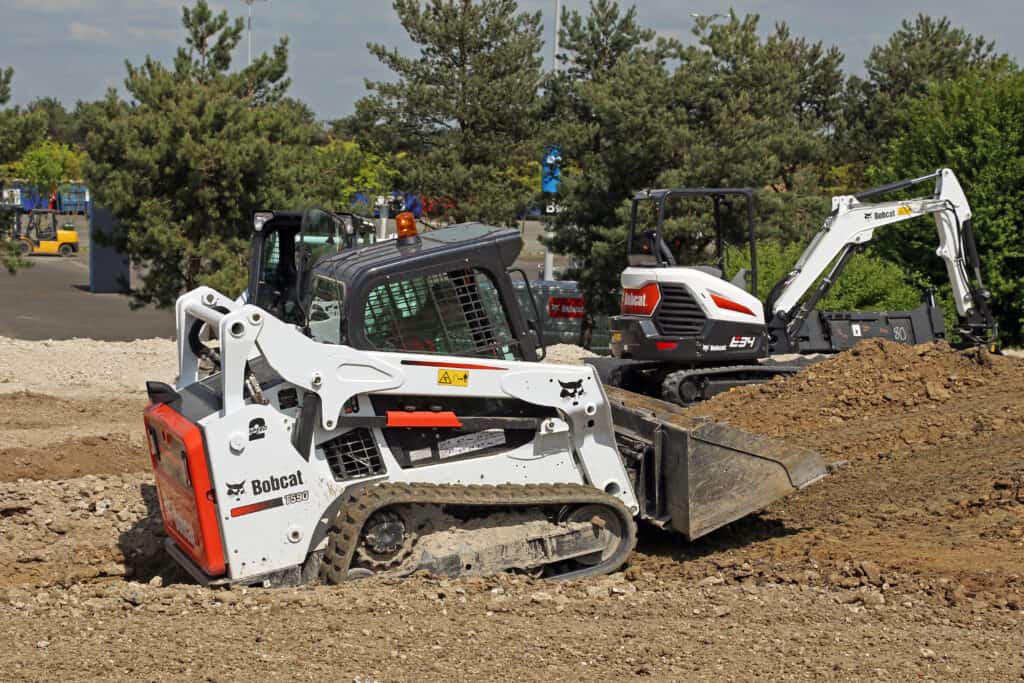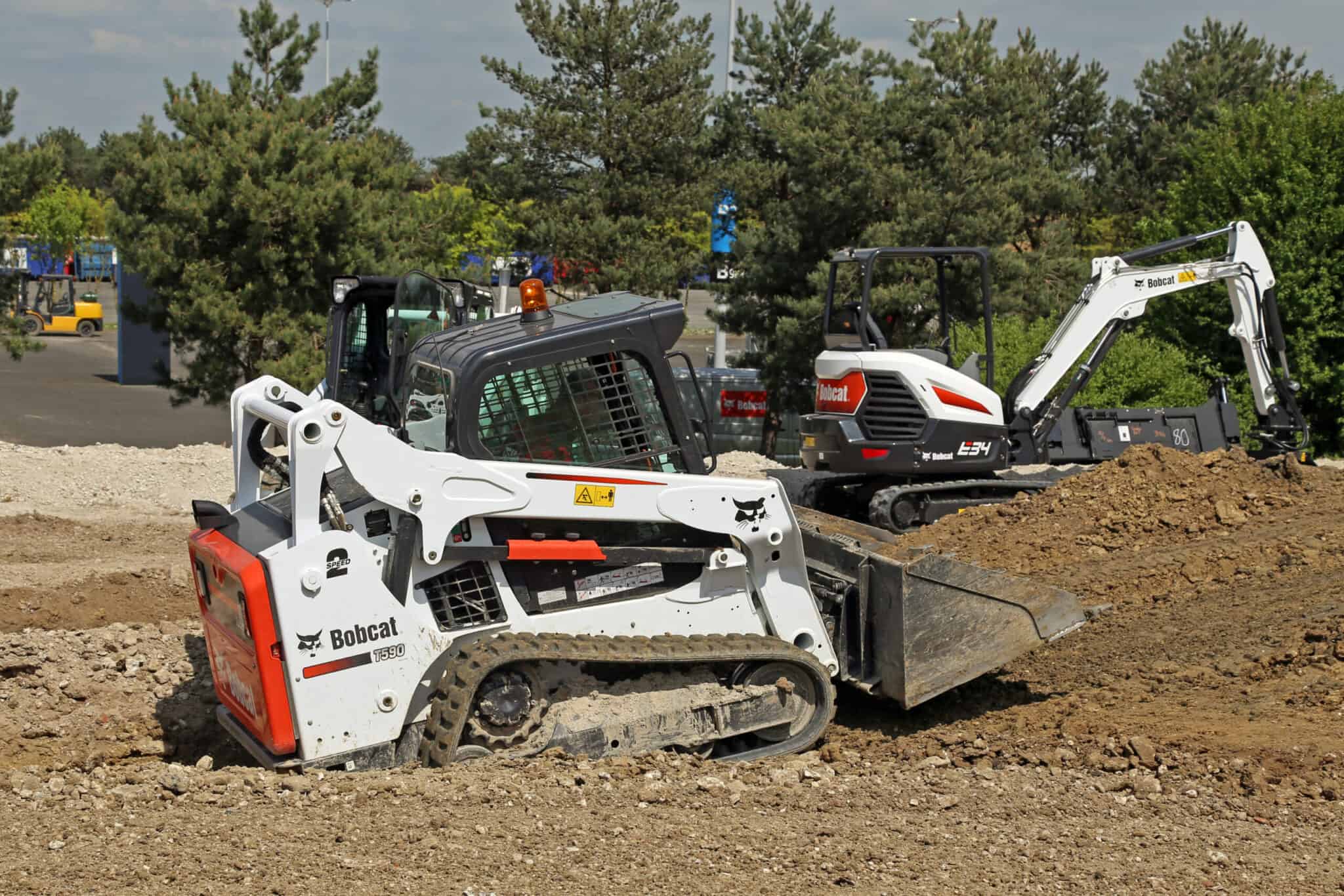 Skid Steer loaders feature fairly straightforward controls, with the following primary components:
A skid steer has two steering handles that are located on each side of the seat arm rests.
Diesel engines have an engine preheater that usually runs around 20 seconds
Skid steer have several safety switches that must be engaged before operations. Most all skid steers have a safety brake that must be disengaged before operation.
Start the engine, push both safety switches and look for a throttle handle beside the seat on the right-hand side, with a slot to slide forward and backward in. There is usually a turtle image on one end of the slot and rabbit on the other. Turtle moving faster, Rabbit slower.
Skid Steers are usually controlled by both foot and hand controls. The hand controls steering and acceleration while the foot controls the boom and bucket or attachment.
Use both the forward handles to travel forward.
To reverse, pull the handles back.
The left lever and right lever will control the direction of the machine.
Pushing only the right stick will steer the machine to the left. Pushing on the left lever will steer the machine right.
To control the bucket, use the pedals at your feet. The left pedal will move the arms up and down, and the right pedal will tip the bucket forward. To bring the bucket back, press the back of the right foot pedal.
Before exiting the Skid Steer, ensure you have switched the engine off and applied your brake.
What Attachments Can Be Used With a Skid Steer?
Skid Steers can use many different types of attachments that help diversify the function of the Skid Steer. Depending on the size and weight of your Skid Steer, a specific attachment may or may not be available. Types of attachments are:
Augers Adapters, Bits, and Extensions
Snow Plow Blade, Blower, Bucket, Pusher
Backhoe Attachment
Bale Squeeze
Broom
Brush Cutter
Bucket
Cold Planer
Disc Mulchers/Drum Mulchers
Excavator Screening Buckets
Grapples
Hay Spears
Hydraulic Pallet Forks
Log Splitter
Broom
Rake
Rototiller
Fence Installer
Ripper
Spreader
Stump Grinder
Brush Cutter
Tree Boom, Grubber, Puller, Shear
Trencher
With VeriTread, we will find the right transportation services that work for your specific needs. We have recommended trailers that are designed to accommodate a variety of different shapes and sizes of heavy equipment, including Skid Steers. When it comes to how to haul a Skid Steer, we generally recommend using an open deck trailer, which is better designed to accommodate a Skid Steer's unique shape. One of the best open deck trailers to haul a Skid Steer is a flatbed trailer.
We understand some people might have concerns because open deck trailers expose equipment to outside elements like rain or debris, but we know how to handle these situations. For instance, some carriers tape cardboard across the cab window to protect it from debris. Our drivers are experienced and know how to accommodate hauling Skid Steers in less than favorable conditions. With years of experience, you can count on VeriTread carriers to get the job done safely and effectively.
Why choose VeriTread?
VeriTread is your go to solution for hauling a skid steer. We can have your Skid Steer delivered to any destination in North America in a safe and timely manner. We are experts at handling paperwork, selecting the right trailers and drivers, and charting the most efficient routes.
VeriTread makes it easy to get reliable freight quotes from the experts in equipment transport. VeriTread moves thousands of machines every year and can quickly generate a reliable quote on the go. Our extensive specs and dimensions database of 60,000+ items, ensures you spend less time researching and more time putting your equipment to work. The VeriTread freight quote process is the simplest way to prepare for transport of your machines. Follow these easy steps, and you will receive a quote in under one minute:
Enter a Manufacturer & Model
Verify or Edit Your Machine Dimensions
Enter Pickup & Drop Off Locations
Your Quote is Ready!
We believe our suite of innovative decision tools empower our customer to make smarter and more informed transportation decisions, reducing overall uncertainty, and delivering a better experience for all.
Getting started with VeriTread is easy. You can visit our contact form or call (800) 880-0468 or (863) 226-0903 for international calls.