EXTENDED FEATURES THAT HELP YOU DELIVER
VeriTread's robust feature set elevates your shipping experience to the next level.
Features that Help You Deliver
---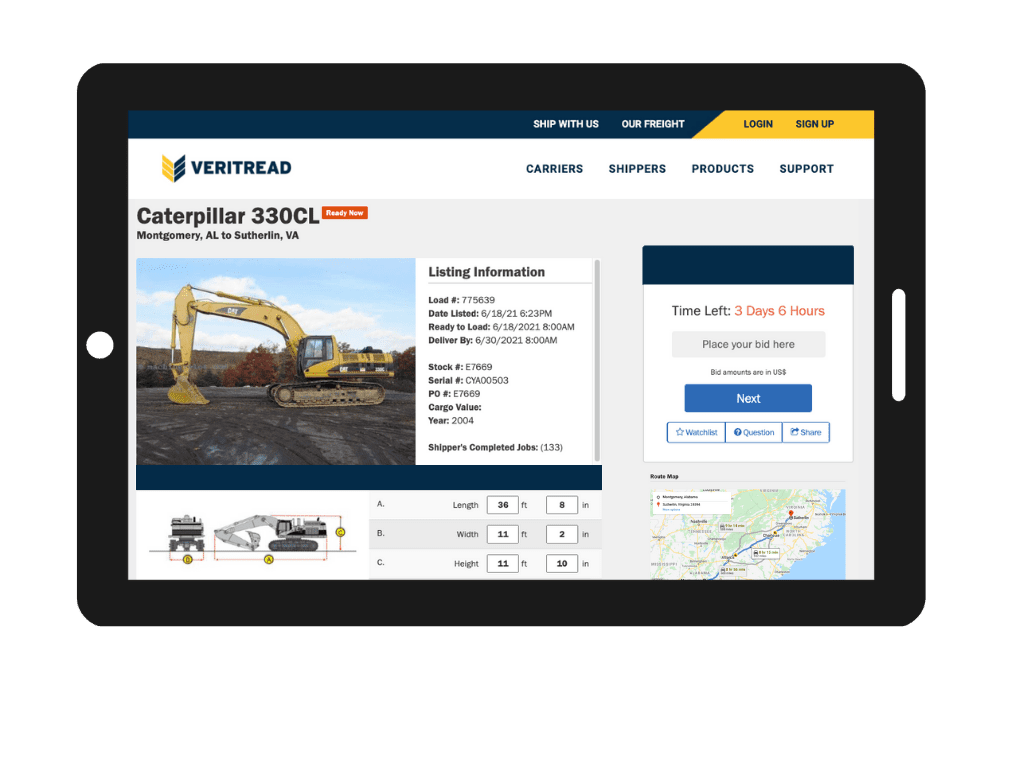 VeriTread's Equipment Specs Database
VeriTread's Specification Database contains detailed transportation dimensions for over 61,000 pieces of equipment. Every item has been meticulously cataloged and includes stock photos and schematic diagrams.
Transportation specifications are a critical and hard to find component when determining pricing, routing, permitting, and trailer selection. These specifications benefit both shipping customers and transportation companies by establishing a clear baseline for negotiations. Integrated specs make the process seamless, while eliminating uncertainty.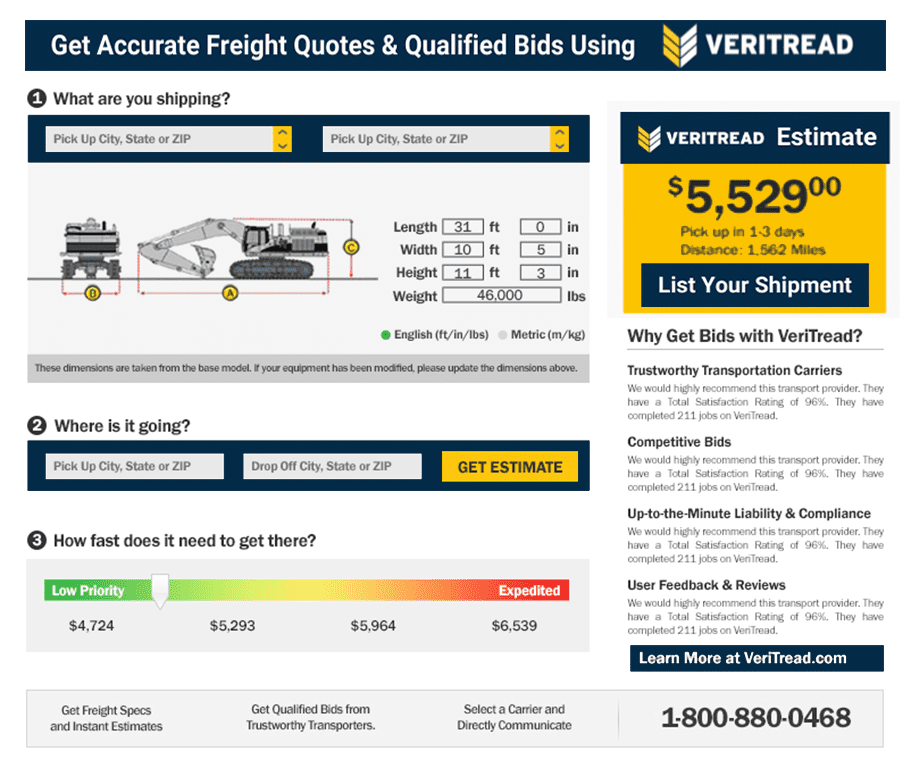 VeriTread's Freight Estimator
VeriTread's proprietary Freight Estimating tool saves time by fully automating the complex estimating process. As the only estimating tool built around actual costs, fast and reliable freight estimates are now just a click away.
When equipment buyers know their transportation costs upfront they are more comfortable making online purchases and expanding their geographic purchase ranges. This Java based widget is easy for any online equipment reseller or auction house to embed on top of their existing technology stack.
The VeriTread Estimator has delivered over 2 million electronic estimates, with excellence in customer satisfaction.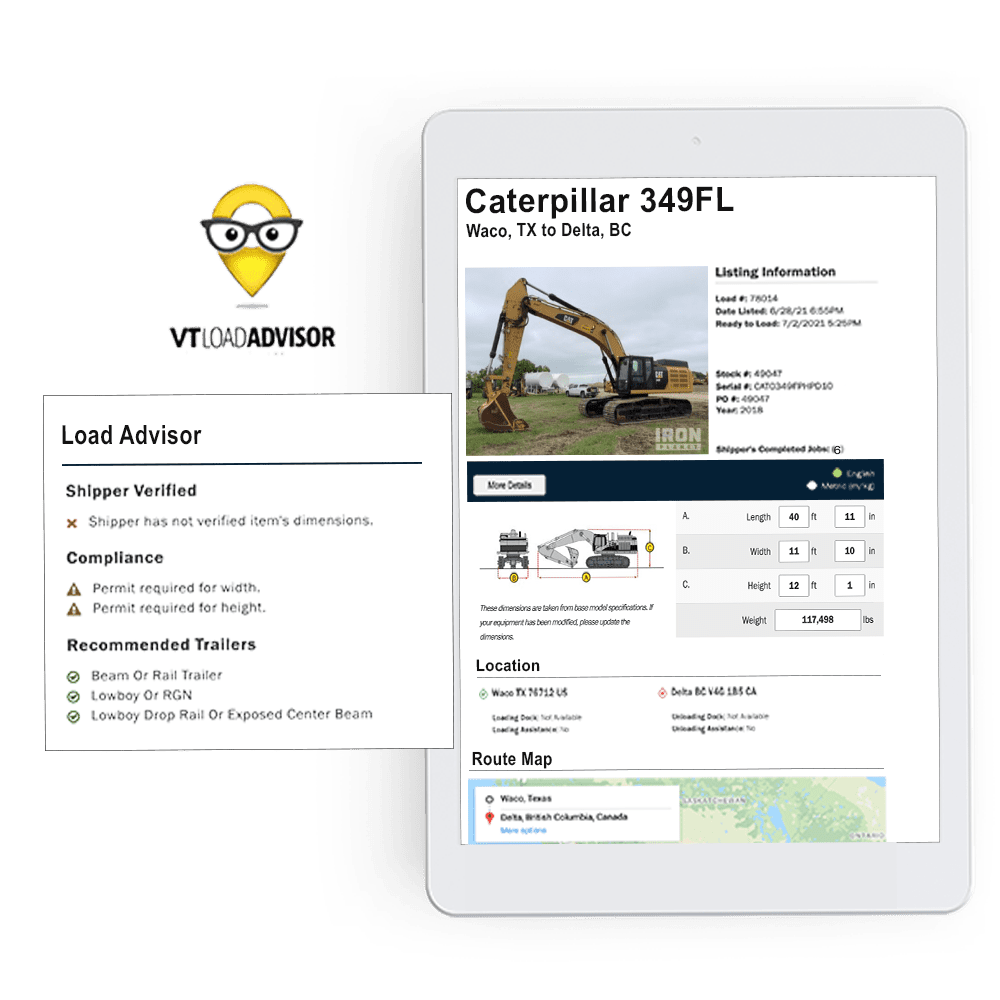 You don't have to be an expert to be an expert. The VeriTread Load Advisor creates a more predictable transportation experience by clearly identifying all of the industry secrets and insider knowledge required to efficiently transport large items. This tool electronically identifies required trailer types, loading restrictions, port protocols, and even necessary permits for a given item.
This unique capability gives buyers a greater level of confidence by eliminating uncertainty from the process and creating an easy to follow transportation game plan.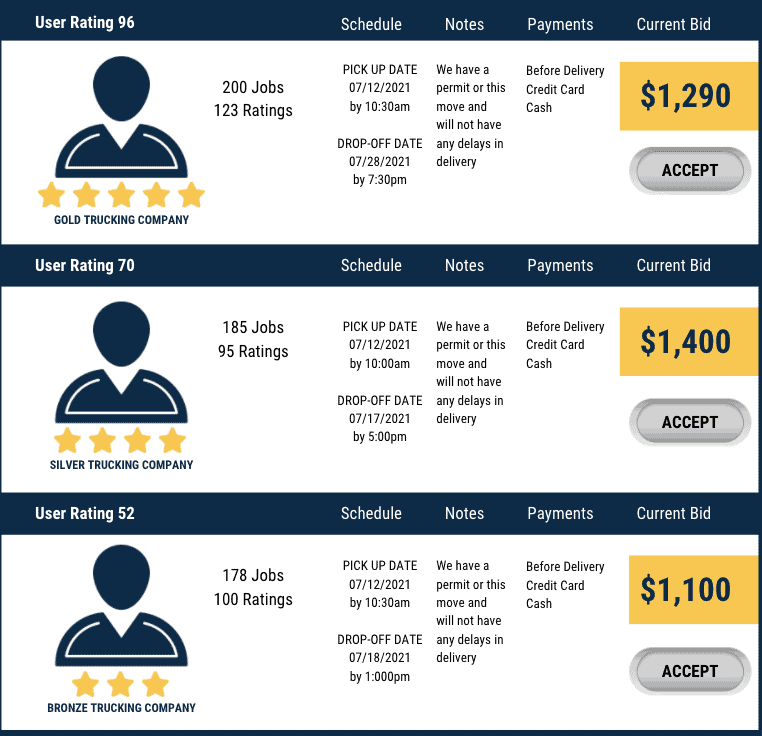 VeriTread's Bidding Engine
Shipping customers can easily get multiple competing bids from pre-qualified transport providers. They can collect estimates, name their own price, or start a public or blind-bid freight auction. It's safe, secure, and effective. They can also negotiate, book, and dispatch all online.
This saves the shipping customers time by automating the bidding process and eliminating unwanted phone calls. This also saves the shipping customers money by extending their reach and getting them more competitive bids than a manual process. For high volume shippers, the bidding engine encourages a discipline of getting competitive bids before selecting a provider.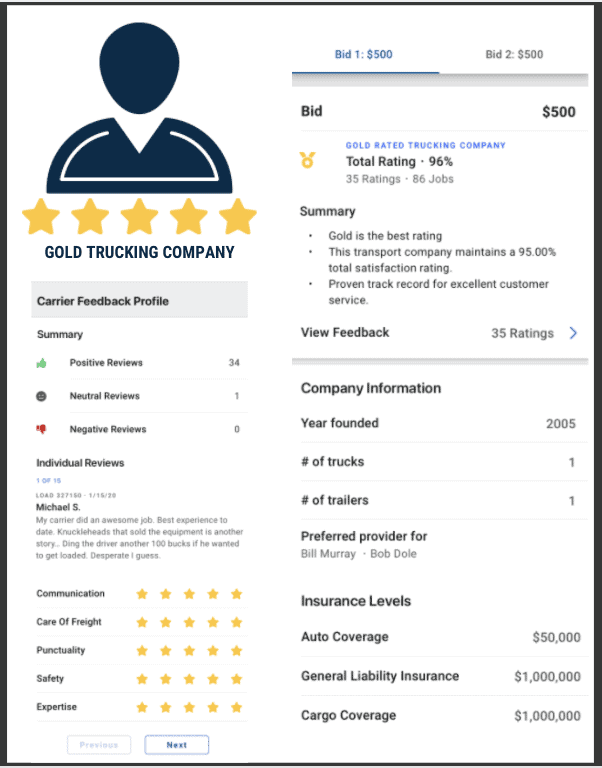 VeriTread's Vetting & Rating System
Only companies that are properly licensed and insured are able to bid inside VeriTread's marketplace. Our exclusive rating and feedback system show never before seen details on every service provider. VT monitors insurance levels and compliance information in real-time. We also provide member based feedback, as well as a proprietary customer satisfaction scoring system. VT's rating system demonstrates our hard-line commitment to accountability and integrity.
This gives the shipping customers added confidence in whom they choose to do business. It empowers them to make the smartest and most informed decision possible. It also incentivizes trucking companies to provide the best possible service.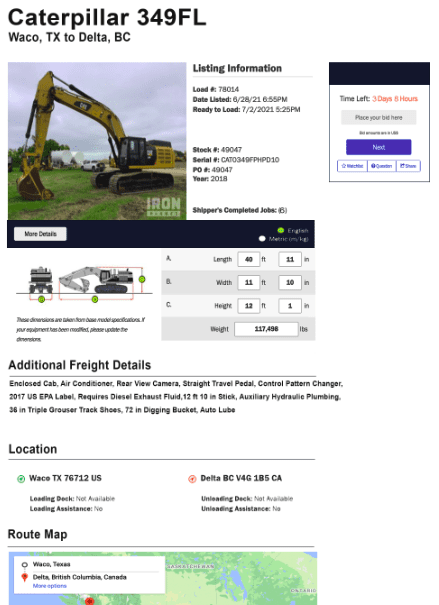 VeriTread's Process Management
With over a decade of hands-on experience behind us, VeriTread has developed a seamless workflow and standardized process that previously had been missing from the industry. Every VT generated form and email has been meticulously designed to set clear expectations and assign responsibility in a way that minimizes finger-pointing and unexpected surprises.
Our ability to generate and deliver legal Bills of Lading(s) on every VT managed load is a critical component for our integration partners. It satisfies a Sarbanes Oxley (SOX) requirement, while enabling the determination of the appropriate level of sales tax per item.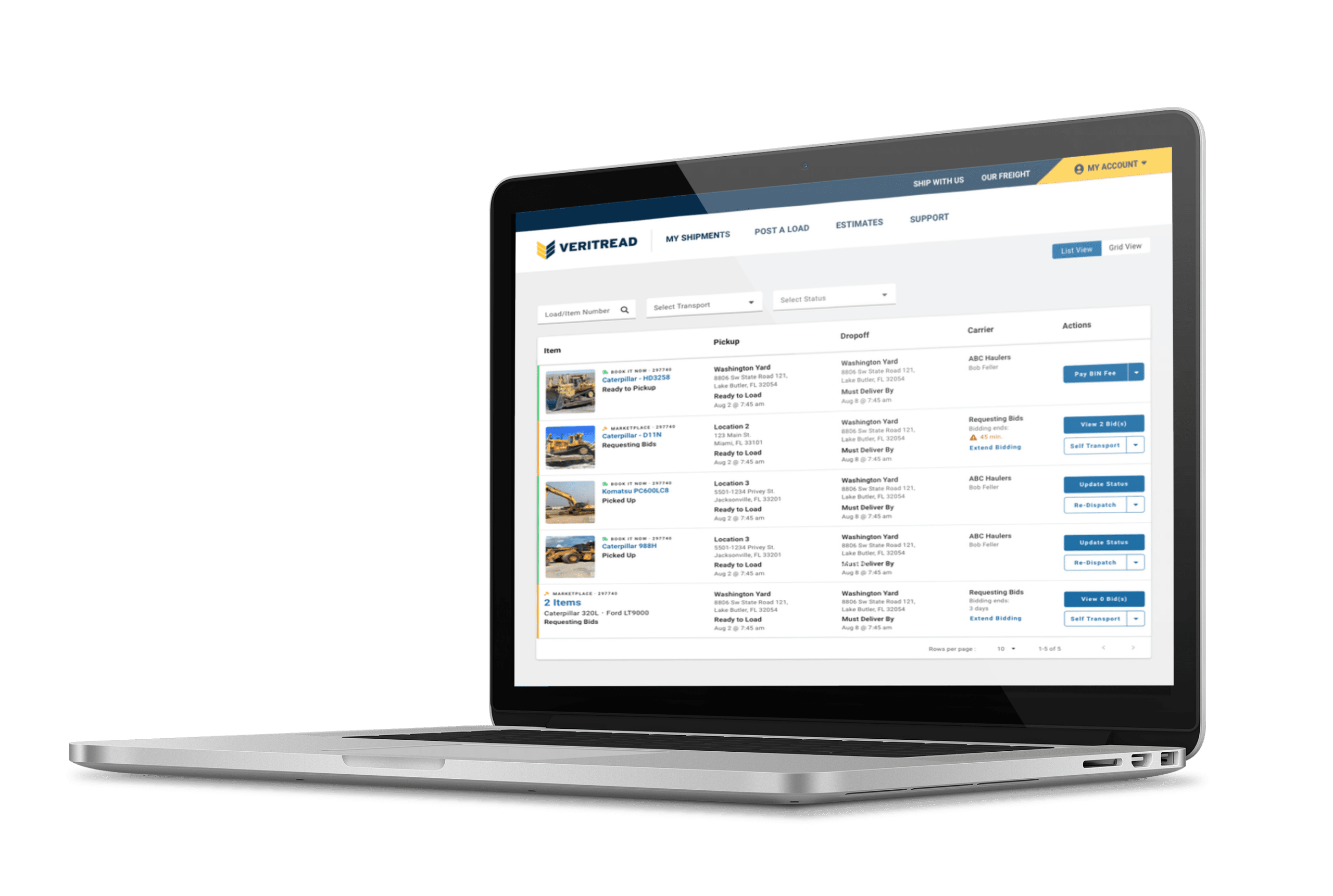 VeriTread's Control Center
Everything comes together inside the VeriTread Control Center. This central hub is where Shipping Customers and Service Providers can track, manage, and update their shipments. For high volume shipping customers, the ability to see their full freight picture from a central location leads to improved truck utilization with greater insight to backhaul opportunities.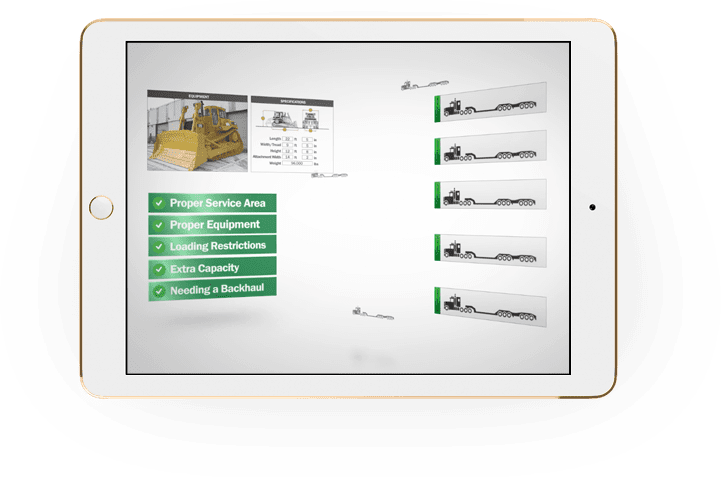 VeriTread's Automatch - The Bigger Picture
VeriTread is the first and only company that has crafted the ability to electronically match hard to move freight with actual service provider capacity. Aligning these complexities is made possible by combining VeriTread's intellectual capital in a meaningful way.
VeriTread believes that VT Automatch creates a win-win solution that improves efficiency industry wide. Shipping customers save money by being able to find the right truck, in the right place, at the right time. Trucking companies profit from having their assets fully utilized. Both sides profit through a lessened reliance on freight brokers (3PL's) who require additional fees.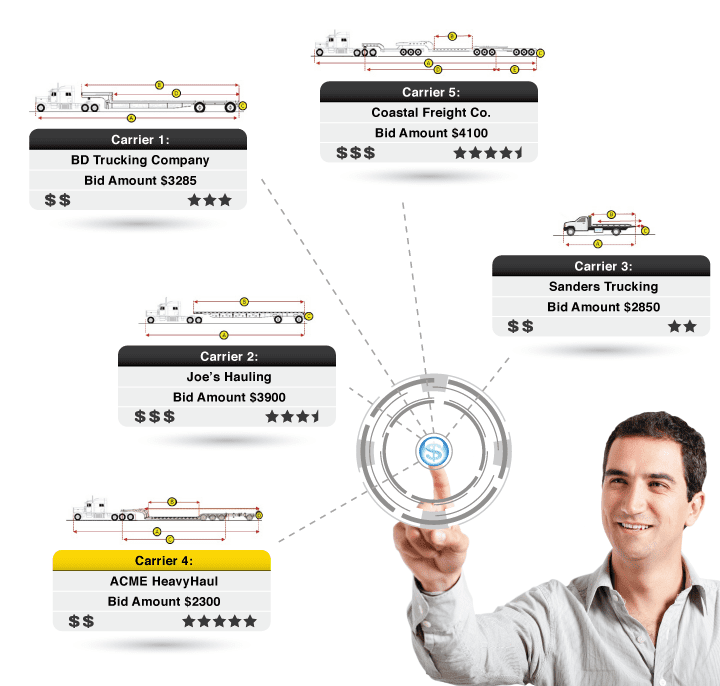 VeriTread's Carrier Network
VeriTread has the industry's only premium network of Transportation Service Providers (TSP's). We restrict access to only qualified TSP's who are properly licensed, bonded, and insured. Many of these TSP's have longstanding relationships with VeriTread that span many years, or in some cases multiple generations. VeriTread treats every TSP fairly and equitably. In return we demand open and honest communication, along with the highest possible level of customer service.
Using prequalified TSP's reduces overall risk and helps ensure a positive shipping experience. Cultivating mutually beneficial relationships builds loyalty which leads to fewer customer service issues, less friction, and ultimately, more satisfied customers.
---
Earn extra revenue and provide your customers with the industry's most advanced transportation solution.