How to Transport a Mobile Home
March 18, 2022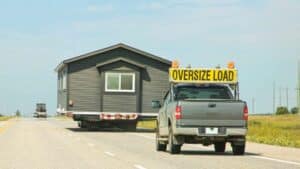 To transport a mobile home is no easy task. You see them being transferred on a trailer, pulled by a truck on the highway, but the process to move these homes is just not that simple.
A mobile home gives off the idea of mobility and flexibility; however, they are in fact stationary homes with wheels. More than 90% of mobile homes, also called manufactured homes never move from the location where they were first installed. If you are planning on moving a current one or purchasing a new one, you will want to consider what it takes to move it, and the costs associated with the move.
To transport a mobile home, you will want to hire a professional company who specialize in moving larger units, VeriTread can help you connect with the right professional for the job. The mobile home will be placed on a large flat-bed and towed. Prices are based on the distance and differ if you are moving a single or double-wide home.
Load Types to Transport a Mobile Home
Legal: Any load within the following specifications:

42′ ft x 8′ 4″ ft x 13′ 6″ ft – Weight > 16,000 lbs

Oversize: Any load that exceeds legal allowed specializations is considered oversize and requires permitting.
Single-Wide: No more than 72 feet long and 15 feet wide.
Double-Wide: Range between 56-90 feet long and 26 feet wide.
Preparation is Key for Successful Mobile Home Transport
If you're looking for a cost-efficient and convenient way to move your mobile home, then you've come to the right place. Relocating your trailer or manufactured home can seem overwhelming, but with a bit of knowledge and preparation, it doesn't have to be! Let's explore how planning ahead makes all the difference when transporting your mobile home safely and efficiently. Following the tips in this blog will put you on track for an easy move. Read on to make sure that no detail goes overlooked during the transport process.
Make sure everyone involved in preparing the mobile home for transport turns off all utilities, electricity, water, and gas.

All lines including cable, phone, and television must be disconnected.
If moving in the winter, apply a winter seal. Once complete, turn off the heat.
4) Remove interior and exterior items
Items need to be removed from the interior and exterior of the mobile home. Any valuables or easily damaged items should be removed to ensure safety. If your mobile home has a porch, awning or decorative hangings, these should be removed and stored during transport.
The exterior of the home needs to be secured by bolting all windows and doors. They can also be covered for extra safety. Prior to the move, check siding and the roof for loose pieces.
6) Prep the new site for delivery
The new site must be prepared prior to the delivery of the mobile home. The ground must be leveled and no trees obstructing the site. When the carrier arrives with the mobile home, it must be placed correctly in the new location as agreed.
Cost to Transport a Mobile Home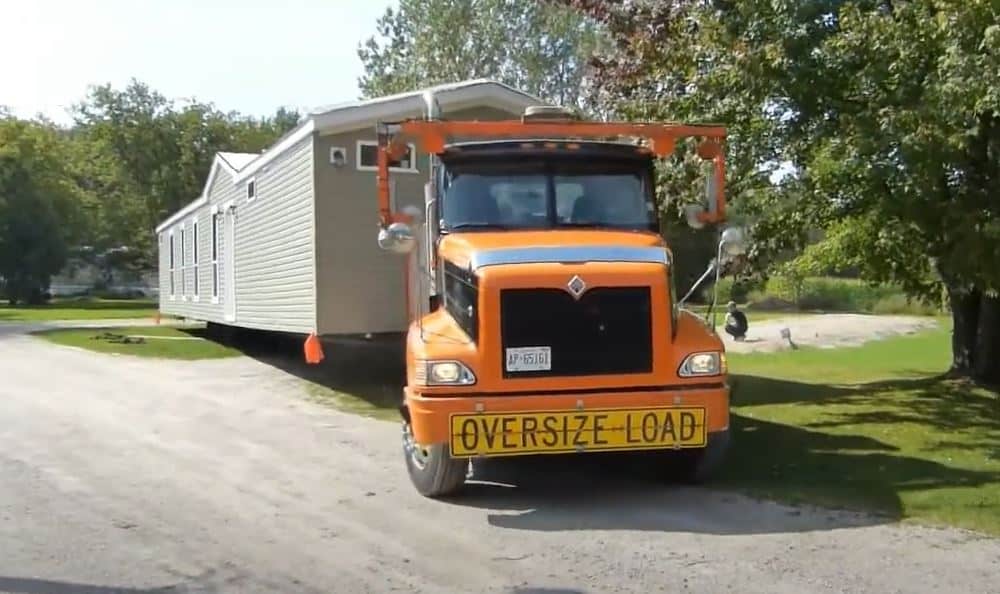 The cost to transport a mobile home varies from move to move, however, there are several common factors that affect every mobile home relocation. These include:
Distance of the Move
If you're staying relatively locally (within 50 miles), you should anticipate spending anywhere from $5,000 to $8,000 for the cost of acquiring permits, moving your home, and hooking up utilities for a single-wide. For a double-wide, under the same conditions, the number increases to the $10,000 to $13,000 range. As the distance increases, so does the cost.
If your mobile home is being relocated to a new county or state, then permits will need to be acquired. You may even need permits for each individual territory it enters or travels through. Permits will add additional cost to your overall price.
Size of the Home
The size of your mobile home will have a big effect on the overall moving cost. As expected, single-wides will cost less to move than double-wides, which are twice as big. If your home is too wide to safely drive down the street, you may also have to pay for an escort or pilot car and even a temporary road closure.
Older mobile homes typically weigh between 35 to 40 lbs. per square foot, while newer manufactured homes weigh anywhere from 45 to 50 lbs. per square foot. That means if your home is 800 square feet, it could weigh up to 40,000 lbs.
Permits and inspection
If moving to a new county or state, permits may need to be acquired for each individual state it enters or travels through. Fortunately, your movers should be able to help you get these permits in place before the move. Keep in mind, you may also need to get a "set-up" permit in order to install your mobile home in a new city.
Moving materials
From tools and supplies to tow hitches and tires, moving a mobile home requires plenty of moving materials. Your moving company should be able to break down the costs of necessary moving materials in your contract.
Insurance and liability
You'll want to purchase liability coverage for the move. You may also want to consider purchasing outside insurance. If you already own mobile home insurance, be sure to check with your carrier about whether or not they cover a mobile home while it's in transport.
Why choose VeriTread?
It takes special equipment to transport a mobile home. Heavy loads like construction equipment, agricultural machinery and even mobile homes requires use of the right truck and trailer combination. When you are trailering a mobile home, you'll need a trailer that is designed to withstand the pressure of a heavy, oversize load. This means you'll likely use a lowboy trailer.
Specific trailer choices might include:
The right equipment and the right carrier can make transporting a mobile home an easy job, let VeriTread find the right carrier for you!
VeriTread is your go to solution for hauling mobile homes. We can have your mobile home delivered to any destination in North America in a safe and timely manner. We are experts with connecting you with a transport provider that can handle all the paperwork, select the right trailer and driver, and chart the most efficient route.
We can quickly generate a reliable estimate on the go. Our extensive specs and dimensions database of 60,000+ items, ensures you spend less time researching and more time putting your equipment to work. The VeriTread Shipper quote process is the simplest way to receive competitive quotes from vetted transport providers. Follow these easy steps and you will receive a quote in under one minute:
Select Ready To Ship from the Freight Options Page
Enter a Manufacturer & Model
Verify or Edit Your Machine Dimensions
Enter Pickup & Drop Off Locations
Your Quote is Ready!
We believe our suite of innovative decision tools empower our customer to make smarter and more informed transportation decisions, reducing overall uncertainty, and saving you time and money. If you have questions contact us at (800) 880-0468 or (863) 226-0903 and let our team of experts help you with your transport needs.