A Complete Guide to Semi-Trailer Dimensions
January 6, 2022
A Complete Guide to Semi-Trailer Dimensions

Whether you're a seasoned veteran or just getting started on the road, understanding semi-trailer dimensions is essential for all truck drivers. Knowing the size and weight limits of your trailer gives you peace of mind when crossing state lines, planning routes, and avoiding fines from overloading violations. If you're wondering how to get up to speed on semi-trailer dimensions quickly and easily, this comprehensive guide has got everything you need!
Three different parts specify semi-trailer dimensions: length, width, and height. Putting these three together will help you determine how much cargo you can haul with each vehicle. From inputting essential measurements into routing software to understanding exactly how long longer loads can be with specific permits – here's all the information any driver needs in order to safely travel across states with ease.
SEMI-TRUCK DIMENSIONS QUICK LINKS
Get A Quote | Semi-Trailer Dimensions
Semi-Trailers Defined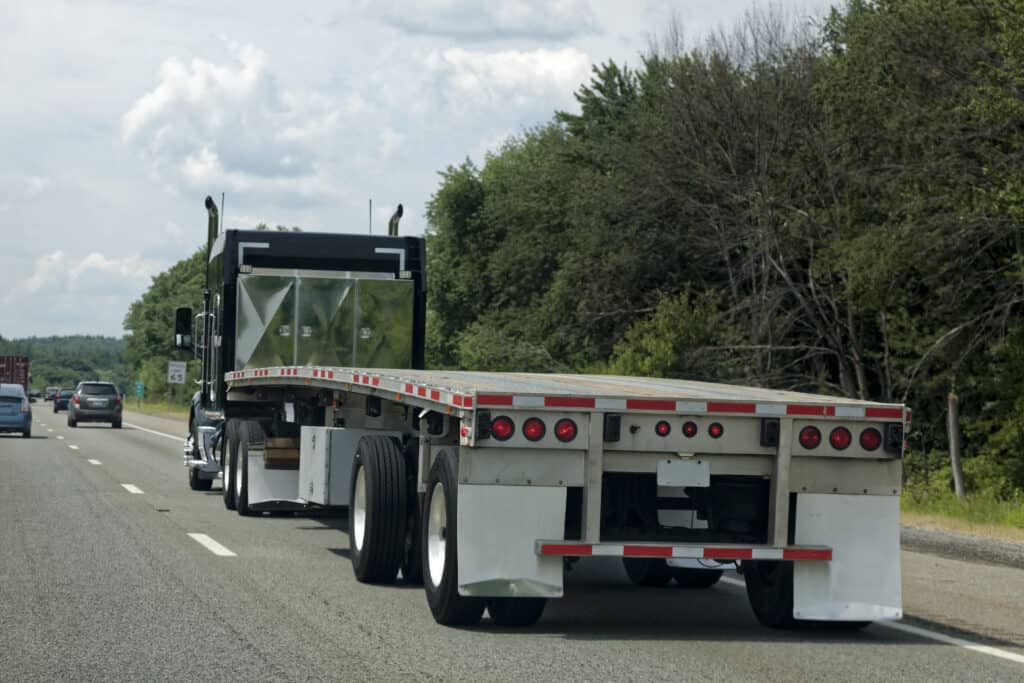 Discover the world of giant transporters, often known as pups, semis, big rig trucks, or eighteen-wheelers. These behemoths rule the roads, ensuring our parcels and merchandise reach their destinations safely. With their meticulously designed decking and sideboards, they can carry loads with utmost precision.
Depending on the area, lift gates or ramps at highway entry and exit points handle shipments with ease.
These remarkable vehicles all share a robust, road-worthy frame and impressive self-contained engines, while their exteriors showcase a plethora of styles, conquering highways and non-highways alike. So, keep an eye out for these mighty transporters, as they play a crucial role in our everyday lives.
The cargo units can be more or less based on trailers. In North America, a trailer is similar to a self-propelled platform for transporting cargo with limited steering ability powered by a truck with a conventional drive axle.
Semi-Trailer Dimensions
Semi trailers have specific dimensions that determine how much cargo they can haul and for what distances. Typically, semi-trailer dimensions only matter if the commodity being carried is extremely heavy, fragile, or both at the same time. For example, a semi truck transporting a load of steel from one part of the country to another will not require an 18 wheeler, but a vehicle transporting a load of glass from one end of the country to another may.
A few essential terms, to begin with, are the gross vehicle weight rating (GVWR) and the gross combination weight rating (GCWR). The GVWR is the maximum total weight of a semi-trailer that both the trailer and the towing vehicle can handle.
A larger GVWR typically allows for more cargo capacity, which can help reduce operating expenses for multi-stop trips. The GCWR considers the weight of the truck and trailer combined and is one way for drivers to gauge if their truck could handle a given load.
Many people may look at semi-trailer dimensions and confuse them with the length of the truck, but they aren't necessarily the same. A semi-trailer's trailer length is measured from the front of the axle to the end of the trailer and is typically 27 to 31 feet long. A semi-trailer's overall length is measured from the front bumper to the rear and includes all attachments thereon. This measurement can vary, but will range between 40 and 45 feet in length for most tractor-trailers.
Why the dimensions of a semi-trailer matter
The semi-trailer dimensions are equally as vital because it determines how much cargo you can haul before you have to make a stop. The length, width, and height of your semi trailer all play a crucial role in your hauling process. Semi trailer dimensions represent a lot of the regulatory aspects of the semi truck industry. As a result, they play a significant role in helping to maintain that smooth flow of commerce and industry that we all want to see.
Below are the most common semi trailer dimensions:
Flatbed
A flatbed semi trailer is essentially what it sounds like; the trailer bed of the semi trailer is entirely flat. An example would be two pieces of plywood laying side by side on top of one another or several pallets stacked together. This type of trailer cannot haul cargo with an estimated weight of more than 50,000 pounds because the truck would not be able to haul the combined weight. It is important to note that no cargo can extend beyond the rails of the trailer bed due to stability concerns.
Flatbed trailers are a cost-effective option for transporting heavy equipment. They give truck owners a great deal of flexibility in the cargo they can transport. The drawbacks to this type of semi trailer are that loading equipment into them can be more complicated than other types of trailers, and there is less protection for the cargo. However, for certain businesses, these can be both advantages.
Lowboy
Lowboy trailers are built with the most challenging materials possible to ensure they can hold up for years without being replaced. They are constructed with thick steel frames, axles, and axle hangers, which give the trailer strength and durability even under harsh conditions.
The lowboy is built with an extra couple inches of ground clearance so that this type of semi trailer can go over anything without smashing its way through, but there are still things you can't haul. Lowboy trailers shouldn't carry stuff like standard construction material or other common freight that another type of semi might just as easily carry.
Lowboy trailers can transport a load that ranges from 45,000 pounds to 85,000 pounds. Although many companies report carrying over 100,000 pounds on these trailers, it's rare to see this happen. As long as the ground is level, nothing stops you from using one of these trucks for heavier loads both on- and off-road.
Step-deck
The step deck trailer is a square-shaped trailer with a partition separating the cab from the bed. The square shape makes it easier to navigate as you don't have to turn at 90-degree angles painfully. They can be 2 or 4 wheel drive, depending on the size of the load.
Step-deck trailers have a shallow step-in height, which makes it easy to load and unload large cargo. It also makes the clearance lower at the same time, which is a critical aspect for forklift trucks that do a lot of transport from the warehouse to other places. The trailer should have non-slip flooring, so it won't move when you're loading or unloading your cargo.
Step-deck trailers are typically fixed with two-axle systems. The two-axle system, either of which can be coupled with a tag axle, can usually carry loads of up to 48,000 pounds, while some trailers equipped with one or three axles can carry heavier loads. Weighing between 48 and 65 tons, depending on the number of axles used, step deck trailers are between 48 and 53 ft. long and 10 ft. 6 inches high. They are 8.5 feet wide.
Dry van
Dry vans are one of the most common types of trailers that you will see during your daily commute. These trailers can be spotted easily due to their distinct shape and enclosed top. They haul various types of freight from heavy machinery to dry goods, including furniture, flooring, appliances, and more.
Because they are taller than other trailers, they can use an additional side door for vertically loading goods. This configuration helps maximize the amount of cargo that these trailers are able to haul, which is why they are the preferred choice for many different businesses.
Key takeaway
If you are searching for an ideal truck trailer to move larger loads, you can invest in semi trailers. These are big cargo trailers that are attached to the back of a truck. Based on your needs, you can buy different models. When measuring the width, you must not include mirrors attached at the back end of the trailer and other safety equipment embedded in it.
Let VeriTread Help You!
VeriTread is here to help you with your semi trailer needs. We can help you find the right semi trailer to haul your freight to any destination in North America in a safe and timely manner.
VeriTread makes it easy to get reliable freight quotes from the experts in equipment transport. VeriTread moves thousands of machines every year and can quickly generate a reliable quote on the go. Our extensive specs and dimensions database of 60,000+ items, ensures you spend less time researching and more time putting your equipment to work. The VeriTread Shipper quote process is the simplest way to transport your machines.
Follow these easy steps and you will receive a quote in under one minute:
Enter a Manufacturer & Model
Verify or Edit Your Machine Dimensions
Enter Pickup & Drop Off Locations
Your Quote is Ready!
Getting started with VeriTread is easy. You can visit our contact form or call (800) 880-0468 or (863) 226-0903 for international calls.