How to Transport a Wind Turbine
February 25, 2022
WHAT ARE THE ADVANTAGES OF WIND ENERGY?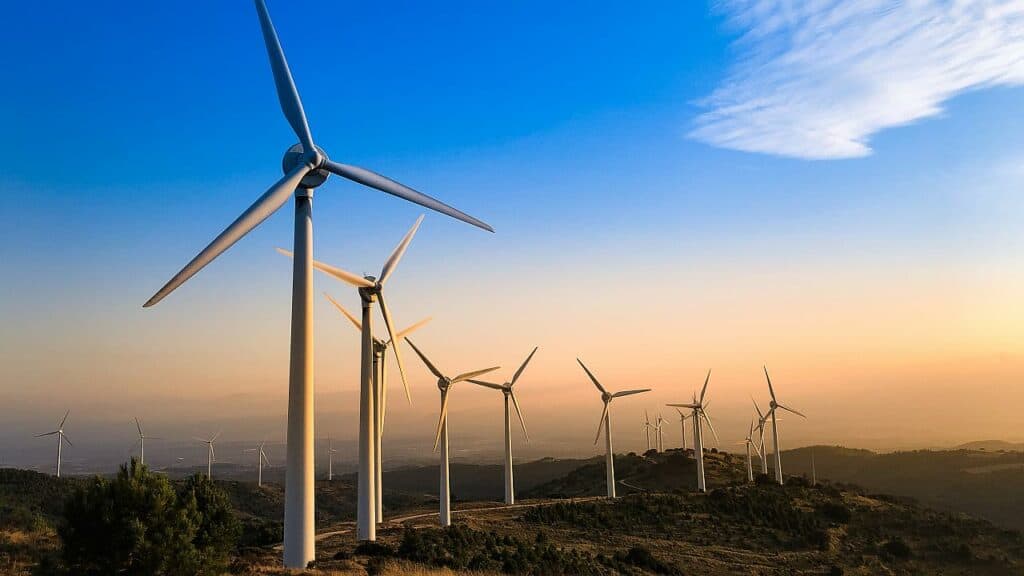 Wind Turbine farms started popping up around 1980. Today, there are wind farms scattered across the country. From a distance, driving down a highway beside a wind farm, the size of the "windmills" is not readily apparent. The nacelle that sits atop the tower or pedestal can weigh 75 tons, and the three-blade assembly can weight 36 tons, or about 12 tons per blade. The pedestal, or tower that supports the nacelle, weighs on the order of 24 tons.
There are many advantages to wind energy, which creates a need for wind turbine transport. Some advantages of wind energy include:
Cost-effective energy source
Job creation
Clean domestic source of energy
Sustainable energy
Ability to install wind turbines on existing farms and ranches, which benefits the property owner through leases and helps the surrounding area with a cheaper and dependable power source.
HOW ARE WIND TURBINES SHIPPED?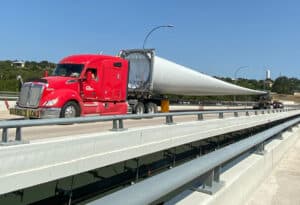 Hauling wind turbine blades that are 116 feet long represents a significantly oversized load. At this length, they are still manageable for transportation by trucks. However, with the trend to larger, taller wind generators, and blades approaching 200 feet long, the truck transportation system is being challenged. There has been some use of trains to carry wind generator assemblies. The new, longer generator blades may not fit on typical 89-ft-railroad flat cars. Longer, specially designed cars may be required. Also, the height of some assemblies is taller than railroad underpasses and tunnels.
Finally, there is still the challenge of moving the parts from the train depot nearest the wind farm, and the trip from the depot to the wind farm may be the most challenging part of the route. The size and weight are challenging the national transportation system. Many wind farms are located away from main highways and require traveling secondary roads that can be narrow and winding. These roads often travel through small towns. Navigating these roads and the obstacles and obstructions along the route is challenging, time-consuming, and expensive.
As with any other Superloads, transport operators must obtain the necessary permits and surveys for each state through which the load will travel. Typically, permitting requires:
An engineering route survey of the route for: bridges , grade crossings, overhead obstructions,
Review of local traffic patterns
Provisions to not block emergency vehicle routes
Dimensional diagram of the load
Explanation of why alternate transportation is not available
A practice run of the route
Compliant escort services (private and/or police escorts)
Compliant state and local travel schedules
Seasonal considerations: ice and snow, spring thaw, etc.
HOW MUCH DOES IT COST TO HAUL A WIND TURBINE?

Hauling parts of a wind turbine can be a very time-consuming and dangerous task. The price of hauling a wind turbine depends a lot on how far you are needing it to be transported. Short-haul shipments of wind turbines can cost anywhere from $30,000 to $40,000 per wind turbine. Long-haul shipments are a much higher price with the cost being more than $100,000.
FINDING THE RIGHT CARRIER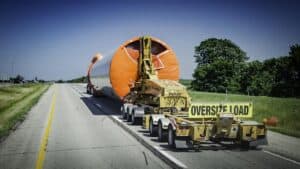 You need to find flatbed carriers that have access to trucks with flatbed trailers, which are able to accommodate both the size and weight of this oversized equipment. To haul one oversized wind turbine blade requires a lot of planning on the part of your logistics provider. One blade can require the use of a multi-axle trailer to handle the long blades that are bulky in size.
It can take up to seven rigs to deliver one commercial wind turbine, which is broken down into:
3 tower sections
A nacelle that holds the turbine's generator
A gearbox and electrical components
3 long wind turbine blades
LET VERITREAD HELP!
VeriTread makes it easy to get reliable freight quotes from the experts in equipment transport. VeriTread moves thousands of machines every year and can quickly generate a reliable quote on the go. Our extensive specs and dimensions database of 60,000+ items, ensures you spend less time researching and more time putting your equipment to work. The VeriTread Shipper quote process is the simplest way to ship a Wind Turbine. Follow these easy steps and you will receive a quote in under one minute:
Getting started with VeriTread is easy.
You can visit our contact form or call (800) 880-0468.