What Is a Driveaway Driver?
January 18, 2022
A driveaway driver is a service, which offers drivers for hire to move a vehicle from point A to point B and is often a more attractive alternative than driving the vehicle yourself. One advantage of this model over transport via trailer or freight hauler is lower cost; another benefit includes faster delivery time without any stops along the route as it's just one person and not multiple people with other cargo being transported with your goods.
Potential downsides include additional mileage for your vehicle, not to mention wear and tear, which depend on the distance the car, truck, or RV is to be driven. Price and time can also be a factor if you have multiple units to transport, as a drive away service might have to bring in additional drivers from other locations to accommodate two or more vehicles.
Driveaway drivers are typically full-time employees of the transportation companies that employ them. They are considered long-haul truckers, transporting cars around the country, though they can also work locally transporting vehicles from one dealership to another.
If you've purchased a vehicle for your business, or your company is moving, and you aren't able to transport vehicles yourself, or maybe you're trying to get a truck from the other side of the country, you might want to consider using a driveaway service.

What is Driveaway Service?
A driveaway service is a cost-effective and efficient alternative to a standard car shipping service. A driveaway service is where you hire someone to transport/drive your vehicle on your behalf. It means going to an established company with responsible, reliable individuals who are willing to drive someone else's vehicle, typically a long distance.
Driveaway transport doesn't resemble a traditional transport or shipping method. It's closer to a rental car service insofar as a person will physically drive your vehicle. It functions as a means to transport a car via a driver, rather than stowing it in the back of a truck and hauling it from one end of the country to another.
If you're the type of person who wants to save money, time, and effort by taking advantage of a service that guarantees your vehicle arrives safely at its destination, then the driveaway service might be the best bet for you. Let's Go Road Trippin shares a video of a day as a driveaway driver.
Pros and Cons of Driveaway Service
If you're looking for a full-service shipping company, consider the pros and cons of using a driveaway service.
Pros:
Faster Shipping
A driveaway service offers a faster and more convenient method of vehicle transportation. First, there is no need to load or unload your vehicle from a moving truck fleet. Secondly, the driver will only need to get from the pickup point to the final destination, not necessarily caring about other cars on their route. In this sense, driveaway services are more convenient and time-saving options for many people who choose them over others for this reason.
Personalized Service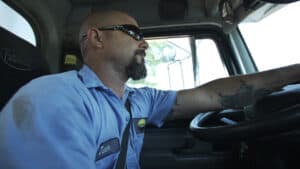 Driveaway services encourage the possibility of shorter delivery times, eliminating the need for complicated delivery schedules. Since you don't need to pick up your car at a terminal or drop it off at any location, you can ensure that the whole process is completed that much faster.
In a nutshell, since your driver can pick up and deliver your vehicle exactly where you need it, you don't have to rely on a third-party terminal. This means no more waiting for hours in a big truck stop to have your vehicle picked back up.
Pack Everything with Your Vehicle
Transportation companies have a difficult time meeting their weight restrictions, especially when transporting large items. It's essential to keep your vehicle as light as possible. That's where a driveaway service comes in.
In some cases, they may even be able to negotiate shipping prices with professional drivers to help you get from point A to point B on time without going over your pre-determined budget. Your vehicle and belongings will be transported for you, and you can even ride along with it in some cases.
Cons:
Expensive
Except for a few things, having a professional driver dedicated to your vehicle provides a higher level of care and shows in increased numbers. This increased level of service comes at a cost that you have to be ready for.
Fares are usually calculated in advance and will include your ride in the car. Depending on your trip, you might also be responsible for tolls, fuel, rest breaks, food and accommodations, or other transport expenses associated with the service.
Possible Wear & Tear
Regardless of your vehicle, driveway services come with the possibility of the car getting damaged or sprinkled with scratches. The vehicle's proximity to the road, weather conditions, road debris, and possible accidents are just some of the risks taken in driveway servicing. All these have the potential to affect the exterior body parts of your vehicle.
How to Become a Driveaway Driver
If you consider becoming a driveaway driver, it's crucial to think about these educational requirements. There are different requirements for each company. However, the majority of companies require at least a high school diploma or GED. These requirements typically include having a driver's license and passing a background check.
To obtain your driver's license, you need to obtain a driver's permit, driver's license and possibly apply for a commercial driver's license once you've acquired enough experience. No matter what major you choose, you can give yourself an advantage in car transport jobs by earning a degree in Transportation and Driving.
Although it is possible to become a driveaway driver with no prior experience, some jobs will require you to be an experienced driver. They will also accept people with previous work experience. For example, truck drivers looking for driveaway jobs may apply directly to the company or agency hiring the driveaway drivers.
You can use knowledge from your former profession to start performing as a driveaway driver. The skills you perfected as a forklift operator or warehouse executive will quickly help you transition to your new profession.
What are the Duties of Driveaway Drivers?
Driveaway drivers are expected to follow specific rules and regulations when transporting vehicles from one place to another. They must obey the law, be professional in appearance and conduct, and uphold a positive image for the company they represent.
In addition to obeying state and federal laws regarding vehicle transport, driveaway drivers must also maintain a clean record by complying with traffic laws and vehicle codes, carrying adequate insurance coverage, following company rules regarding vehicle maintenance, and abiding by the law while representing their companies on the road.
As with any other job, driveaway drivers need to have a clean driving record and meet specific requirements for age and experience. This job demands expert knowledge, excellent driving skills, the latest training, the right gear, and attention to detail.
Can I Obtain Driveaway Service Insurance?
Both driveaway and auto transport companies offer similar services with the primary goal of transporting vehicles from one location to another. However, sometimes due to accidents and other unforeseen circumstances, there could be problems in the car when they finally reach their destination, or at least when you pick it up.
You may want to make sure that your insurance covers any problems such as damages in case they occur during transport. Also, look for the companies that are insured to cover any damage to your car.
Final Thoughts
When it comes to auto driveaway drivers, you should never leave any stone unturned–or your car unlocked. Therefore, before you choose a company for this type of service, you must check them out. You want to make sure that they do not have any complaints with the Better Business Bureau and have established a notable reputation among their clients. This will help to ensure that your vehicle is in safe hands when you put it into an auto driveaway service's care.
About VeriTread
VeriTread is your go-to solution for driveaway transport. We can have your freight delivered to any destination in North America in a safe and timely manner. We have everything you need to manage your own shipment or connect you with our full-service brokerage team.
Getting started with VeriTread is easy. You can visit our contact form or call (800) 880-0468 or (863) 226-0903 for international calls.