August 30, 2021
Largest Heavy Haul Freight Loads in History
Transporting some of the largest heavy haul freight loads in history is no easy task. Heavy Haul is anything larger than 8.6 feet in width, taller than 13.6 feet in height, longer than 53 feet, or that exceeds 80,000 pounds of gross weight is generally considered a heavy load, anything over the standard weight and height of heavy haul makes waves as some of the largest freight loads in history..
Heavy haul transport includes anything beyond conventional dimensions, including heavy equipment, wide loads, and oversized freight. There are many hurdles in transporting overweight and oversized loads. It requires knowledgeable, licensed, and highly qualified transport companies to address your load's unique challenges and remain within the legal limits of U.S. and Canadian highway networks. Heavy haul transport can involve special routing, negotiating power lines, and other obstacles, along with compliance with local and state regulations. Super loads are hard to specifically define due to each state having its own regulations and guidelines. A generalized definition is any load exceeding the routine permit restrictions in terms of length, width, height, and weight.
1. THE HEAVIEST LOAD EVER MOVED |4,800 tons | Water Desalination Unit
As far as weight goes, the heaviest load ever moved was a water desalination unit. It had a weight of more than 4,800 tons. The hauling company was a Saudi Arabian logistics company, they had to use a tractor-trailer truck with 172 axles.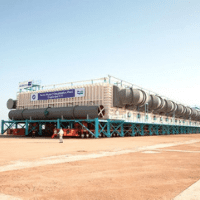 2. TRANSFORMING TRAFFIC | 640 tons | Power Station Transformer
The largest item that was ever moved in Britain was a power station transformer, weighing in at 640 tons. The real interesting part is that this transformer had to be moved at a speed of about 4 miles per hour, which led to a massive backup on the road while the transformer was headed to its destination. This item comes in second largest load in history.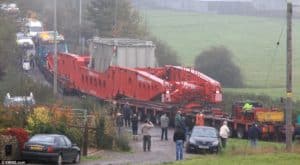 3. A SHUTTLE FOR A SPACE SHUTTLE
When the space shuttle Endeavour was retired, it was moved 12 miles from its original location to the California Science Center in 2012. The space shuttle took up an impressive six lanes of traffic, drawing a crowd of thousands of people who waited eagerly to watch the moving of the space shuttle.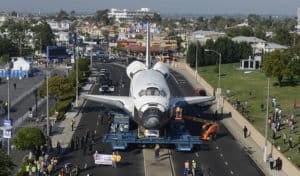 4. FOOTBALL FIELD SIZE FREIGHT | 25 days to move
In 2010, it took 25 days for the Texas Department of Transportation moved a 850-ton turbine engine was hauled 250 miles. Not only did the department have to create a custom rig to haul this massive turbine engine, but the rig spanned the length of a football field.
You may not have some of the largest heavy haul freight in history, but regardless, if you need help with heavy haul transport contact VeriTread. When shipping heavy equipment, it can be difficult and time-consuming to find the right transport provider to handle your load. VeriTread is your total solution to have your heavy haul equipment delivered to any destination in North America. Our versatile platform gives you everything you need to quickly receive trusted quotes, manage your own shipment, or connect you with our full service brokerage team. We supply everything for a stress-free experience, including built-in equipment transport dimensions, expert advice, and cost-saving tips. We provide more detail in fewer steps, leading to better rates, less questions, and a more accountable transportation experience.