March 25, 2022
If you are needing transportation for your cargo vans, sprinter vans, step vans, or even your everyday mini van, VeriTread can help! Whether you are the buyer, the dealer, or the seller, we make understanding how to transport a van affordable, easy, and available with peace of mind.
The more accurate information we can get about your van and the transport, the faster and easier the transportation process becomes. It is very important to get as much information of your van and your transport needs. You will need to provide the length, width, height and approximate weight of the van, as well as the status of the van – Is your van operable or inoperable? Is it coming from a dealer, auction or private seller? Where is it being transported from? Where would you like it transported to? Please ensure that all dimensions, size and weight of the van are verified and confirmed to plan the move accordingly. The pickup and dropoff locations are key factors needed to transport a van. All of these factors are used in determining the best trailer to use and price to transport a van.
How Much Does it Cost to Transport a Van?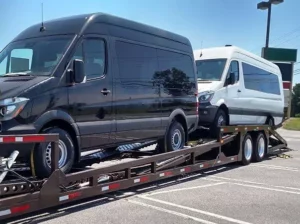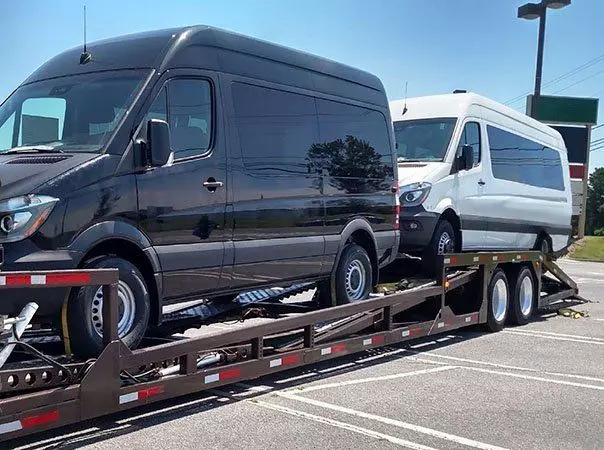 Van shipping quotes can vary based on the vehicle's weight, size, height, aftermarket modifications, speed of shipping and seasonal demand. To ship a mobility van, a wheelchair van, or even a commercial use van, there may be a higher cost, because of potential special handling requirements.
The key factors of transporting a van, are how the van is transported – on an open trailer, enclosed trailer, or car hauler and the flexibility of the delivery. Open deck trailers tend to be the best value for shipping your vehicle. Having the flexibility of a delivery date tends to allow for maximized value of your transport. Where the van is being transported to and from is also a key factor. As you can expect, the further the distance the higher the cost. Also keep in mind if the transport of the van involves special scenarios, that will be reflected in the cost as well.
Cargo Van Types and Uses
Cargo vans, sprinter vans, and step vans are available in many different sizes and styles. Cargo vans are built different for different purposes and are very customizable to fit your needs. If your use will cause you to need a very tall van, that can be customized when ordering or shopping for your van. For instance, the standard Ford E-Series should fit on a standard car carrier, even though their size and weight are usually more than that of a standard car. Other cargo vans will not fit and will need a trailer better suited for their height, like a flatbed trailer. Those taller vans include Nissan NV's, Ford Transit Connects and Mercedes Benz Sprinter. Step Vans are the delivery vans you see that FedEx and UPS utilize. These specific shaped vans are known for multi stop deliveries, and have walk in capacity for storage and efficiency. They will surely need an open trailer to accommodate their size for transport.
Let VeriTread Help You!
VeriTread makes it easy to get reliable freight quotes from the experts in equipment transport. VeriTread moves thousands of machines every year and can quickly generate a reliable quote on the go. Our extensive specs and dimensions database of 60,000+ items, ensures you spend less time researching and more time putting your equipment to work. The VeriTread Shipper quote process is the simplest way to transport your machines. Follow these easy steps and you will receive a quote in under one minute:
Select Ready To Ship from the Freight Options Page
 Enter the Make and Model
Verify or Edit Your Van Dimensions
Enter Pickup & Drop Off Locations
Your Quote is Ready!
Getting started with VeriTread is easy.
You can visit our contact form or call (800) 880-0468.