VeriTread Partners with Florida Polytechnic University
October 3, 2016
VeriTread is excited about its recent partnership with Florida Polytechnic University. Florida Poly is also located in Lakeland, FL not far from the VeriTread headquarters. Through this initiative, VeriTread gives future Programmers and User Experience Designers real-world application in designing technical products.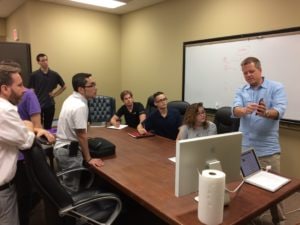 CEO, Jeff Cox, Jr., took the opportunity to meet with the Design 1 class and explain the goals of a future product release.  The students were thoroughly engaged, asking insightful questions and making product recommendations.
VeriTread looks forward to growing this partnership and community partnerships in an effort to give back to the community. Go Phoenix!