Best Truck Stops in the US (in our humble opinion)
November 9, 2021
Iowa 80 Truck Stop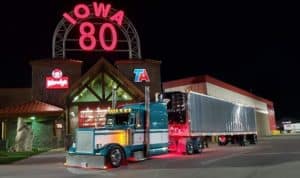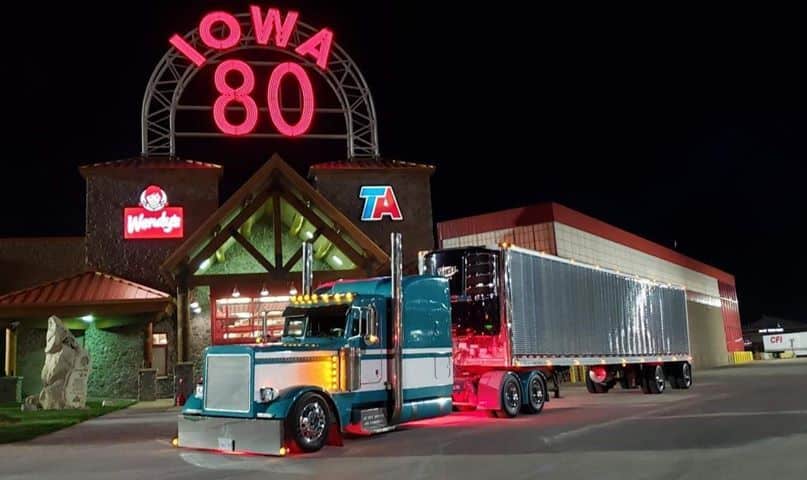 Location – Walcott, Iowa: The Iowa 80 is known as the world's largest truck stop. The parking lot boasts enough spaces for 900 tractor-trailers, 250 cars and 20 buses. Stop in to take a shower, see a movie at the theater and even pay a visit to the dentist, it even has a dog spa!
Davis Travel Centers
Davis Travel Centers are a Virginia visitor's dream. These three truck stop locations all come equipped with free Wi-Fi throughout. Amenities include CAT scales, TripPak services and spacious services.
Little America
This truck stop is located off of I-80 in Wyoming, just a few hours from Yellowstone and Grand Teton National Parks. It includes luxurious hotel accommodations, 16 fueling islands, a restaurant and parking spaces galore.
Alamo Plaza
Not only does this stop host all the basic travel center amenities, but it also has a casino! Some locations even have a fitness room, so the health conscious folks can get in some cardio or weight lifting.
SAPP Brothers
SAPP Brothers truck stops span from Utah to Pennsylvania to provide truckers with a suitable place to rest. Many truck stop locations include a movie theater, medical facilities and laundry rooms. Some locations even include bathtubs and saunas for a truly relaxing pit stop.
Jubitz 

Jubitz boasts of being "the world's classiest truck stop" located in Portland, Oregon. Besides a hotel, a full-service restaurant open 24-hours a day, and fuel and maintenance services, the complex offers a movie theater and a lounge with nightly entertainment.
North Forty Truck Stop
In Holladay, Tennessee, there is overnight parking, the Wi-Fi, and the showers, this stop also boasts laundry facilities, a barber, and even a massage practitioner. Plus, the restaurant serves some of the best fare around and has a reputation for excellent service. Next time you are there, check out their local specialties such as fried pies.
Speedway- Disputanta, Virginia
Speedway is one of the largest, most successful truck stop chains in the country. The Disputanta location features a trucker's lounge, a restaurant, and space for over a hundred trucks parked overnight.
Pilot Travel Center-Bath, New York
As a chain travel center throughout the United States, Pilot Travel Center has become well-known for their convenience and abundance of locations. In Bath, New York, the center provides a variety of food choices, both hot and cold, with 70 parking spaces, fueling stations, showers, wireless internet, public laundry, and much more.
Whiskey Pete's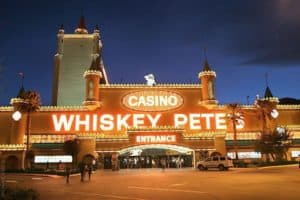 It may not look like a traditional truck stop, but Whiskey Pete's in Primm, Nevada offers a place for truckers to rest and recharge near the state line of California and Nevada. On top of the truck stop, there are a plethora of casinos, hotels, outlet stores and even a roller coaster next to a 24-hour restaurant, business center and gas station.
South of the Border
In Hamer, South Carolina the self-proclaimed "home of America's favorite highway oasis" is hardly a hidden gem. With its golf course, reptile lagoon and wedding chapel, this highway truck stop has become more of a roadside attraction that people visit from around the country. And be sure to check out the 200-foot Sombrero Observation Tower if you make the trek to this Southern landmark.
Morris Travel Center-Morris, Illinois
Open 24 hours a day, the famous R Place at Morris Travel Place is one of the top truck stop restaurants in the United States. Since it's opening in 1967, R Place has evolved into a unique restaurant that offers an exquisite bakery, homemade pastries, and its Ethel Burger, a 4-pound masterpiece.
VeriTread grew up in this business. We're industry vets dedicated to delivering the industry's best transportation experience for shippers and carriers.
With over a decade of hands-on experience behind us, VeriTread has developed a seamless workflow and standardized process that previously had been missing from the heavy haul industry. Every VeriTread generated form and email has been meticulously designed to set clear expectations and assign responsibility in a way that minimizes finger-pointing and unexpected surprises.
We believe in exceptional service, fair fees, and a non-negotiable commitment to honesty and integrity. We demand this from our business partners as well as ourselves. If you have any questions or need more information before joining as a transport service provider, please contact us and we will happily answer all questions.