Your Guide to Open Deck Trailers
April 4, 2021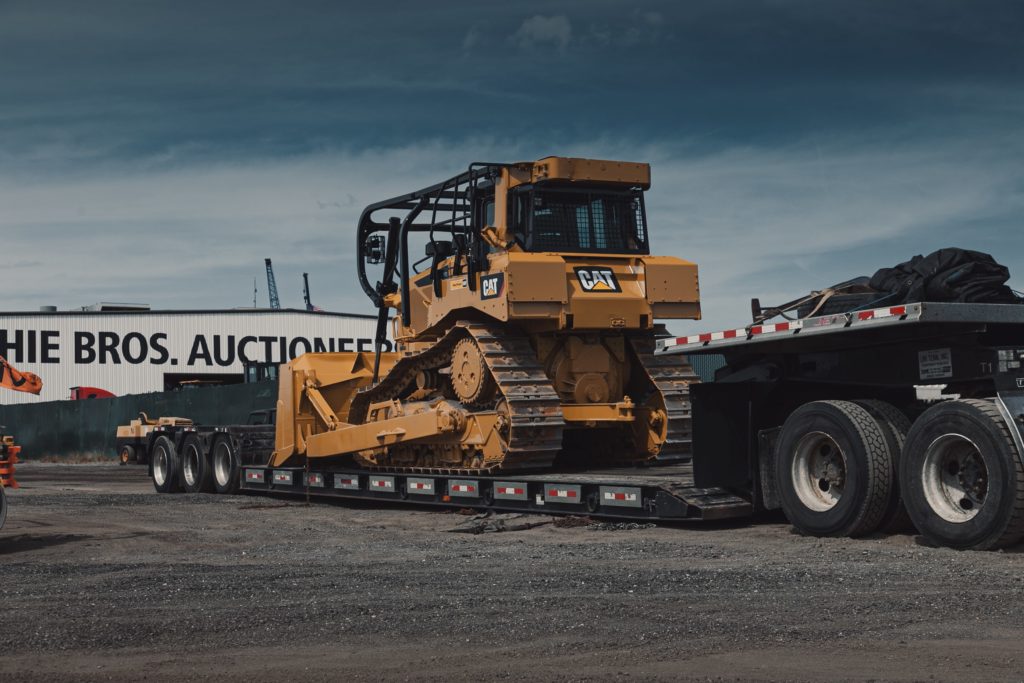 Safe and efficient transportation of heavy equipment and materials is critical for many large projects. A wide range of trailers are available today for transportation, but you need to choose the right one that aligns properly with your requirements. When your goal is to transport large and heavy machines and materials of uneven size and shape, your ideal option would be an open deck trailer.
What are Open Deck Trailers?
As the name suggests, open deck trailers are open and accessible on all sides. They are designed for transporting heavy equipment and angular, awkward, large loads in different shapes, sizes, and heights. Whether you need to transport bulky crates, boxes, containers, heavy machinery, building materials such as framing components, beams and Sheetrock sections, or even massive bales of hay and straw, open deck transportation could be the most appropriate choice.
Why Use Open Deck Trailers vs. Other Trailer Types?
Open deck trailers may not appear as sophisticated or feature-packed as some other trailer types simply because they do not include many bells and whistles. Suppose you are looking for an easy-to-use, practical transportation solution with virtually no accessibility issues. In that case, an open deck trailer is a dependable workhorse that will meet your needs while delivering the maximum value for you.
Remember that when your goal is to ship freight that cannot fit securely or cost-effectively within the confines of an enclosed trailer, such as a dry van, your best option would be an open deck trailer. While many people believe that an open deck trailer is synonymous with flatbed shipping, the good news is that you have a range of options to choose from according to your specific freight type.
Modifications are often possible with open deck transportation to meet your unique freight needs, which may not be available with other trailer types. In addition, open deck transportation is relatively easier, faster, and more cost-effective to load and unload the freight.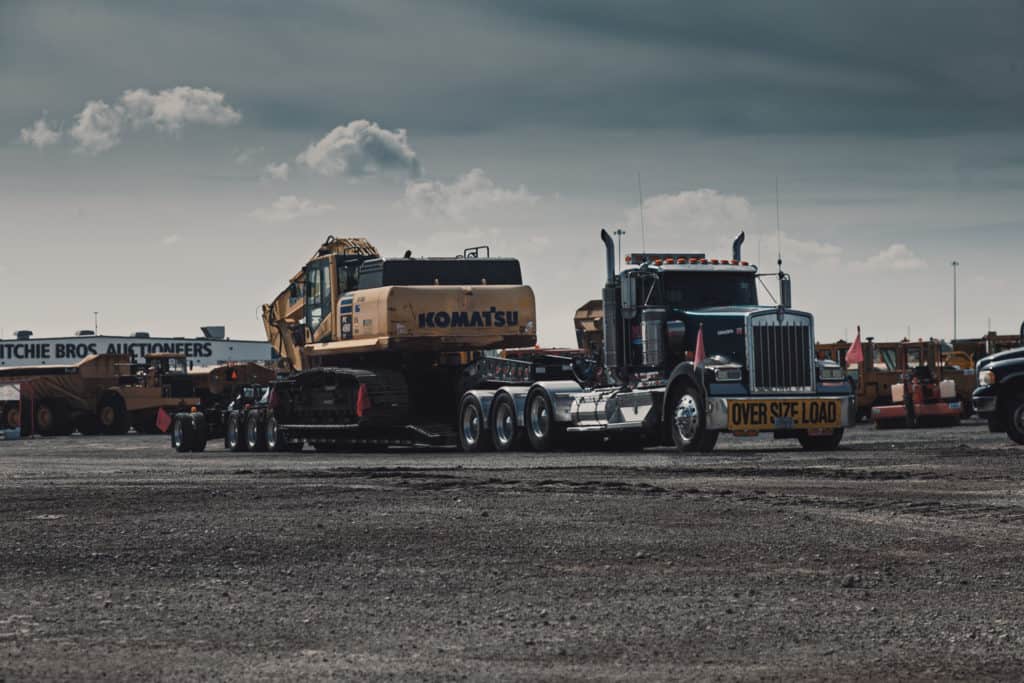 Different Types of Open Deck Trailers
The most commonly used open deck trailers are flatbeds, step decks, RGNs, and Conestoga (curtainside). Let's review the different varieties of open deck trailers used by freight companies:
The standard flatbeds are the most widely used open deck trailers in the industry. They can haul a variety of commodities, including steel, steel rebars, steel coils, lumbar, and other construction materials. These trailers are typically 48 feet in length but can be as long as 53 feet. They can hold freight with a vertical height of 8 ½ feet, with a maximum legal weight of 48,000 lbs.
When you have to ship freight to or pick it up from a dock, a flatbed works best because it matches with the loading dock height. Offloading from a straight-frame flatbed trailer can easily be done using a crane or forklift.
RGNs are often referred to as lowboys by the industry insiders. This trailer can be broken down into two parts: the gooseneck, which is connected to the trailer, and the floor or deck, which is where the freight actually sits. Oversized freight, such as heavy equipment, can be driven onto the trailer from the ground level by detaching the gooseneck.
RGNs are usually 48 feet long with a deck that's only 20 inches off the ground. Freight of up to 12 feet can then be hauled on this trailer. You will often see larger equipment such as farming combines, bulldozers, and large forklifts hauled on RGNs.
Step deck trailers look very similar to flatbeds, but they have two levels. The front level is designed to clear the rear of the tractor at its connection point, while the rear level is lower and allows you to haul taller freight than a traditional flatbed.
Step decks can haul the same commodities as the flatbeds but with fewer vertical height restrictions since the main deck is lower to the ground. Their lower main deck allows for freight up to 10 feet tall, which is why we often see larger machinery and construction equipment transported on these types of trailers.
The trailer axles slide forward with these trailers, allowing the trailer's tail to drop to the ground. This creates a ramp to load the equipment easily. Sliding axles are usually between 95″ and 103″ wide and 47″ to 54″ long.
The axles on these trailers slide together in a forward way to create a "teeter-totter" for the deck to haul down to the ground. They also have a winch mounted on the front of the trailer to winch up the equipment that won't run onto the loadable deck. This is why slide axles are so popular with equipment rental/sales companies, construction companies, and even tow companies.
Beam Trailers
These flexible shipping trailers are used across different industries due to their ability to carry extremely heavy loads in excess of 25,000 lbs. Beam trailers can also transport large commodities such as turbine blades, I-beams, and pipe pieces since they are very low to the ground.
Freight companies that need the trailer to get as low to the ground as possible prefer using beam trailers for their purposes. Heavy haulers use these trailers to reduce their cargo's gross weight since they do not have the sides (just a pair of beams), so flooring, etc., is not needed.
Beam trailers are essentially used to transport oversized items that don't really need the extra structure or protection of a traditional trailer.
Factors To Consider When Buying A Trailer
Whether you're a fleet owner who needs to move worksite containers and heavy equipment, or a mom-and-pop contractor, consider the following things before you choose a trailer:
The Maximum Load Requirement
The frame of a trailer determines its strength. Light-weight trailers that are used to transport small tools are generally made of channel iron or angle iron. Although they are sturdy, they don't match the strength of I-beams and box tubing, and heavy loads need maximum rigidity.
Some open deck trailers are made of aluminum for rust resistance and to save weight, but you should go with steel if strength is a concern. Knowing the axles and suspension system (if any) and the tires' load capacity is equally critical.
Important Features
A light-weight, standard flatbed trailer is typically loaded manually. If you need it to carry a small machine, make sure it is capable of loading the machine – with removable or fold-up ramps.
If you want a larger trailer to transport heavy equipment, choose one with a tippable deck that can become a hydraulic mechanism or ramp that drops a deck to ground level. Some enclosed container trailers have swing-up sides or side-entry doors for easier access. If you're going to be hauling rocks or dirt, consider opting for an end-dump sided trailer.
Hitch Type
Construction trailers use three types of hitches: ball-mount, gooseneck, and fifth-wheel. Ball-mount hitches are most popular for smaller loads; class-5 hitches that come with a 2 to 3 inch ball can attach a truck to a trailer weighing up to 25,000 lbs.
Gooseneck hitches are attached using a ball, but they are mounted in the truck bed. A trailer with a high-neck configuration distributes the weight more evenly across the axles of a truck and enables it to make sharper turns.
Fifth-wheel hitches utilize an inboard plate that rotates on a kingpin to join the trailer and truck. Fifth-wheel hitches are necessary to move oversize loads.
Trailers – even those with some hydraulic features – are indispensable pieces of equipment. They have fewer moving parts than powered pieces of equipment and usually have a long operational life. This means you can find used trailers at auction houses and on dealer lots.
If you are on a limited budget, this can be a useful idea. Just make sure you carefully inspect the trailer before the auction day. Also, don't forget to check out the inspection reports that are often available for online auctions.
However, only go to an auction if you know exactly what features you need in a trailer, and you can spend some time to assess its condition.
Final Word
Getting the right trailer is vital regardless of the purpose why you need it. Don't fall into the trap of "good-looking" trailers with fancy features. Some open deck trailers can look attractive, but if they do not have the functional components or the resilience for long-term reliable performance and efficient loading, they will fail to deliver the results you want. Take time to objectively evaluate the pros and cons of different types of open deck trailers and choose the one that matches most closely with your unique transportation needs.
VeriTread is the premier solution for open deck transport that can connect you to the right carriers with the right equipment. For more information, contact VeriTread today!