What is PTL Freight and Why It Can Save You Cash!
March 21, 2022
Whether you're a relatively new or established business, the shipping cost will be an essential factor in your setup. It can be tricky to get right, and not every shipping company is equipped to handle the challenges of shipping different freight.
One type of freight that can be tricky to ship is PTL freight. Business owners have been turning to partial truckload shipping for immediate cash savings and better rates. Here's what you need to know about PTL freight.
What is PTL Freight? 
Partial truckload shipping involves the transportation of shipments requiring less than a full 53-foot van trailer. This type of shipping is geared toward moving large items for multiple customers and many smaller shipments that may not fill an entire full load trailer.
Partial truckloads generally do not require a freight class to secure a rate because there are so many different types of possible shipment combinations. Because partial freight is not full-sized and requires less handling and faster transit times than full loads, these shipments typically result in lower handling costs and quicker transit times.
There are a variety of reasons why you might consider partial truckload shipping services. For one, you may have a smaller budget than LTL can accommodate. You can set your pickup and delivery dates, which allows you to control how much inventory is purchased at one time. Partial truckload shipments are ideal for slightly lower volume product demands or if you need less space for storing inventory at one time.
How Does Partial Truckload Shipping Work? 
With LTL, you'd load a trailer with as much weight as you could fit in it, and the cost would be based on that weight. Partial truckload shipping is different, which can make it more affordable for smaller businesses.
The way you save money with partial truckload shipping is on the price per pound. The more weight that fits into one trailer, the lower the cost per pound. If your business requires its shipments to be delivered to just one location, this is how you save money with partial truckload shipping.
But if your business requires shipments to multiple locations, there are no actual savings with partial truckload shipping. The price per pound will be higher than standard LTL shipping because of the need to drive back and forth multiple times.
If goods are needed at multiple locations within a relatively small area, partial truckload shipping makes sense.
For example, if you need products delivered to five stores in a city or several office towers in an office park, this is likely a promising approach for your business.
Why Choose PTL Freight? 
Partial truckload shipping is an excellent solution for shippers with freight demands that are too big for less-than-truckload (LTL) carriers but not large enough to require a full truckload. In addition to being a good fit for small-volume shippers, partial truckload is also a perfect solution for large shippers who don't want to transport all of their goods at one time.
One of the benefits of using PTL is that it does not require all the extra fees with LTL freight classes, minimum density requirements, or re-classing charges. Currently, PTL carriers don't have any limitations on load sizes – they may haul loads as large as a full truckload – but these generally will have a higher minimum rate.
PTL freight is a better fit for shipments that require a single-truck load. Since these shipments do not stop at a distribution center for consolidation, they tend to get to their destination faster, without incurring certain extra charges.
Advantages of Employing PTL
Consistency – Partial truckload shipping is a better option than LTL for shippers looking for consistent shipping throughout their supply chain. Shippers using partial truckload shipping will always know how much they'll be paying in advance, allowing them to plan better for cash flow and other costs associated with their business.
Less wasted space – Partial truckload carriers typically provide shipments with 20, 40, or 53 cubic feet of space, depending on the needs of your business. This is more than enough room for most products and offers you an opportunity to choose the size that works best for you.
More flexibility – With partial truckload shipping, it's easier to change the size of your shipment as needed by moving up or down one level. This helps protect your investment if demand is weak or increases unexpectedly.
Improved traffic flow – Increase the efficiency of your supply chain by better managing inbound and outbound delivery times.
Economical: One- or two-day transit times can save shippers money while still providing fast delivery.
Convenience: With both pickup and delivery points able to be arranged via just-in-time scheduling, PTL shipping is ideal for businesses with multiple branch locations.
Sustainable: Partial truckload shipments provide an alternative to the long haul, which reduces fuel consumption and thus carbon footprint.
When Should You Choose PTL Freight Shipping?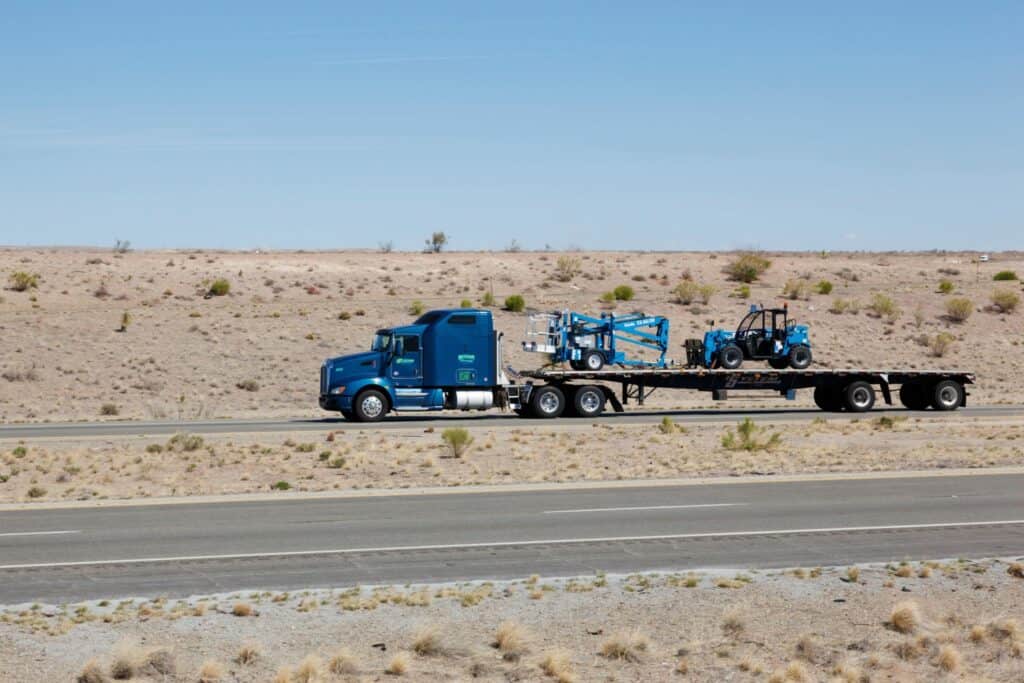 Partial truckload shipping is an excellent option for shippers lacking inventory control, needing freight consolidation services, or greater than usual freight volume. A partial truckload carrier will pick up your full containers and consolidate them in their trailers, leaving space for their shipments.
Below are a few scenarios when you can choose to seek PTL freight:
When your shipment is too large to be sent via parcel post but is also not heavy enough to merit a full truckload.
When you need to ship multiple orders, but without the added expense of consolidating them into one large shipment.
When you are shipping freight internationally, and your shipment contains smaller items that will not require an entire container for transport.
When you need to transport large quantities of goods but do not want to pay for the cost of leasing an entire truck.
When you cannot find a carrier that will provide door-to-door service or pickup services at times that are convenient for you.
Partial truckloads can also be an efficient option for high-value items such as jewelry, fine art, and antiques and for orders that require special care and attention during transport to ensure that no damage occurs to the items being transported.
Does Partial Truckload Ship Faster Than LTL?
Yes. PTL transport is faster than LTL transport. LTL shipments require the freight to cross-dock, while PTL shipments stay in one trailer and go directly to the customer's dock (door). LTL shipments typically involve cross-docking at a freight terminal, which means the shipper needs to repack all of the goods in the trailer before they can be delivered.
Cross-docking is time-consuming and inconvenient, especially if you need your products right away. The more products there are in the trailer, the more time and labor it takes to unload and repack them at each stop along their route. Partial truckload shipments don't involve cross-docking, so they're faster and easier to schedule than LTL shipments.
The Bottom Line
In the case of partial truckload, shippers who have less than a full trailer can now put a partial load on a truck and not have to worry about it going back empty. Both the shipper and the carrier win, as it increases efficiency.
With a few exceptions, carriers generally don't make money with empty miles. When a carrier gets an empty load back home, they lose money for that trip because of fuel costs and other expenses. They can sometimes make up some of that money by picking up another load, but the process is inefficient and awkward. A partial truckload alleviates this problem.
In addition to being easier for carriers, partial truckload is easy for shippers as well. If they have less than a full trailer, they can still move their goods without paying for a whole truckload. They also aren't paying for extra space if they don't need it. And if their shipment exceeds what they had in mind when they placed the order, there is no penalty in losing the space reserved for an extra pallet or two because it's already been paid for.
About VeriTread
VeriTread is your go to solution for PTL transport. We can have your PTL freight delivered to any destination in North America in a safe and timely manner. We are experts at handling paperwork, selecting the right trailers and drivers, and charting the most efficient routes.
VeriTread makes it easy to get reliable freight quotes from the experts in equipment transport. VeriTread moves thousands of machines every year and can quickly generate a reliable quote on the go. Our extensive specs and dimensions database of 60,000+ items, ensures you spend less time researching and more time putting your equipment to work. The VeriTread Shipper quote process is the simplest way to transport your machines. Follow these easy steps and you will receive a quote in under one minute:
• Enter a Manufacturer & Model
• Verify or Edit Your Machine Dimensions
• Enter Pickup & Drop Off Locations
• Your Quote is Ready!
Getting started with VeriTread is easy. You can visit our contact form or call (800) 880-0468 or (863) 226-0903 for international calls.