January 20, 2022
What is a Motor Grader?

A motor grader is a construction vehicle used to maintain unpaved roads and establish the final grades on construction projects. They are designed to create flat surfaces and can spread dirt and remove debris. They are best recognized for their long adjustable blade.
Motor grades are also suitable for different applications, which can be accomplished by attaching particular units on the machinery. There are two types of motor graders, depending on the arrangement of the frame. The rigid frame type has a single axle and cannot turn in both directions about a point while the articulated frame type has a hinge between the two axles. The feature of the latter makes it suitable for turning around in small spaces.
Several industries make use of motor graders, including:
Construction: Workers use a motor grader to level a surface before laying the foundation for a home, building or other structure.
Road work: Streets, highways and parking lots wouldn't exist without motor graders. An operator uses this equipment to flatten and smooth a surface before laying asphalt. You can also use this machinery to maintain unpaved roads.
Snow removal: Places that receive significant snowfall require plowing. With the right attachment, a motor grader can be used to push snow out of the way.
Agriculture: Soil prep for the new planting season is simple with a motor grader. You can also use this equipment to make dirt tracks or roads on farms.
Mining: Miners need a safe place to drive their equipment. Whether the work is above or below ground, a motor grader can smooth surfaces for this purpose.
Landscaping: Graders are helpful for tasks such as forming drainage ditches and creating slopes.
What Are The Different Types Of Motor Graders?
Small Motor Graders
Small motor graders have small blades to fit in small or tight areas. Most of the time, they have the same controls as larger machines, used for the same purposes. Road graders of this size are commonly used for small construction jobs or landscaping.
Medium Motor Graders
Medium road graders have longer blades that can cover long stretches of land. They also have larger wheels and are used for larger jobs. Medium motor graders are commonly used for highways, roads, and large construction sites.
Large Motor Graders
Large graders are sometimes called "heavy motor graders". The large motor grader is also used to prepare large areas of land for residential or commercial use.
Rigid Frame Motor Grader
The rigid frame motor grader is the most traditional kind, and it is usually used for everyday grading tasks. Rigid frame motor graders are commonly used to grade farm or construction use. This motor grader has a long rectangular frame that forms a rectangle. It has four wheels attached to it on the frame. There are two on the front of the frame and two on the back. Meanwhile, the blade is attached to the frame by hinges, and it swings back and forth depending on how the machine is being operated. To control it, on the far back of the machine, at the tail end, is a push bar that is used to steer the machine.
Articulated Frame Motor Grader
Articulated frame motor graders are usually used for larger jobs. This type of machine has an articulated frame attached to two larger wheels. Each wheel has a steering wheel attached to it. The steering wheel is used to steer the blade along the road's surface. Both wheels can pivot to allow the machine to turn in tight areas and driveways. The best thing about articulated frame motor graders is that they can go anywhere a truck can, and go faster than a small framed machine.
What Are The Parts Of A Motor Grader?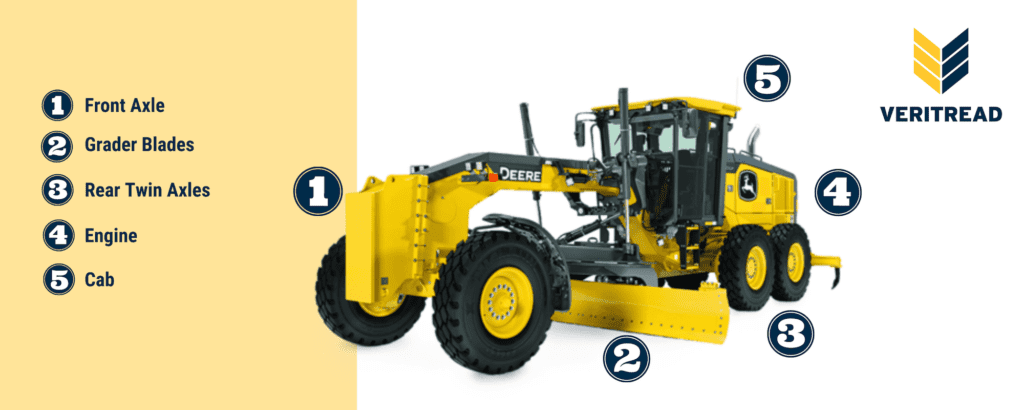 What Are Motor Grader Attachments:
1. Rippers
Ripper attachments break into a solid area and loosen the dirt or soil. You can use a ripper attachment to prepare a site for the grading or leveling process, and it is also helpful for clearing land in mining applications.
2. Snow Wings
Snow wings come in either masted or mastless forms. Use snow wings to easily clear snow on roadways. These attachments work in high- or low-speed applications.
3. V-Plows
The v-plow is a specific type of snowplow. It's a large size with two pieces coming together in the shape of a "V." You can use this attachment for areas with heavy snow that is difficult to clear with other attachments. The V shape allows the plow to push snow far on both sides.
4. Tire Chains
Tire chains are helpful for gaining traction. They are especially useful during the winter months when a motor grader could experience sliding and poor traction.
5. Straight Front Blades
A straight front blade is one of the most versatile attachments for a motor grader. You can use a straight blade for everything from snow removal to leveling and dozing. Straight front blades come in multiple sizes to match your application.
6. Front-Mounted Hydraulic Brooms
A hydraulic broom attached to the front motor grader work well for jobs where you need to remove large, loose materials, such as rocks or debris.
Why choose VeriTread?
VeriTread is your go-to solution for hauling a Motor Grader. We can have your motor grader delivered to any destination in North America in a safe and timely manner. We are experts at handling paperwork, selecting the right trailers and drivers, and charting the most efficient routes.
VeriTread makes it easy to get reliable freight quotes from the experts in equipment transport. VeriTread moves thousands of machines every year and can quickly generate a reliable quote on the go. Our extensive specs and dimensions database of 60,000+ items, ensures you spend less time researching and more time putting your equipment to work. The VeriTread freight quote process is the simplest way to prepare for transport of your machines. Follow these easy steps and you will receive a quote in under one minute:
Enter a Manufacturer & Model
Verify or Edit Your Machine Dimensions
Enter Pickup & Drop Off Locations
We believe our suite of innovative decision tools empower our customer to make smarter and more informed transportation decisions, reducing overall uncertainty, and delivering a better experience for all.
Getting started with VeriTread is easy. You can visit our contact form or call (800) 880-0468 or (863) 226-0903 for international calls.