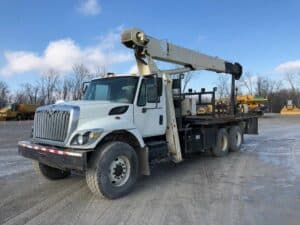 A truck crane (aka mobile cranes is a useful construction vehicle to have. They can lift heavy materials and move them to various places within a construction site. They can come in many different styles, and each version requires specialized attention.
Truck Crane transport is a task you can't leave to just anyone. You need to work with a company that has a history of successfully transporting truck cranes to get your machine safely to your next job site.
What is a truck crane?
Truck cranes play a key role on construction sites when moving extremely heavy items like steel or concrete beams. Without a truck crane on-site, it is going to be near impossible to move those heavy items.
There are four common types you will see on construction sites: truck mounted, knuckle boom, all-terrain, and rough terrain.
Truck mounted cranes
This version has a mounted hydraulically operated crane and is attached on a rubber-wheeled chassis. There is a bit of flexibility when moving the truck mounted crane as it can drive on streets and highways. Being street legal and within size, a truck mounted crane can move between job sites that are close by.
Knuckle boom cranes
A knuckle boom crane, also known as an articulating crane, offers flexibility and versatility when transporting heavy items. It can fold down its size and extend to long distances, increasing its payload, control, and overall versatility. Knuckle boom cranes perform work by using an assortment of attachments on the boom tip.
All-terrain cranes (AT crane)
As the name implies, an all-terrain crane is designed to transport materials across all terrains. You could transport heavy materials off-road, on highways, or on streets. All-terrain cranes have lifting capacity that ranges from 30 tons to over 1,000. They can reach heights of up to 500 feet. All-terrain cranes use crab steering, where all 4 wheels turn. This reduces ground compaction as the rear wheels do not roll in the front wheel tracks. Crab steering is useful for these heavy machines since it distributes the weight over a larger area.
Rough terrain cranes (RT crane)
Unlike the all-terrain crane, a rough terrain crane is designed to specialize in off-road use. This version is commonly used in bridge building. Rough terrain cranes are lighter so they have a more limited lifting ability when comparing them to all-terrain cranes. These cranes are mounted on an undercarriage with 4 rubber tires and designed to be used as a pick up and carry on rough, off-road terrain.
How the shipping process works
Truck cranes are commonly transported as oversized loads due to their heavyweight and unusual shape. They also might require parts to be dissembled and could even require multiple trailers when transporting.
Using a Removable gooseneck (RGN) trailer is a good option to go with. RGN trailers are a good choice to accommodate oversized loads since they are lower to the ground.
Why select VeriTread?
With VeriTread, we know how important it is to transport your truck crane safely and timely to its next job site. We understand how complicated the process can be with the variety of different options out there.
We are committed to making the transportation process go smoothly. We are experts at handling paperwork, selecting the right trailers and drivers, and charting the most efficient routes. Our team is here to help you with your transportation needs. Please feel free to contact us, and we'll be ready to help get you started.