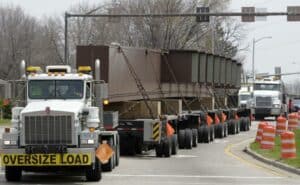 America is one of the top producers of steel production in the World. Over half of new construction relying on steel beams, the transportation and care to construction sites is critical, to transport steel beams to the construction sites takes more than a pickup truck or even a standard 18-wheeler.
Transporting Steel Beams
Specialized heavy haul cargo haulers like a flatbed trailer is needed to handle items with substantial length and weight, like to transport steel beams. The other thing you want to make absolutely certain of when using this mode of shipping is that they are securely fastened to the bed, or each other if stacked. Cranes, Forklifts and a sturdy trailer are just a few things needed to get those steel beams on the road and on their way to your site. Depending on the size, you will probably need special oversize permits as well as escort vehicles, it is best to check with state regulations, but your carrier should be well versed in what is needed in those areas.
Steel Beam Types and Uses
There are many types of steel beams used in construction. Steel bonds well to concrete and has many features that make is appealing to major construction projects. The most popular steel beams, I beams, are used in the structural steel industry. They are critical in supporting trusses and the main framework of the building. These I beams ensure that the building structure is strong and supported. H beams, also known as Wide Flange Beams, are used in construction of buildings as well, but are more known for their use in bridges and trailers.  H beams can span for distances over 325 feet, while I beams are designed to stay within 100 feet. With their wide flange and thicker central web, H beams can bear larger weight capacities than I beams. H beams are also easier to weld together because of their outer flanges being straight, where I beam flanges are tapered. Whether you are transporting I beams or H beams, VeriTread is here to help.
How Much Does It Cost to Transport Steel Beams?
There is no exact price for to transport steel beams, but due to the large and heavy nature of steel beams, it is most likely going to be a higher price tag. Factors to take into consideration would be weight, length, distance from pick up and drop off location, if permits and escorts are needed and how many steel beams are being transported at once. Oversize shipments of steel are not very different than any other type of oversize load that would fall into this type of category. Trucks and each of their respective axles each have weight limits that must be strictly adhered to as it becomes a safety issue to ensure that the vehicles are not compromised under the strain of the additional weight.
Big Rig Videos shares a great overview of Buchanan Hauling & Rigging Inc transporting a beam.
Shipping Steel Beams with VeriTread
VeriTread makes it easy to get reliable freight quotes from the experts in equipment transport. When looking to transport steel beams, look to VeriTread. We move thousands of heavy haul equipment every year and can quickly generate a reliable quote on the go to transport steel beams. Our extensive specs and dimensions database of 60,000+ items, ensures you spend less time researching and more time putting your equipment to work. The VeriTread Shipper quote process is the simplest way to transport. Follow these easy steps and you will receive a quote in under one minute:
• Enter Your Beam Dimensions
• Enter Pickup & Drop Off Locations
• Your Quote is Ready!
Getting started with VeriTread is easy.
You can visit our contact form or call (800) 880-0468.