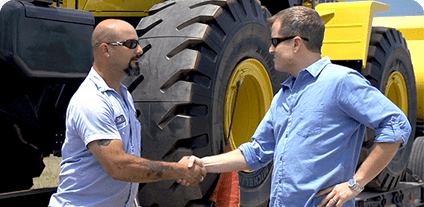 Our Shipper Solution
Get an instant freight price or receive competing bids from pre-qualified transport providers. Negotiate, book, and dispatch online.
Select the right transport company with the industry's most accurate and insightful rating and feedback system.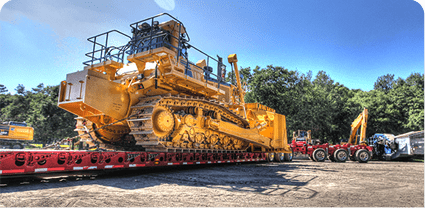 Our Carrier Solution
Access thousands of shipper direct heavy haul loads. Search freight from dealers, rental companies, auction houses, and individuals that want to connect with you.
Tell us about your fleet and let VeriTread locate the freight that is tailored to your capabilities and location. Gain new customers and grow your company.
We Make Light Work of Heavy Haul Transport
See What Our Customers Are Saying
Paul Davidson
March 17, 2022.
I recently handled a load through VeriTread and I have to say that they are extremely professional, precise, take initiative to share information and are genuinely concerned about their clients/customers. They expertly and expeditiously handled the payment for the load and without a fee! This is totally unheard of in this profession yet they do it! I would definitely work with this organization again as a matter of fact I will be looking to see their loads on the loadboards in the future! Great company to do business with and I would recommend them to anyone. Totally trustworthy in my book!
BEAUTTAN C l
March 8, 2022.
Superior and Trusted Company Communication 5 Star , Great loads and quick pay. I highly recommend VeriTread, LLC Thank you! PROMOTOR INC.
Cristian Panaite With Cristian Contractors LLC
February 24, 2022.
Love working with Patrick great guy reasonable rates ! And Nancy always gets me paid quick . Great company.
Donald Duffield
January 6, 2022.
Great company to work with, excellent customer service. Actually have a true "quick pay" program with zero fees.
Kayla Wesoloski
December 30, 2021.
Excellent broker to do business with! Great communication, professional and friendly! We hope to work with them again soon! Their no fee quick pay is also a bonus! Overall great company! ~Mike Myers
Mark Henne
December 8, 2021.
Because VeriTread LLC must deal with variables every day. I applaud Erik and his calm reasonable methods.
Jason Cornelius
November 13, 2021.
Great company to work with! I am just now starting to work with brokers, wish they were all this easy to get along with. Brain, Tim, and Nancy have all been wonderful to deal with! And the no fee quick pay, well, that's certainly a blessing to me!! I look forward to working with them for a long time. Thanks VeriTread Team!!!