How to Transport a Skidder
January 20, 2022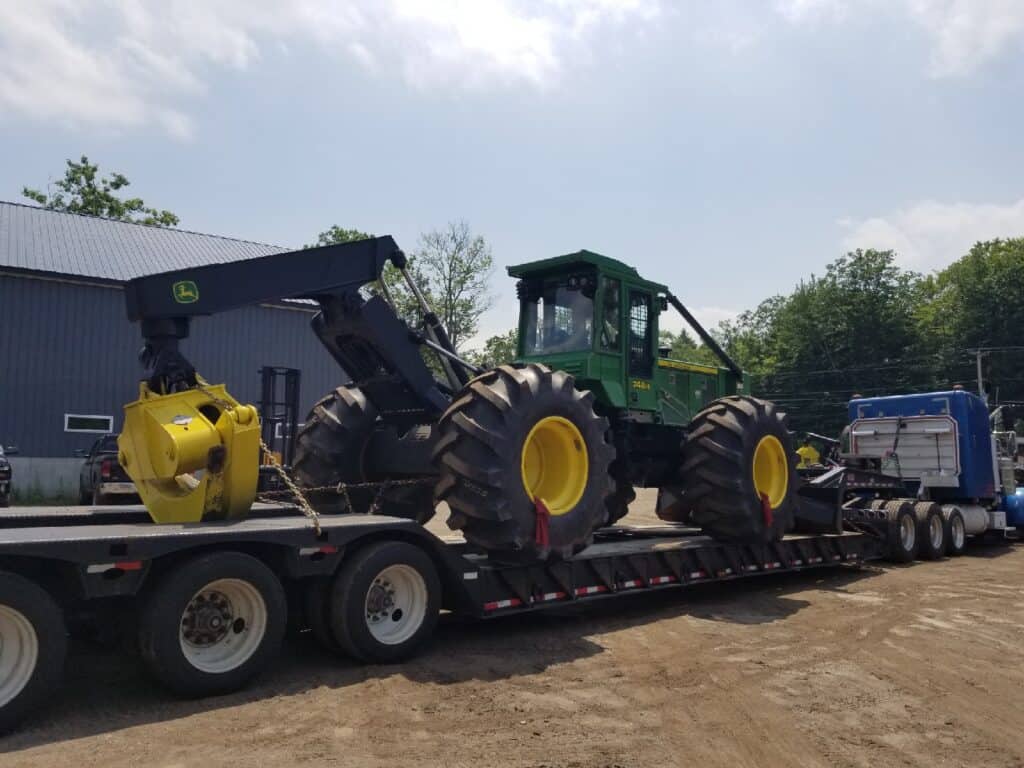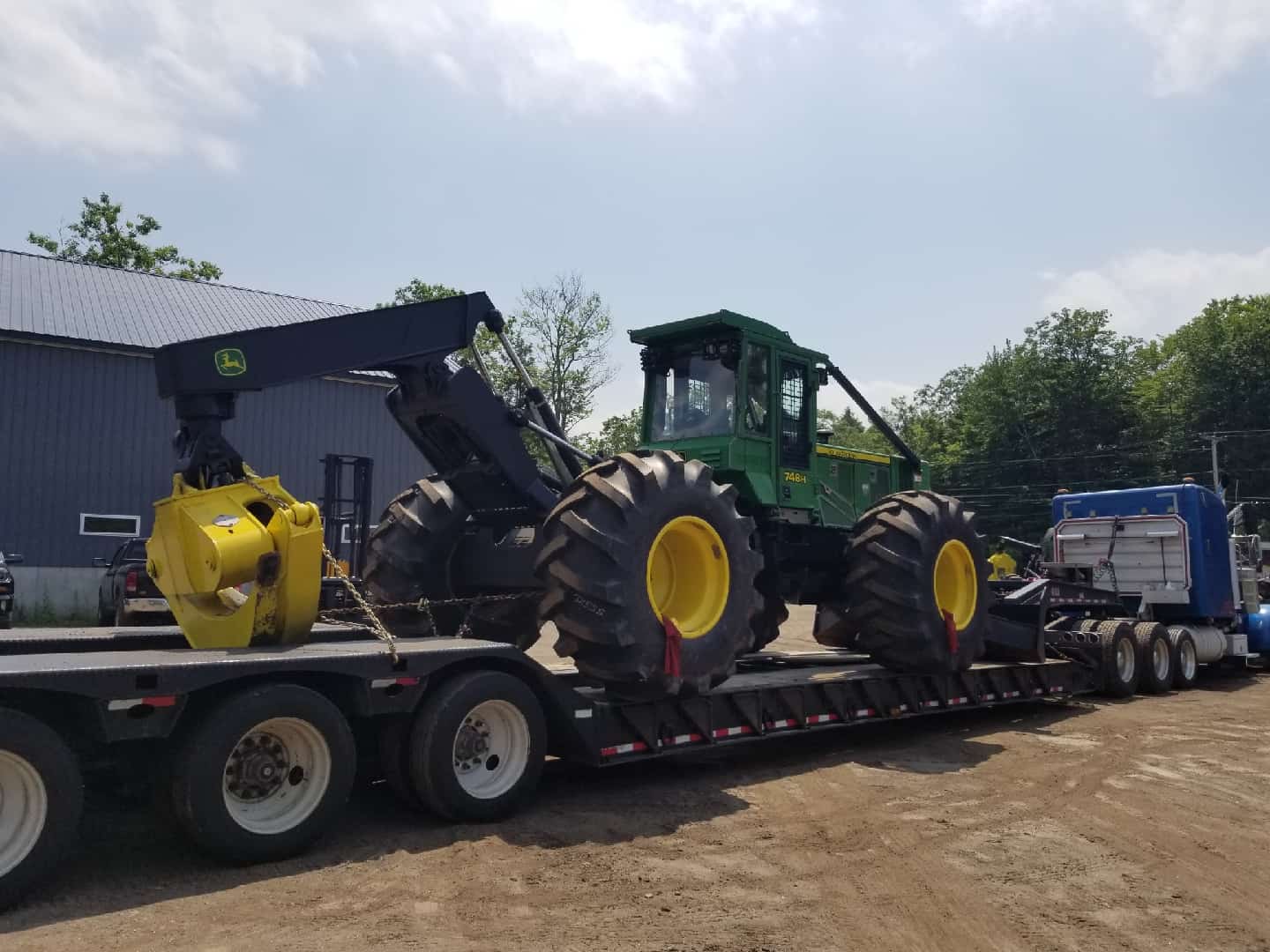 Transporting a skidder can be difficult, time-consuming, and expensive. Preparation, communication, compliance with local, state, and federal regulations, and strict safety procedures are musts for any machine going from Point A to Point B. Many times it is easier to hire a professional transport provider to move a skidder for you, especially over longer distances. VeriTread can help you with all of your skidder transport needs. Our service connects shippers with qualified transport companies around the country who have extensive experience in transporting heavy equipment and oversize loads. Still, it's best to know everything about the process, should any surprises arise. Let's dive into what it takes to safely and legally transport a skidder from one place to another.
Preparation is Key for Successful Skidder Transport. When you're ready to transport your skidder, it's important to take the necessary steps to prepare it for its journey before loading your machine on a trailer. Take the time to perform the following preparation steps that can save you time, headache, money, and risk of someone getting injured:
Perform a Documented Risk Assessment
To ensure that you can handle the risk of a situation, it is important to conduct an assessment. You will document what steps are taken in response and how they could fail, so things never get out of control or cause unnecessary harm.
Outfit Sites & People With PPE (Personal Protective Equipment)
The safety of your crew is the backbone of transport. Without proper protection, they can be at risk not only while preparing for and completing tasks but also during transport if you're carrying heavy cargo. Focusing on PPE documentation will strengthen the overall assessment skill set because it highlights how we take care of ourselves when working with risky loads and situations.
Determine the Weight and Dimensions of Your Skidder
Every load begins with knowing the dimensions and weight of your load. The height, width, length, and weight of your skidder is a vital factor when transporting it. The DOT regulations for transportation revolve around these dimensions. Verify them before you begin to avoid unnecessary fines, delays, or accidents.
Inspect Your Truck and Trailer
Make sure your truck has adequate power to tow the load and your trailer is rated to handle the cargo weight. Inspect your truck and trailer is in good working order, pay specific attention to the tires, lights, brakes, tie-down points, and hydraulic hoses. Equipment failures can lead to delays, injury, or even death. If you notice any potentials problems, take time to address them before you get on the road.
How to Load a Skidder Safely
1) Designate Duties
Make sure everyone involved in loading the skidder has been trained properly. Not only do they need to know what they're doing, but also how their actions might cause damage or injury if carried out improperly.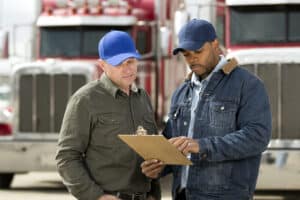 2) Make sure the trailer you are loading onto is on flat, level ground
A tilted trailer can cause rollover problems that are easily avoidable.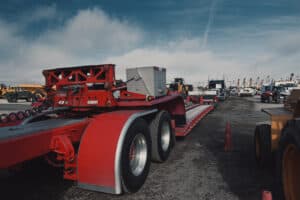 3) Be aware of all obstacles in your area
Adjust your loading strategy to avoid hitting any nearby objects and move everything to a safe distance if possible.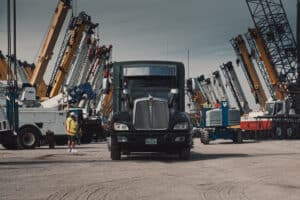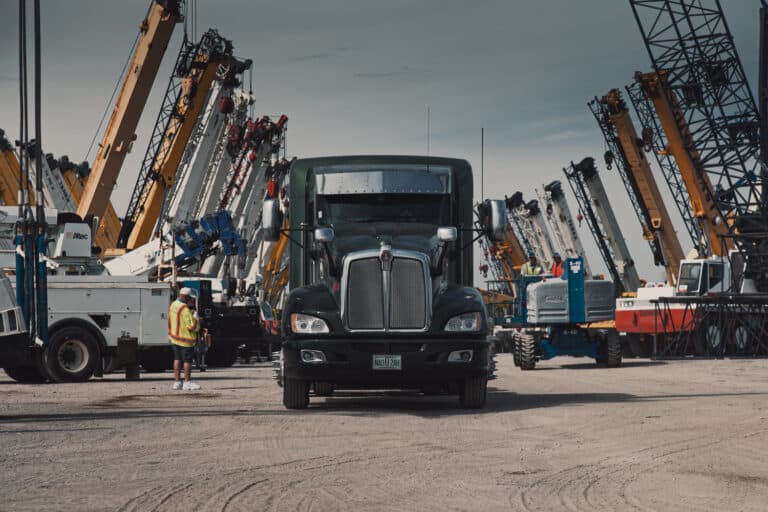 4) Check that your truck can handle the load and is parked and secure
Use the parking brakes and wheel chocks on the front and rear wheels of the trailer to prevent unwanted movement.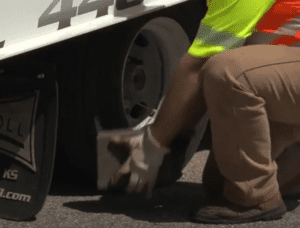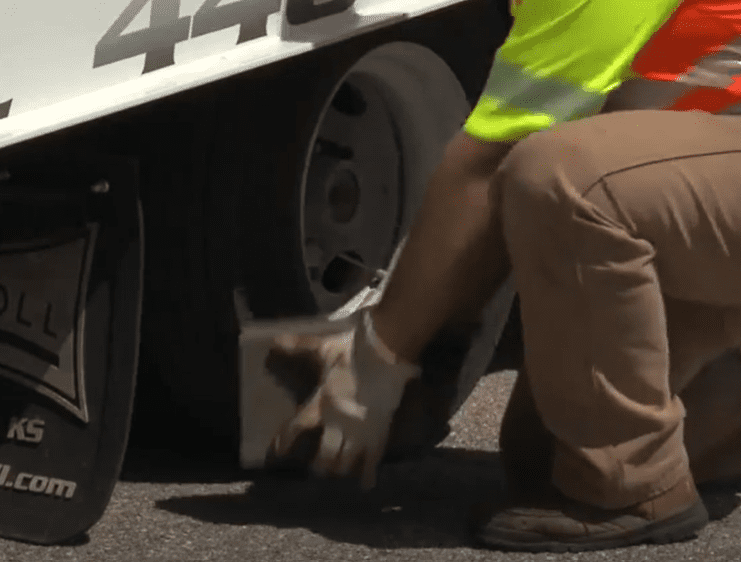 5) Check your trailer deck
Make sure it is as clean as possible and ready to accept the load. A clean work area has the fewest problems.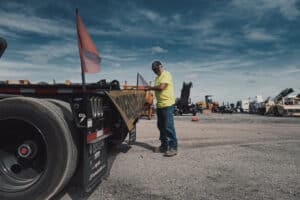 6.) Line up and approach the trailer, straight on
Use a spotter if your view is obstructed. Slowly drive your machine onto the center of the trailer. Make sure the machine gently lowers itself down on the trailer to avoid damaging the machine or trailer. Once you have climbed onto the trailer, ensure all buckets and attachments are tucked towards the floor of the trailer.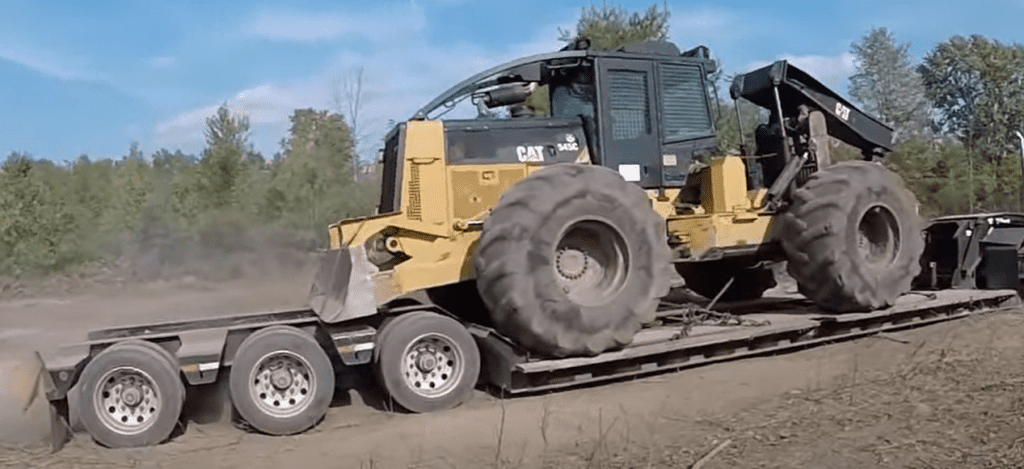 7) Secure Your Skidder Loader for Transport
All equipment attachments, work tools, and other accessory equipment must be lowered and secured before transportation. Retract booms and buckets and secure them in place. Secure equipment components (lock all doors, covers, tailgates, and articulation points). Also, make sure the machine transmission is immobilized and brakes are locked.
For additional protection to your equipment, you may choose to cover it with a tarp or wrap it with shrink wrap. This protects the equipment from dirt, debris, and moisture on the roadways. For equipment with a smokestack, be sure to cover it, so debris cannot enter. Use ample & appropriate securing devices (chains, binders, straps, & anchors). Choose appropriate attachment points on the machine and trailer.
Once the load is secured, check everything a second time. It can be helpful to have a safety check system in place where multiple people check the load, instead of relying on a single person.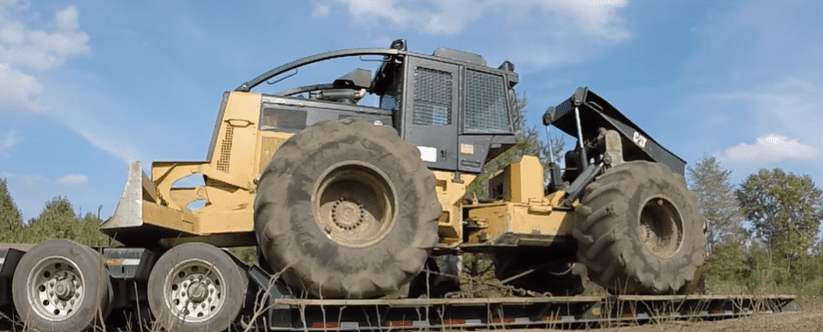 8) Verify Driver Visibility
Make sure the driver has a clear view of what's going on around them. The placement of the skidder should also allow free movement for the driver and should not obstruct them from exiting the vehicle or accessing any necessary vehicle components or accessories. This ensures the driver can safely transport the machinery and keeps your company compliant with DOT regulations.

Why choose VeriTread?
VeriTread is your go-to solution for hauling a skidder. We can have your skidder delivered to any destination in North America in a safe and timely manner. We are experts with connecting you with a transport provider that can handle all the paperwork, select the right trailer and driver, and chart the most efficient route.
VeriTread moves thousands of machines every year and can quickly generate a reliable estimate on the go. Our extensive specs and dimensions database of 60,000+ items, ensures you spend less time researching and more time putting your equipment to work. The VeriTread Shipper quote process is the simplest way to receive competitive quotes from vetted transport providers. Follow these easy steps and you will receive a quote in under one minute:
Select Ready To Ship from the Freight Options Page
Enter a Manufacturer & Model
Verify or Edit Your Machine Dimensions
Enter Pickup & Drop Off Locations
Your Quote is Ready!
We believe our suite of innovative decision tools empower our customer to make smarter and more informed transportation decisions, reducing overall uncertainty, and saving you time and money. If you have questions contact us at (800) 880-0468 or (863) 226-0903 and let our team of experts help you with your transport needs.