How to Select a Heavy Equipment Shipping Company
June 14, 2022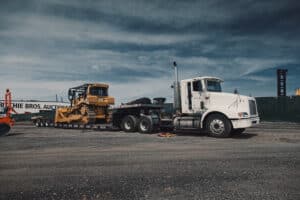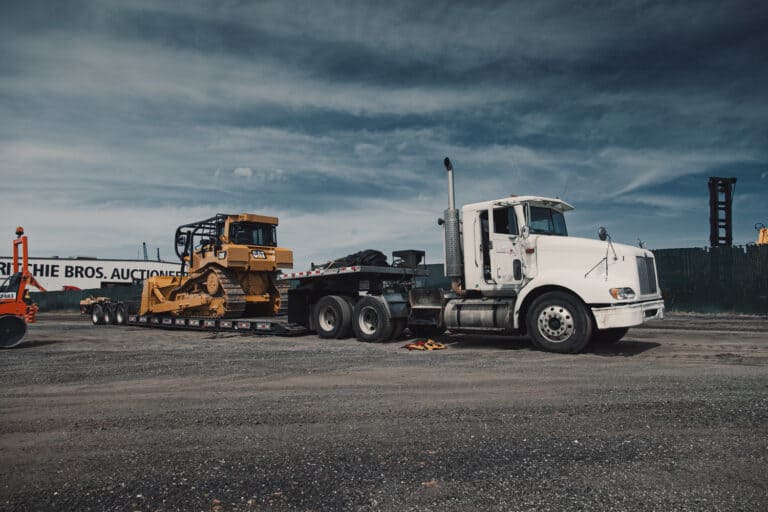 Moving heavy equipment or vehicles from one place to another requires professional help. You cannot just rely on anyone for shipping your valuable and expensive heavy equipment. The heavy equipment shipping company you choose must meet specific criteria and have a reputable presence in its industry. The company with the lowest price isn't always the right one.
Planning well ahead of time and staying prepared is going to be helpful for you. You need to know about the shipping procedures, what kind of trailers the shipping equipment company will be using and the loading and unloading procedures. Having reliable customer service to answer all questions along the way will help put your mind at ease.
What should you look at when choosing a heavy equipment shipping company?
Transparency is the key when choosing a shipping equipment company. Always ask questions to learn more about your heavy equipment transporter. The more information you gather about the shipping company, the easier it will be to compare and choose. If you research on the different factors like cost and time of the move, service quality, and various other things as mentioned below, you will have no trouble getting in touch with the perfect hauler.
Only trust a licensed shipping company to transport your heavy goods. Do a background check on their license and find out useful information about the service provider. Also, compare their safety ratings before making a choice.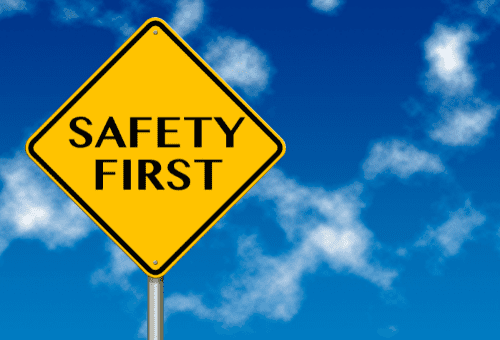 The list of extensive feedback of your carrier's past performance on their website and google reviews should be a good testimonial of the quality of their service. Search for customers who have used their services for similar shipments before and you will get a good idea of their level of service.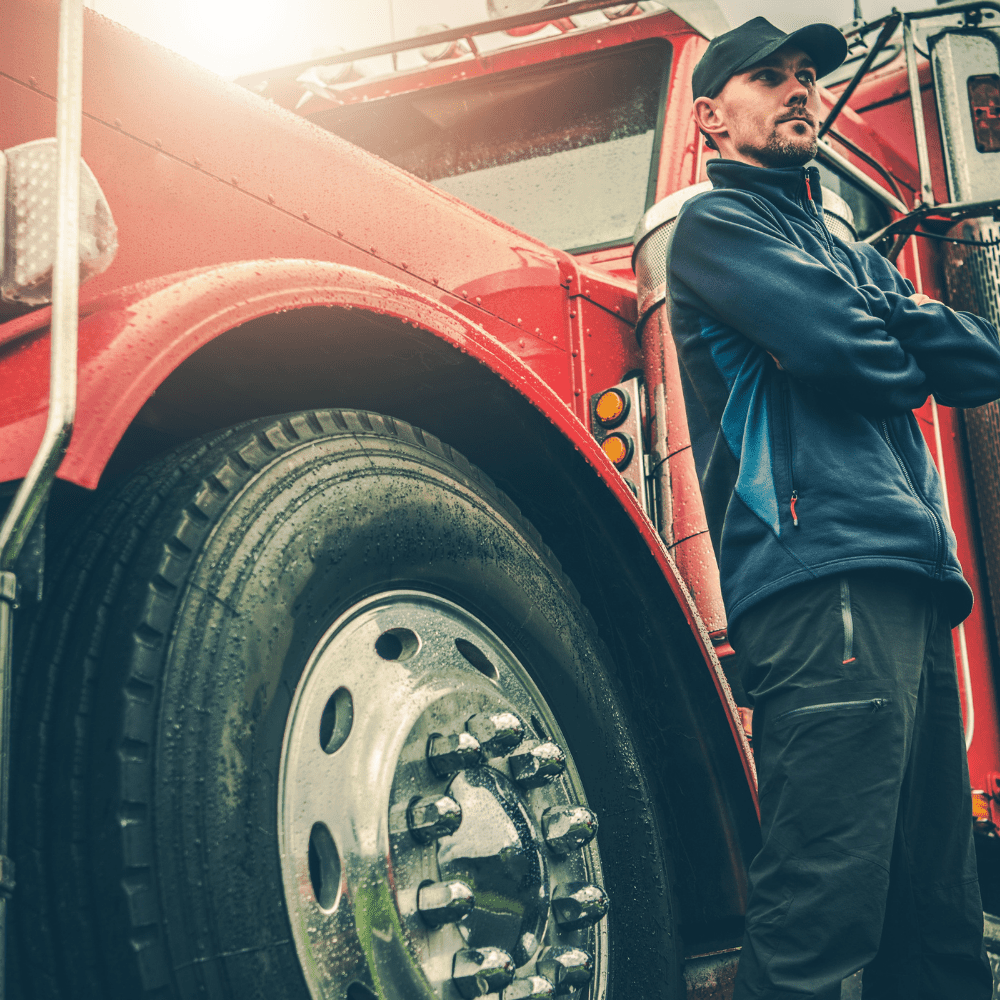 This is a very important factor, especially if you are on a tight schedule. If your shipping company asks for an excessively long amount of time, then it means that they probably are handling many transfers, and your product can suffer wear and tear in the process. Shorter moves with fewer transfers ensure safer shipping.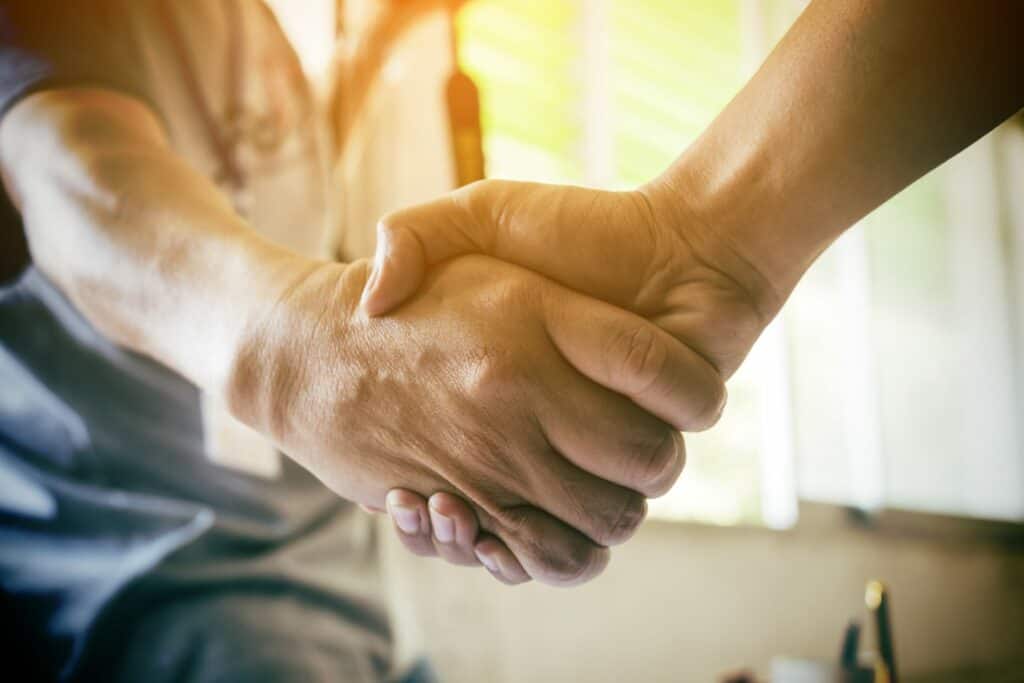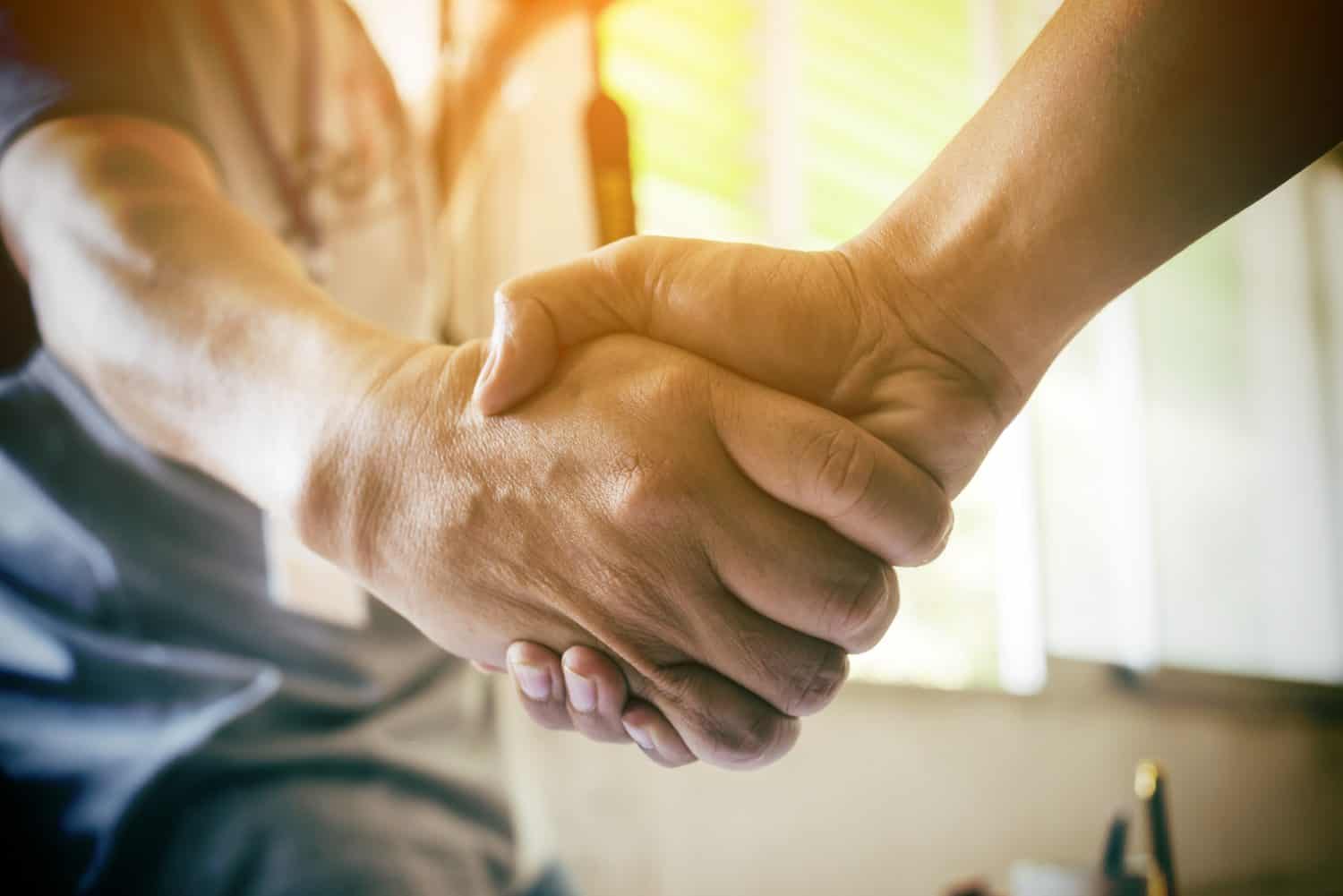 Since you are entrusting your valuable property in the hands of the haulers, they need to provide some insurance in case of misplacing or damage. You need to make sure that your heavy equipment is insured.


Transporting options for heavy equipment
Choosing the right type of trailer to ship your construction equipment is the first step in achieving a successful haul, and when you are choosing a shipping equipment company they should know which type of trailer works best for your equipment. Flatbed trailers are best for compact equipment; step-deck trailers are great for mid-sized equipment; and RGN trailers are best suited for heavy or oversized hauls.
Flatbed Trailers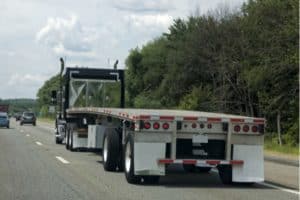 Flatbed trailers are great for transporting small pieces of construction equipment.  They can haul loads that weigh a maximum of 48,000 pounds, and there are height restrictions. Cargo on a flatbed trailer can be up to 8 ½ feet tall and as much as 8 ½ feet wide. Flatbed trailers generally range between 48-feet long and 53-feet long.
Flatbed trailers don't drop down, so you'll need a viable method to load your equipment on board. Ramps will not work because flatbed trailers are too high off the ground. Loading docks are the most ideal solution. You can also use a forklift, a crane, or even a small work crew, to lift your equipment aboard the flatbed trailer.
Flatbed trailers are better suited for shipping the following construction equipment:
Small backhoe loaders
Small forklifts
Mini excavators
Small skid steers
Single-operator street sweepers
Walk-behind trenchers
Wheel loaders
Step Deck Trailers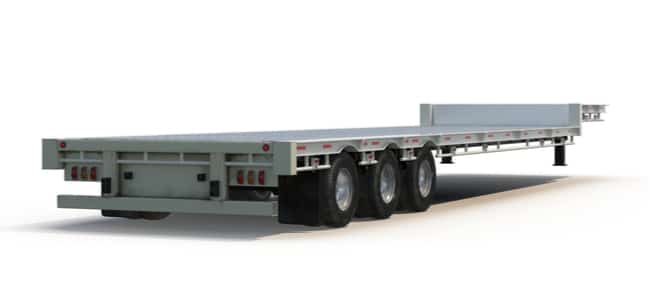 Step-deck trailers can haul much more than flatbed trailers and are more adaptable to your construction equipment's dimensions.
While they typically can transport a maximum of 48,000 pounds like flatbed trailers, cargo on a step-deck trailer can be up to 10 feet tall since the deck steps down to allow more height than a flatbed, and as much as 8 ½ feet wide. Step-deck trailers are generally 48-feet long, which includes an 11-foot deck and a 37-foot well.
Step-deck trailers allow you to drive or tow your equipment aboard using ramps. However, machinery with little ground clearance is difficult to load because the ramps can be pretty steep.
Step-deck trailers are better suited for shipping the following construction equipment:
Small to mid-sized backhoe loaders
Small to mid-sized bulldozers
Construction forklifts
Mini excavators (easier to drive onto a step-deck trailer than load onto a flatbed trailer)
Skid steers (that are too tall for flatbed trailers)
Trenchers
Small to mid-sized wheel loaders
Removable Gooseneck ("RGN") Trailers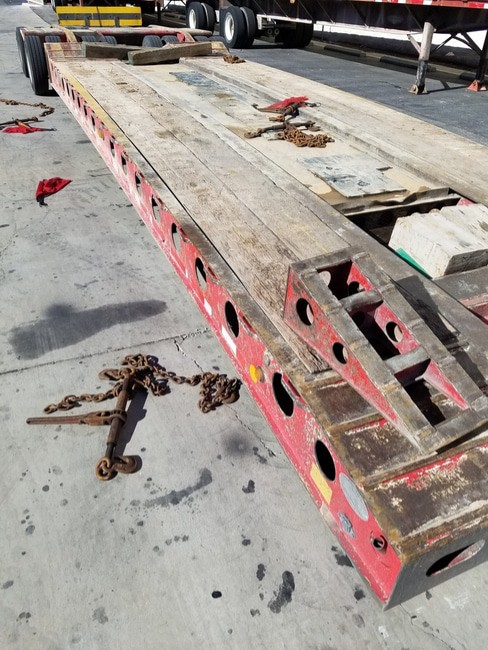 RGN, or removable gooseneck trailers are less standardized than step-deck trailers and are great for carrying long and tall freight.
The basic RGN carries a maximum of 42,000 pounds, but cargo weighing up to 150,00 pounds or more can be transferred on a specialized RGN trailer. An RGN hauls equipment as tall as 11 ½  feet and as wide as 8 ½ feet wide. The trailer well generally is 29-feet long though. The largest RGN trailers have more than 20 axles and stretch to more than 65 feet!
The front of a RGN detaches, allowing the trailer to be lowered to the ground to create a ramp so you can drive or tow your equipment on board. RGN trailers offer more clearance and convenience as they sit a foot-and-a-half lower to the ground than step-deck trailers.
Articulated trucks
Backhoe loaders
Excavators
Forklifts
Graders and Scrapers
Pipelayers
Street sweepers
Trenchers
Anything that's oversize must travel on a specialized RGN trailer, like a lowboy or a multi-axle trailer.
Why Choose VeriTread?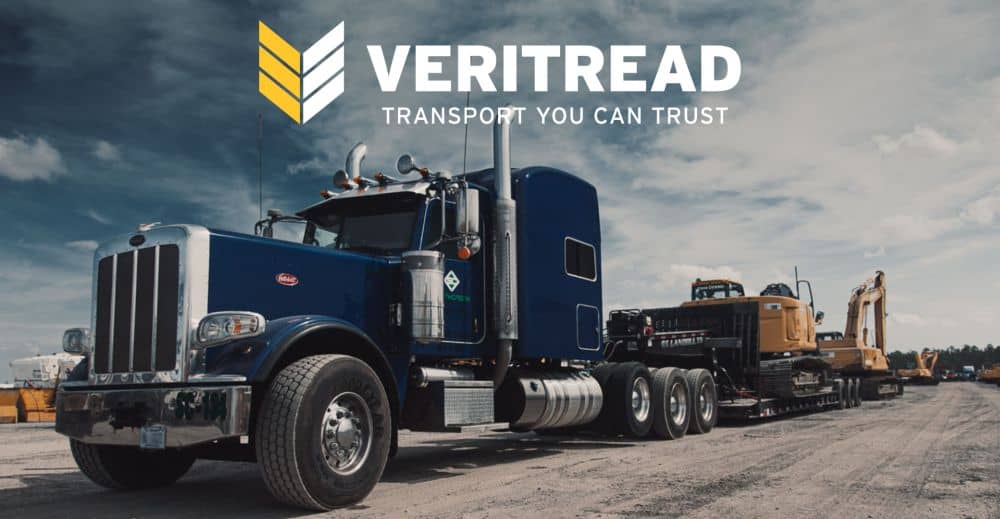 VeriTread is your go to solution for hauling a heavy equipment. We can have your freight delivered to any destination in North America in a safe and timely manner. We are experts in connecting you with a transport provider that can handle all the paperwork, select the right trailer and driver, and chart the most efficient route.
When it comes to heavy equipment shipping VeriTread moves thousands of heavy equipment every year and can quickly generate a reliable estimate on the go. Our extensive specs and dimensions database of 60,000+ items, ensures you spend less time researching and more time putting your equipment to work. The VeriTread Shipper quote process is the simplest way to receive competitive quotes from vetted transport providers.
Follow these easy steps and you will receive a quote in under one minute:
Select

Ready To Ship

from the Freight Options Page

Enter a Manufacturer & Model

Verify or Edit Your Machine Dimensions

Enter Pickup & Drop Off Locations

Your Quote is Ready!
We believe our suite of innovative decision tools empower our customers to make smarter and more informed transportation decisions, reducing overall uncertainty, and saving you time and money. If you have questions contact us at (800) 880-0468 or (863) 226-0903 and let our team of experts help you with your transport needs.