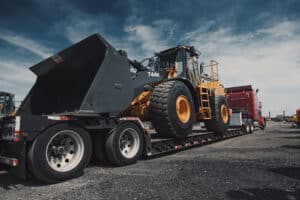 Wheel loaders are commonly used to scoop material into trucks on most construction sites. A wheel loader is often used to lift gravel, debris, soil, and dirt. Wheel Loader Transport is best done by a professional with experience in loading these specific pieces of equipment. There are several steps you need to take to ensure the job is done right.
Deciding on the Right Trailer
Large wheel loaders are generally too tall for most roads and bridges, so they rely on trailers to transport them. Lowboy trailers have become a popular choice due to their ability of keeping loads from triggering regulatory requirements such as escort vehicles with height poles or permits that may be required if the trailer is over 13 feet high (or 8 1/2 wide). The width limit is 12 ft.; however, any wider than this will require an OS permit which can make transporting even more difficult!
Machine weight is also a factor on trailer type. If you have a full-size wheel loader or one that is over 40,000 pounds then it will need to be transported on an RGN trailer. If it under 40,000 lbs and ll ft in height, a step deck trailer may be used if desired. Compact wheel loaders can travel aboard flatbed trailers. You'll need access to a dock to load your compact wheel loader aboard a flatbed trailer.
You'll need to select a trailer that can accommodate the various wheel loader sizes. A small wheel loader can be transported using a hotshot or step deck trailer.
Larger wheel loaders will most likely require you to use a removable gooseneck (RGN) trailer. The RGN trailer is a convenient way to load a large wheel loader. In some cases, you might even be able to use a crane.
How to Safely Load a Wheel Loader
There are several steps you need to take to load a wheel loader onto a trailer safely:
1. Keep the wheel loader at a low speed when going up the ramp onto the trailer.
2. Ensure the weight of the wheel loader is evenly distributed on the trailer. You want to avoid any unnecessary pull that could shift the wheel loader.
3. Lower the bucket and attachment so they touch the floor of the trailer, turn off the engine, and disconnect the battery.
Securing the Wheel Loader
Once the wheel loader has been loaded onto the trailer, you'll need to follow these steps to secure it.
1. Lock all the doors, covers, and articulation points on the wheel loader.
2. Use tie-down anchors to secure the front and rear positions.
3. Set the wheel loaders attachments onto the trailer so they can be secured by chains.
Why go with VeriTread?
VeriTread is here to provide top-notch wheel loader transportation. We are committed to improving and streamlining the wheel loader transportation process. We are seasoned industry professionals who know how to handle the unexpected.
Our suite of innovative decision tools is here to empower customers to make wiser and better transportation decisions. We aim to reduce overall uncertainty and deliver a better transportation experience.