How Much Does Shipping A Crane Cost?
June 2, 2022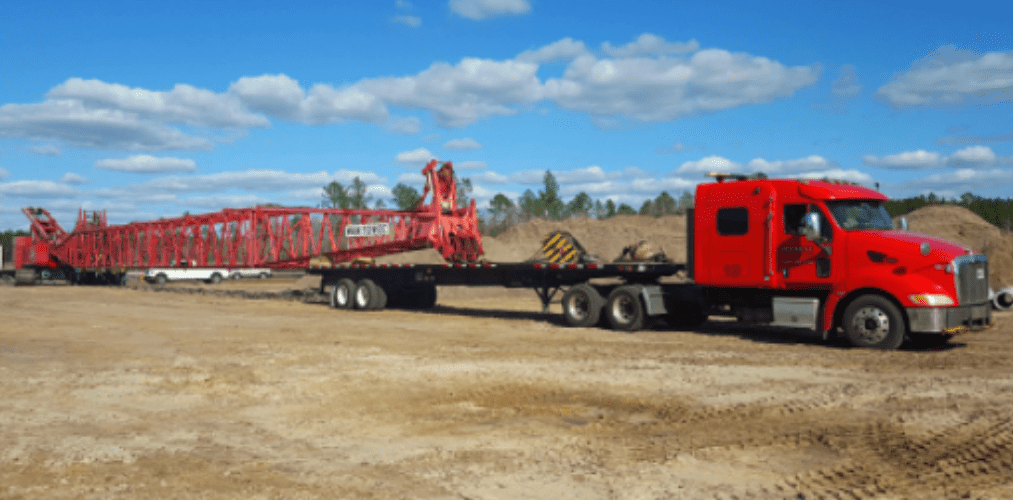 Shipping A Crane Quick Links
Get A Quote | Shipping Cost | Trailer Types | Saving Money
Shipping a crane can be daunting task especially if it is a large crane that requires disassembly and transport on multiple trucks.  This preparation can often lead to long lead times for shipping cranes. Small to mid size cranes can usually stay under legal load dimensions.  Larger cranes involved in heavy lifts usually fall into oversize loads that require special permits and larger trailers for transport.  Pricing can vary greatly depending on these factors and that is why it is critical to use an established transport provider of you could have a terrible outcome when you are looking to ship your crane.
Where Can I Get Crane Shipping Quotes?
The four main factors that effect the price of shipping a crane are:
Dimensions of your Crane
Trailer Type Utilized in Transport
Distance the Crane needs to move
Loading Assistance and Disassembly
VeriTread can provide a quick estimate to ship a crane by using our exclusive heavy equipment freight estimator.

To receive an actual transport provider quote, can you post your crane to our freight marketing place free of charge and receive vetted carrier quotes from the largest network of equipment transport providers in North America.
We believe it's always good to know what all is involved in a heavy equipment freight quote, so let's dive deeper into the factors involved in pricing machinery transport on an open deck trailers
What Factors Affect Crane Shipping Costs?
The most important factor in the cost to ship a crane is providing accurate dimensions.  Most carriers try to keep their freight at or below the legal load dimensions of:
Length = 48 to 53 feet
Width = 8 feet 6 inches
Height = 13 feet 6 inches
Weight = 80,000 lbs.
These dimensions also include the trailer.  This is why it is critical for the transport provider to know the length, width, height, and weight of the machine with all attachments. If a machine exceeds legal load dimensions, prices can increase dramatically due to added permits, escorts, and restricted routes.
While there are many different types of cranes, there are a few basic components worth mentioning should the crane have to be disassembled for transport.  These parts are:
Boom – The boom is the most recognizable part of a crane. The boom is a long arm that can either be telescopic or fixed. The primary purpose of the boom is to lift, move and position material. They bear the majority of the load and are responsible for determining the reach of the crane.
Jib – The jib of a crane is the lattice-type structure attached to the end of the boom. Using a lattice-type build helps to reduce the weight it adds to the front of the boom. It is fixed in length and cannot be extended or retracted like a boom can. The jib or jib arm has one main purpose: to help keep the material clear of the main support so that it doesn't hit it while being moved.
Rotex Gear – The Rotex gear is the mechanism below the cab of the crane. It allows the cab and boom to rotate left and right. A simple movement, but incredibly important for the function of the machine.
Outriggers – Outriggers may be one of the most important factors for crane safety. The function of an outrigger is to supply additional support. The purpose of an outrigger is to distribute the load of the crane over a large enough area so that the crane itself doesn't tip over or become unstable. All outriggers should either meet or exceed the weight requirements of a crane or job.
Counterweights – The name "counterweight" pretty much describes the purpose of them: to counter the weight on the front of the crane while lifting material to prevent tipping. They help add stability to the machine and generally increase stability.
Reinforced-Steel Cable – In order for cranes to actually lift and move material, they require some kind of line or rope to do the actual lifting. In the case of cranes, this material is a reinforced steel cable.
Hook – The most typical way to hold and move materials is done through a hook. The lifting hook on cranes is usually equipped with a safety latch to prevent the material from slipping off the hook in transit. Crane lifting hooks are often made of steel or wrought iron.
Providing pictures of the crane is also helpful to assure that nothing critical is missed that could affect the price of the quote.
What Types of Trailers Are Used In Crane Shipping?
Trailers are a significant factor in keeping your crane inside of legal load dimensions. Most heavy equipment is transported on three trailer types: flatbeds, step decks, lowboys – RGN's. The larger the trailer, the more expensive per mile hauled which is an additional cost you will need to consider.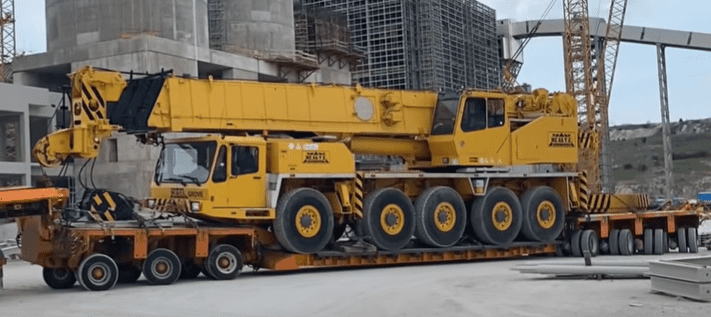 A typical flatbed trailer is 5 feet above the ground, meaning freight cannot exceed 8' 6" inches in height. Flatbeds are the most economical way to transport a crane, but they do require a dock or loading assistance if they do not have ramps.  Generally a flatbed would only be used if a crane requires disassembly as a way to save on the shorter parts of the crane.
A typical step deck can transport items up to 10' 2" tall. Step deck trailers generally have an 11-foot-long upper deck, and 37-foot-long lower deck (equaling general legal max length of 48 feet). Step deck trailers generally weigh more than flatbed trailers, meaning freight weight needs to be closely considered, so it doesn't exceed the 80,000-pound limit.
Lowboys & RGNs can haul freight up to 11' 6" in height.  RGN & Lowboy trailers generally haul freight that is up to 11" 6" tall. The length of a lowboy well ranges from 24' to 29.6'. A 25' well is perfect for hauling most equipment, such as bulldozers. Tri- Axle trailers generally can support weights up to 55,000 lbs, but can be configured to support up to 150,000 lbs.  The larger and heavier the load, the higher the cost.  Lowboys and RGN and use extensively when transporting medium to large cranes that don't require disassembly.
How Do I Save Money When Shipping A Crane?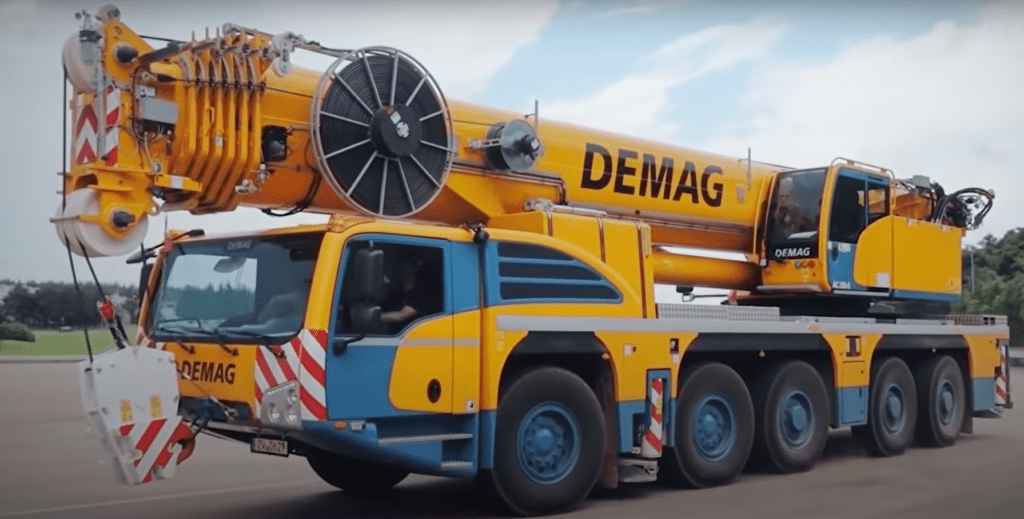 Most companies will ask for around $3 per mile when moving your heavy machinery within a 500-mile radius. If your pickup or drop is in a congested metro area that restricts the carrier movement, then additional charges could be added.

Always keep in mind that heavy equipment can take extra time to get loaded up and moved. There are far fewer carriers that can move these heavy machines than say an automobile hauler. If your machine can't move under its own power or requires disassembly, expect to pay additional fees for the added time the carrier has to spend getting your machine ready to transport. You can save a considerable amount of money if you can provide disassembly and load assistance (loading dock, forklift, cranes, etc.), so make sure you communicate this to your transport provider.
Do You Need Help Or Have More Questions In Shipping A Crane?
VeriTread is your go to solution for shipping a crane. We can have your crane delivered to any destination in North America in a safe and timely manner. We are experts in connecting you with a transport provider that can handle all the paperwork, select the right trailer and driver, and chart the most efficient route.
VeriTread moves thousands of cranes every year and can quickly generate a reliable estimate on the go. Our extensive specs and dimensions database of 60,000+ items, ensures you spend less time researching and more time putting your equipment to work. The VeriTread Shipper quote process is the simplest way to receive competitive quotes from vetted transport providers. Follow these easy steps, and you will receive a quote in under one minute:
Select
Ready To Ship from the Freight Options Page
Enter a Manufacturer & Model
Verify or Edit Your Machine Dimensions
Enter Pickup & Drop Off Locations
Your Quote is Ready!
We believe our suite of innovative decision tools empower our customer to make smarter and more informed transportation decisions, reducing overall uncertainty, and saving you time and money. If you have questions contact us at (800) 880-0468 or (863) 226-0903 and let our team of experts help you with your transport needs.