How Much Does it Cost to Ship Farm Equipment?
June 21, 2022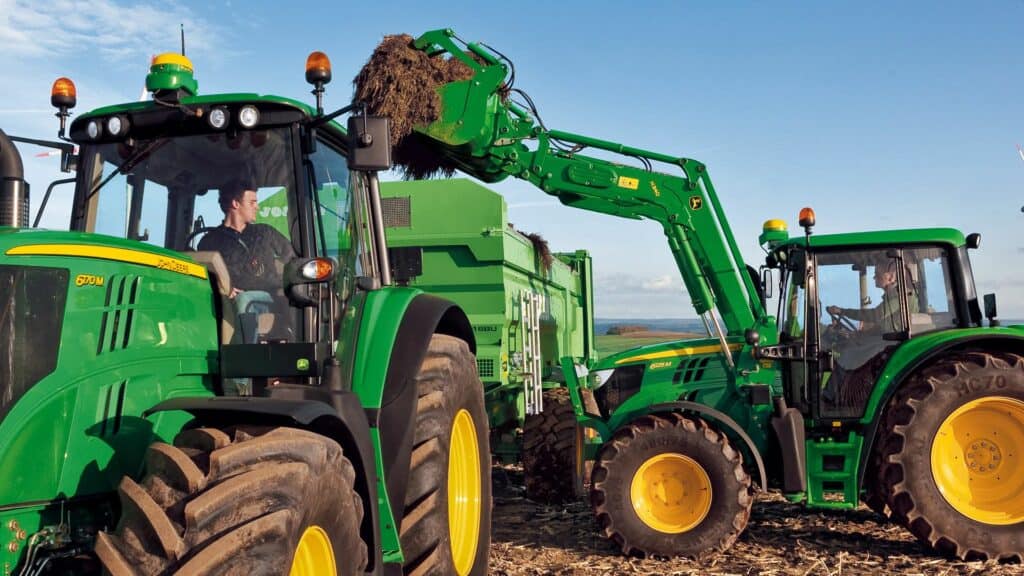 How Much Does it Cost to Ship Farm Equipment?
The cost to ship farm equipment will vary greatly depending on what piece you are transporting. Agricultural machinery can range from a partial load of a small mower to an oversize shipment of cotton pickers. Knowing your piece of equipment is the most important factor when having them hauled. Shipping farm equipment can be a daunting task especially if you do not have a relationship with a trusted carrier who will handle your machine with care and won't overcharge you. Many factors affect the cost of transporting farm equipment.  The four main factors to ship agricultural machinery are:
Dimensions of your Farm Equipment
Trailer Type Utilized in Transport
Distance the Farm Equipment needs to move
Loading Assistance and Disassembly
Pricing can vary greatly depending on these factors and that is why it is critical to use an established transport provider to avoid having a terrible outcome when you are looking to ship your farm equipment.
VeriTread can provide a quick estimate to ship farm equipment by using our exclusive heavy equipment freight estimator.   To receive an actual transport provider quote, you can post your farm equipment to our freight marketing place free of charge and receive vetted carrier quotes from the largest network of vetted equipment transport providers in North America.
We believe it's always good to know what all is involved in a heavy equipment freight quote, so let's dive deeper into the factors involved in pricing machinery transport on an open deck trailer.
SHIPPING FARM EQUIPMENT QUICK LINKS
Get A Quote | Shipping freight Cost | Saving Money
Accurate Farm Equipment Dimensions Lead to Accurate Freight Prices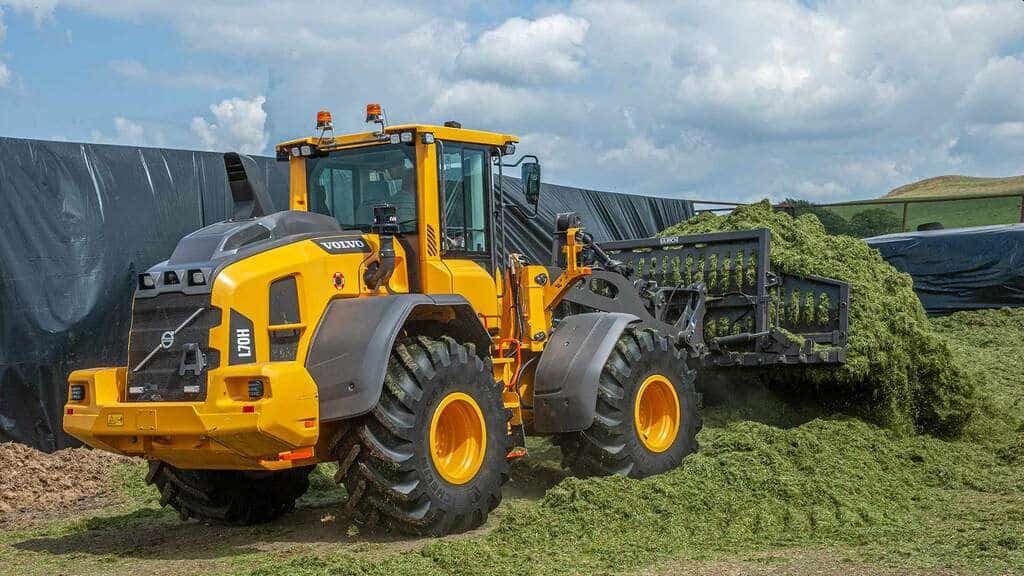 The most important factor in the cost to ship farm equipment is providing accurate dimensions. Most carriers try to keep their freight at or below the legal load dimensions of:
Length = 48 to 53 feet
Width = 8 feet 6 inches
Height = 13 feet 6 inches
Weight = 80,000 lbs
These dimensions also include the trailer.  This is why it is critical for the transport provider to know the length, width, height, and weight of the machine with all attachments. If a machine exceeds legal load dimensions, prices can increase dramatically due to added permits, escorts, and restricted routes.
Providing pictures of the farm equipment to your transport provider is also helpful to assure that nothing critical is missed that could affect the price of the quote. Some of the most common types of farm equipment transported are grain bins, chemical applicators, harvest combines, manure spreaders, planting or tilling equipment, and tractors.
What Trailer Size is Needed?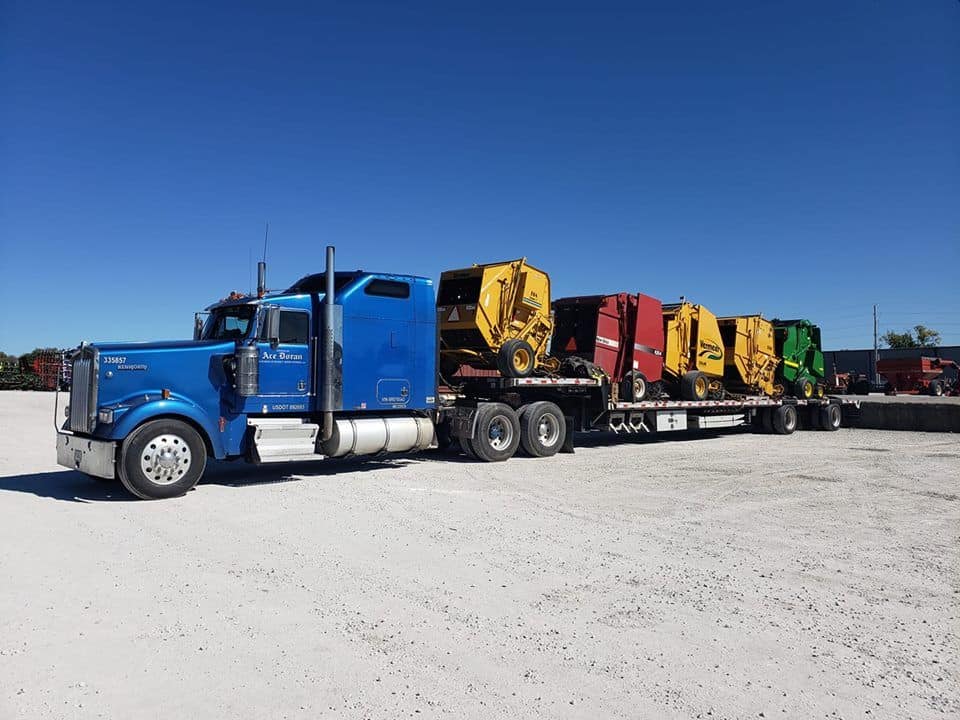 Trailers are a significant factor in keeping your farm equipment inside of legal load dimensions.  Most heavy equipment is transported on three trailer types: flatbeds, step decks, or lowboys – RGN's. The larger the trailer, the more expensive per mile hauled which is an additional cost you will need to consider.
How Long Does It Take to Load Your Farm Equipment?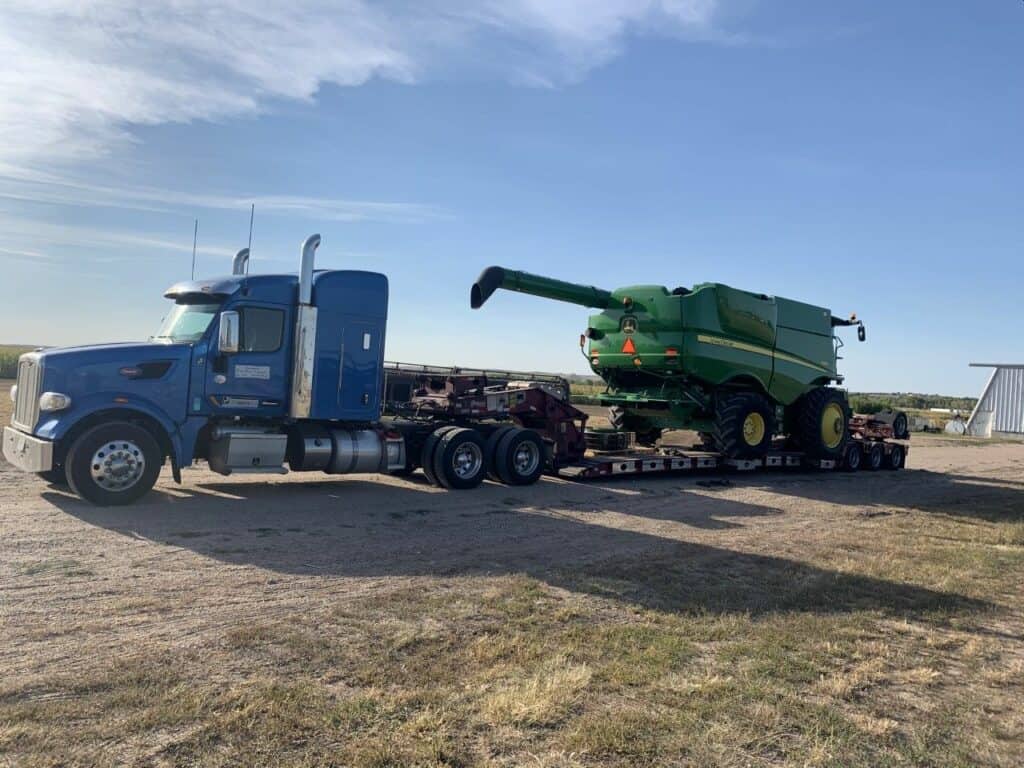 Always keep in mind that heavy equipment can take extra time to get loaded up and moved. There are far fewer carriers that can move these heavy machines than say an automobile hauler. If your farm equipment can't move under its own power or requires disassembly, expect to pay additional fees for the added time the carrier has to spend getting your machine ready to transport. You can save a considerable amount of money if you can provide disassembly and loading assistance (loading dock, forklift, cranes, etc.) if needed, so make sure you communicate this to your transport provider. Securing your farm equipment is essential before hitting the road. Here are 10 tips for securing a tractor to your trailer by Tractor Mike.
Distance, Location, and Timing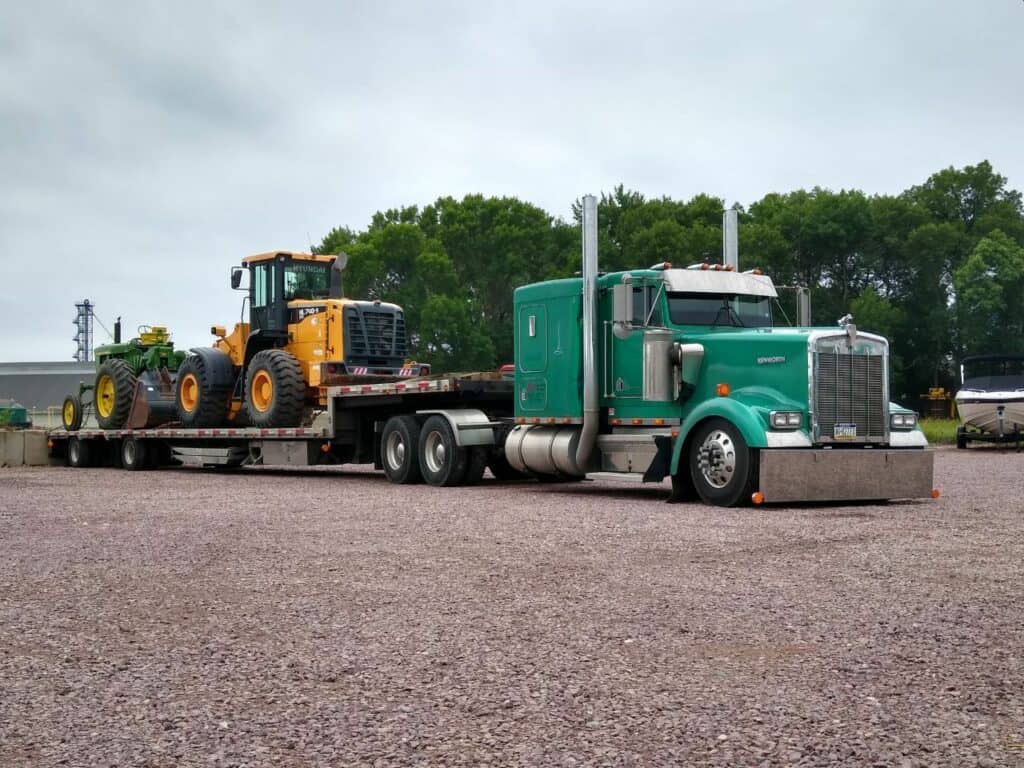 Everyone wants to be on time.  Delays are costly to everyone involved in the freight process.  With this in mind, you should always firmly communicate your expectations to your transportation provider before you assign them a shipment.
This includes information like:
Where your freight will start
Where your freight will end up
When you would like to have it picked up
When you would like to have it delivered
Your level of timing flexibility
If you have a tight delivery window for a large machine, traveling 400+ miles that is picking up in a major metro area and delivering in another congested metro area, expect to pay a premium rate.  The more flexible you are with your pick-up and delivery dates allows the carrier to give you better rates based on the location of their fleet.  Congested metro areas are difficult and time consuming for large trucks to navigate and can often be impacted by road hazards and rush hours.  The longer the distance, the chance that the driver will encounter an issue will become more likely.
Should your shipment be over the dimensions of a legal load then special permits and travel routes will have to be factored in.  This becomes more complex and costly if you cross state lines due to different regulations per state.
Do You Need Help or Have More Questions About Shipping Your Farm Equipment?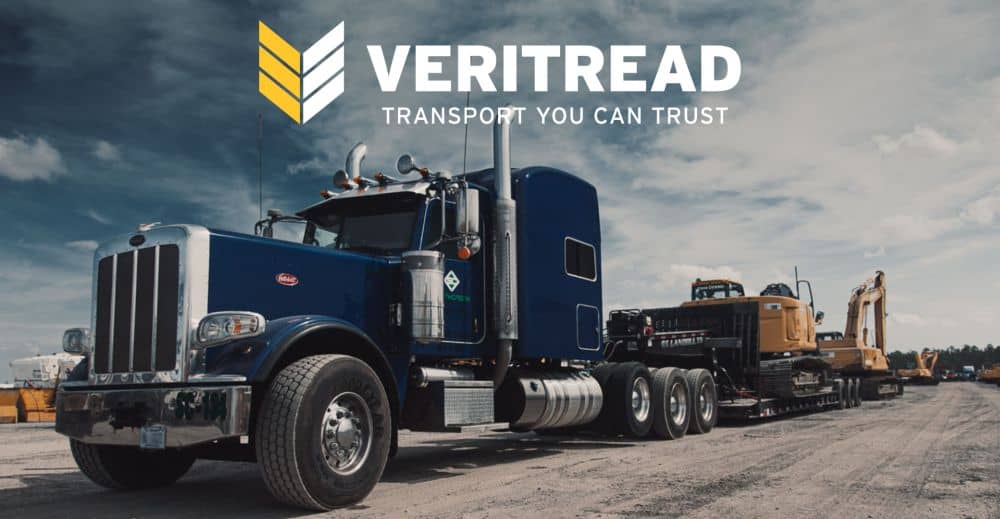 VeriTread is your go to solution for hauling farm equipment. We can have your farm equipment delivered to any destination in North America in a safe and timely manner. We are experts in connecting you with a transport provider that can handle all the paperwork, select the right trailer and driver, and chart the most efficient route.
VeriTread moves thousands of farm equipments every year and can quickly generate a reliable estimate on the go. Our extensive specs and dimensions database of 60,000+ items, ensures you spend less time researching and more time putting your equipment to work. The VeriTread Shipper quote process is the simplest way to receive competitive quotes from vetted transport providers. Follow these easy steps and you will receive a quote in under one minute:
Select Ready To Ship from the Freight Options Page
Enter a Manufacturer & Model
Verify or Edit Your Machine Dimensions
Enter Pickup & Drop Off Locations
Your Quote is Ready!
We believe our suite of innovative decision tools empower our customers to make smarter and more informed transportation decisions, reducing overall uncertainty, and saving you time and money. If you have questions contact us at (800) 880-0468 or (863) 226-0903 and let our team of experts help you with your transport needs.