Things to Know When Transporting Heavy Equipment
March 15, 2022
HEAVY EQUIPMENT QUICK LINKS
Get A Quote | Rules & Regulations | Insurance | Construction Equipment | Industrial Equipment | Commercial Equipment | Cost to Ship
Things to Know When Transporting Heavy Equipment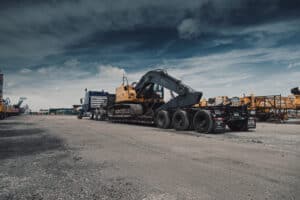 Heavy equipment transport is an essential but often overlooked sector of the transportation industry.
From the big rigs that haul massive vehicles and machines, to the highly experienced drivers navigating hectic freeways, heavy equipment transport is as technically challenging as it is awe-inspiring.
Now, if you've ever asked yourself what type of heavy equipment transport should I be using, or you're just looking to refresh your understanding of the heavy hauling industry, you're in the right place.
Here's what we'll cover in this article:
Defining heavy equipment transport in simple, down-to-earth terms
An overview of essential heavy hauling guidelines
Reviewing the types of heavy equipment most often transported
What is Heavy Equipment Transport?
Heavy equipment transport is a segment of the transportation industry that deals with hauling heavy, oversize loads using trucks and specialized trailers. In this particular case, the heavy loads we'll focus on will be pieces of heavy equipment. So, what is heavy equipment?
Heavy equipment is any hulking piece of machinery or massive component (think a steel girder for a bridge) weighing tens of thousands of pounds and beyond. For example, construction equipment like excavators, loaders, and bulldozers are usually what people think of when it comes to heavy equipment. That said, military vehicles/equipment, large industrial or commercial items, and even spaceships are all considered heavy equipment and have unique transportation needs and requirements. Really, this is the essence of heavy equipment transport: It's addressing the unique logistical needs of overweight, oversize equipment safely and legally by using qualified people and approved transport methods.
What Are Some General Guidelines of Heavy Equipment Transporting
There is more to hauling heavy equipment than tying down your load and hitting the road. In fact, heavy equipment transport is a highly regulated industry with multiple things to consider based on what you're hauling and where you are hauling to and from. But, in general, these are the essential items you should be aware of:
Rules and Regulation: Know Your Red Tape
Unless you're a bureaucrat, rules and regulations can be a bit of a pain point. When it comes to heavy equipment transport, you'll have to educate yourself with different regulatory requirements – like weight and size restrictions. Let's face it, the last thing you want to do is overlook these regulations and end up with a costly fine from the DOT (and they will fine you). While most states have similar regulatory requirements, certain areas might do things a little differently. For example, most jurisdictions have a heavy haul permit (also called an oversize/overweight permit).
These permits are issued when either the weight or dimension of your load or vehicle exceeds the limits indicated in a state's highway transportation act. Typically, a load is considered oversize if it exceeds 8 feet wide and 13.5 feet high (from the surface of the road to the highest point on the load). And what qualifies as overweight is a GVW (gross vehicle weight) beyond 80,000 lbs. What's more, depending on the size, weight, or type of load, regulation may require escorts and specific signage/flags on the load and transport vehicle. Some jurisdictions even restrict the time of day you're allowed to transport certain items.
Always take the time to double-check that you're in compliance with local rules and regulations, especially if you're transporting through an unfamiliar area. A quick correspondence with the local DOT before transporting heavy equipment could save you valuable time and money.
Consider What's Being Transported (And Plan Ahead)
Here's the thing about heavy equipment transport: You're not always going to be hauling the same thing. For example, in construction, you might haul a 797 rock truck to a job one day, and the next day you might be moving multiple lengths of 6' concrete culvert pipe. Always consider what's being transported so you or your carrier can plan hauls effectively. In some scenarios, a flatbed truck will do the trick, and other times you'll need something more heavy duty, like a tri-axle lowboy.
Insurance
With expensive heavy equipment, you want to make 100% sure you're covered in the event of unforeseen circumstances. Licensed heavy equipment transport companies are required, by law, to carry a certain level of liability and cargo insurance. Technically, this insurance should cover any damages that result from the transport process. However, terms and conditions and the amount of coverage vary between companies, so always check with your carrier about their coverage, or find a company that provides freight insurance that suits your needs. And if you're transporting your own heavy equipment, then, again, you'll need to have an adequate level of insurance.
A final insurance note: Be wary of companies that provide bare minimum coverage. Heavy equipment transport companies must have at least $100,000 in cargo insurance. If the value of your equipment exceeds the bare minimum, you won't recover your loss entirely if something happens. The bottom line here is protecting your hide and equipment by always having adequate insurance.
Consult The Equipment Manual & Protect Vulnerable Areas
During transport, your heavy equipment is exposed to the elements, so take every precaution possible to minimize preventable damages. Before transporting your heavy equipment, read the equipment manual for recommended transport preparations. Equipment manuals will also identify vulnerable parts of your equipment and suggest methods to reduce or eliminate damage to these areas.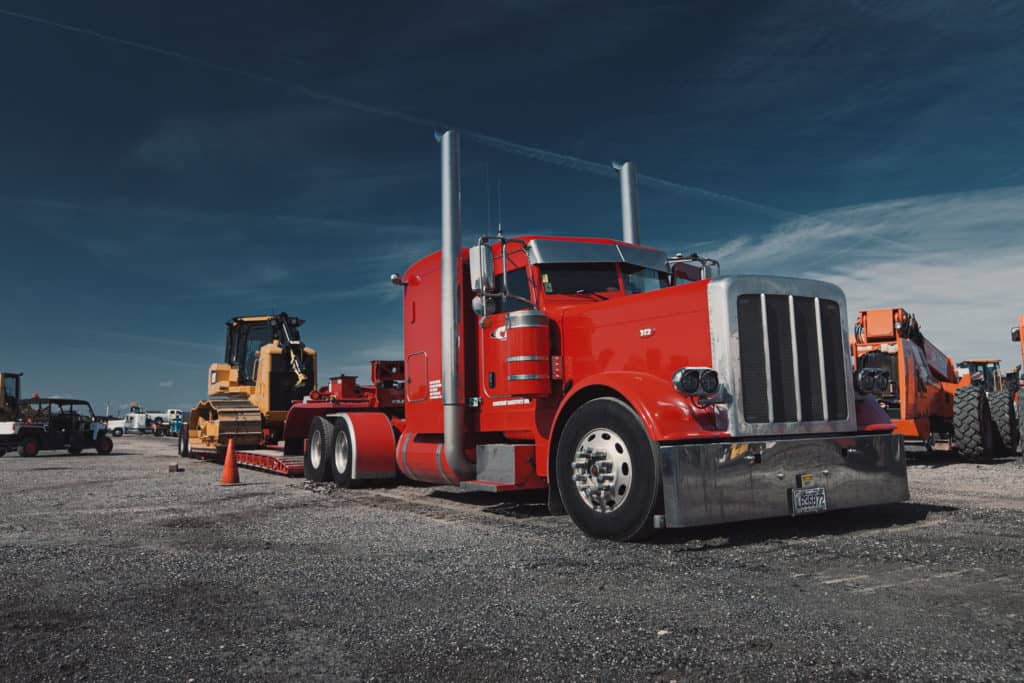 3 Types of Heavy Equipment (And How to Transport Them)
As we covered already, different types of equipment have unique transport requirements. These requirements, of course, will dictate the types of trucks and trailers needed. Next, we'll dive a little deeper into these requirements. Here's the breakdown of what you'll learn:
Common types of heavy equipment
The best trailer and transport equipment for each type
Best practices
Defining heavy equipment transport in simple, down-to-earth terms
Like Excavators, dozers, loaders, scrapers, rollers, and asphalt spreaders. Most pieces of heavy construction equipment will exceed height limits if transported on a conventional flatbed trailer because of the machine height. To legally haul construction equipment, transporters normally use either step deck trailers or lowboy trailers.
A step deck trailer is a type of specialized trailer with two main components:
An upper deck and a lower deck.
The upper deck is approximately 11 feet long and is positioned at the cab end of the trailer.
The lower deck is positioned at the back end (behind the upper deck) and is usually between 36 – 40 feet long.
The lower deck sits about 36 inches above the ground, allowing for more clearance room above the equipment being transported.
Lowboy/double drop trailers are also commonly used for construction equipment transporting. The lowboy gets its name from how low the deck sits relative to the ground, resting just a few inches above it. There are two drops in a lowboy deck: One behind the gooseneck and one right before the rear wheels. These drops allow the trailer to sit extremely close to the ground and transport equipment that would normally exceed height restrictions if hauled with another kind of trailer (including a step deck trailer).
Best Practices – Always ensure that equipment transport is handled by a qualified professional. A competent transporter should:
Know how to load and unload construction equipment
Secure equipment using heavy-duty chains and load binders
Drive sensibly and adjust their driving based on weather conditions
Know their route
Common types of heavy equipment
Check the equipment owner's manual before transporting
Have a response plan if something goes wrong
Know and obtain permits for their route
Remember: hauling a 45-ton 490 excavator isn't the same as moving a 4-wheeler in the back of a half-ton pick-up.
COMMERCIAL EQUIPMENT
These would be things like Generators, commercial HVAC equipment, mobile offices, and carnival rides. If you haven't already guessed it, the term commercial equipment casts a wide net, encompassing a variety of items. Because of this variation, transport equipment for commercial items varies too. That said, these are the most common transport methods for commercial equipment:
Flatbed trailers are versatile and commonly used in commercial equipment transport. With the option to load from either side of the trailer, attach ramps when necessary, and even add walls and tarps to protect the load, flatbed trailers are your standard workhorse when it comes to commercial equipment transport.
Enclosed trailers
Enclosed trailers, or dry van trailers as they're also known, are semi-trailers designed to protect equipment/cargo from outside elements. Unlike most other trailers on this list, enclosed trailers can't carry oversized loads. So, if you have a piece of commercial equipment that's heavy, vulnerable to weather, and not oversized or an awkward shape, an enclosed trailer might be right for the job.
Best Practices – Because commercial equipment varies so widely, it's essential that you understand:
How to load and unload equipment (because it might be an awkward shape)
How to check manufacturer's transport recommendations
How to list commercial equipment properly on your documentation (especially for international transport)
INDUSTRIAL EQUIPMENT
These are pieces like Plant parts, engines, mechanical and electrical equipment, mining gear, process piping equipment. Industrial equipment is often big, awkwardly shaped, and insanely expensive. Nevertheless, the transport equipment used to move them from point A to point B isn't all that different from what we've looked at previously. Here's what's normally used:
Flatbed trailers & extendable flatbed trailers
We covered flatbed trailers already. However, extendable flatbed trailers are slightly different. Basically, they're longer flatbed trailers used to ship loads too long for a regular flatbed.
Step deck trailers
We covered this above, but to reiterate: step decks are used for equipment that would exceed legal height limits.
Stretch double drop trailers (and standard double drop trailers)
Like a standard double drop trailer, but longer. Depending on the length of the load, a regular double drop trailer would do the job too.
Stretch Removable Goose Neck trailers (and standard RGNs)
Removable Goose Neck (RGN) trailers and stretch RGNs are actually common across all types of heavy equipment transport. This type of trailer is used to carry long and tall components/equipment. The front is detachable, allowing the trailer to drop to the ground and act as a ramp.
Best Practices – Industrial equipment or components are usually expensive marvels of engineering.
As such, they must be handled accordingly. In addition to every other best practice that we've covered so far, remember this: Secure and stabilize industrial equipment as per manufacturer's instructions and engineering guidelines, as these items may be sensitive or have vulnerable areas exposed during transport.
How Much Does Heavy Equipment Transport Cost?
The truth: It depends. You see, the cost of heavy equipment transport is affected by many variables:
Fuel rates
Time of year (expected increased costs in winter months)
Height, weight, and shape of the equipment
Pick-up and delivery locations
Permits or licenses required
Types of trailers needed for transport (specialized trailers cost more)
Although the exact cost of heavy equipment transport is difficult to calculate without detailed information, based on the cost to ship indexes, budget between $3 – $8 per mile.
Now You're Ready to Take on Heavy Equipment Transport
We've given you an inside look at the heavy equipment transport industry. Through the methods, guidelines, and industry best practices you've learned, you should be ready to tackle heavy equipment transport with confidence.
VeriTread moves thousands of freight loads every year and can quickly generate a reliable estimate on the go. Our extensive specs and dimensions database of 60,000+ items, ensures you spend less time researching and more time putting your equipment to work. The VeriTread Shipper quote process is the simplest way to receive competitive quotes from vetted transport providers. Follow these easy steps and you will receive a quote in under one minute:
Select Ready To Ship from the Freight Options Page
Enter a Manufacturer & Model
Verify or Edit Your Machine Dimensions
Enter Pickup & Drop Off Locations
Your Quote is Ready!
We believe our suite of innovative decision tools empower our customers to make smarter and more informed transportation decisions, reducing overall uncertainty, and saving you time and money when looking for LTL shipping. If you have questions contact us at (800) 880-0468 or (863) 226-0903 and let our team of experts help you with your transport needs