What can be shipped on a flatbed trailer? Flatbed trailer Dimensions, & Weights
February 20, 2023
What can be shipped on a flatbed trailer?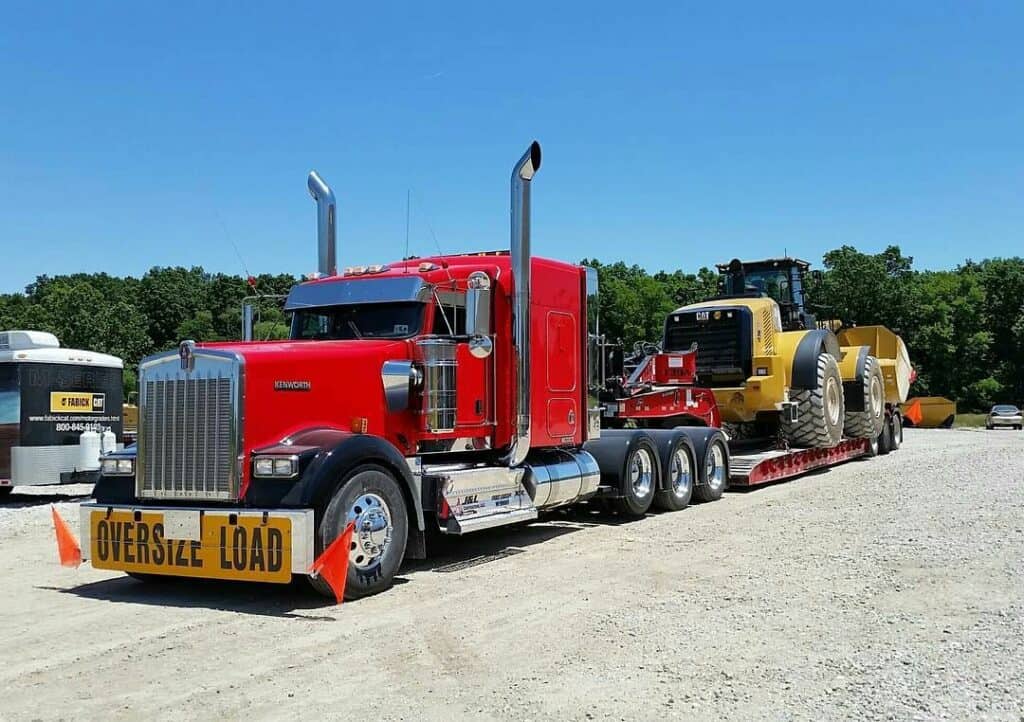 Flatbed shipping is a popular option because of the versatility flatbed trailers allow. Flatbed trailer dimensions make it easy for hauling irregularly shaped cargo like pipe, steel, lumber, block, construction equipment or large vehicles which don't fit into the traditional dry van trailer.
Flatbed trailers may include several type of trailers like: lowboys, RGN, step decks, stretch double drop decks, extendable, Conestoga, and side kit trailers among other types.  These trailers, also known as open deck, allow you to load and unload from either the front or back of the trailer without having to go through any doors on the other end.
Flatbed trailer dimensions are important when moving open-deck freight. Weight, destination, time-frame, cost and extra specifications all play a factor into the cost of transporting your flatbed trailer. This is why it's extremely important to accurately share your specification, expectations and needs with your transport provider.
What are typical flatbed trailer dimensions?
A standard flatbed is the most common, most basic and least expensive type of flatbed trailer. They're generally 48'- 53' long with a bed that sits at 42''- 60'' high. Since trailer and loading dock dimensions can both vary, a standard flatbed can often be adjusted to match dock height. They may also be equipped with a ramp to aid in loading from the ground and can typically haul freight that fits the following dimensions:
Max length: 48' or 53' (depending on trailer length)
Max width: 8.5'
Max height: 8.5'
A step deck trailer is typically 48' long. It gets its name from its dual hauling platforms of different heights, with the main bed being the longest and lowest of the two. This construction gives the trailer its signature "step" and makes it an ideal option for getting taller freight on the road without the need for extra permits. A step deck can accommodate freight with the following measurements:
Max length (upper deck): 11'
Max width (upper deck): 8.5'
Max height (upper deck): 8.5'
Max length (lower deck): 37'
Max width (lower deck): 8.5'
Max height (lower deck): 10'
The lowboy trailer has a single hauling section — called the "well" — which sits 18" off the ground to accommodate taller freight like construction machinery, vehicles or aircraft parts. Because of its height and scooped design, it's normally loaded by crane or from the sides rather than at a dock. It's a fit for freight with the following measurements:
Max length: 28'
Max width: 8.5'
Max height: 12'

The RGN is a specialty trailer that has a removable neck to convert the front of the trailer into a ramp. This allows for easy loading of motorized freight like construction or farm equipment. While this specialization increases the cost of these trailers, easy loading can save time and keep you on schedule. The dimensions for freight on a standard removable gooseneck are:
Max length: 29'
Max width: 8.5'
Max height: 12'
How much weight can a flatbed carry?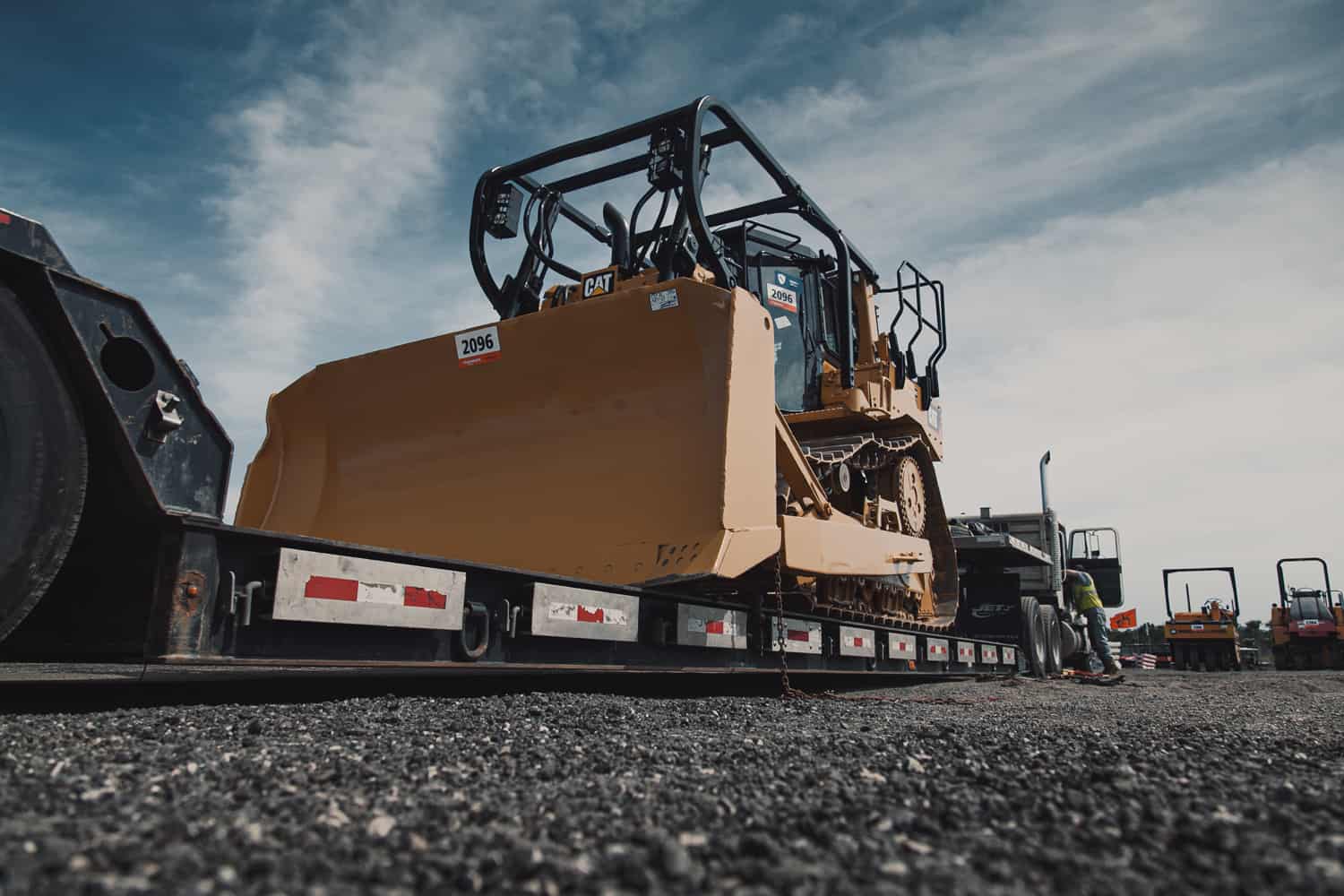 Flatbed trailers can haul a maximum weight of 48,000 pounds. However, tri-axle trailers can haul up to 65,000 pounds, making them ideal for heavy cargo. The U.S. Department of Transportation Federal Highway Administration, has the following mandated maximum weights for the National System of Interstate and Defense Highways:
80,000 pounds gross vehicle weight
20,000 pounds single axle weight
34,000 pounds tandem axle weight
The Federal Highway Administration looks to protect bridges by calculating the number and spacing of axles carrying the load weight. This is called a bridge formula and is applied to commercial vehicles to ensure compliance.
The specific formula from the Federal Highway Administration is as follows:
W=500(LN/N-1 + 12N + 36); where W=overall gross weight on any group of 2 or more consecutive axles to the nearest 500 pounds. L=distance in feet between the extreme of any group of 2 or more consecutive axles, and N=number of axles in the group under consideration
When it comes to hauling oversize loads, the federal government is not the one to issue permits to operators. Instead, this is handled on a state-by-state basis – check out Coast to Coast Trucking Permits extensive state-by-state list that helps to highlight the exceptions.
Let VeriTread help you!
VeriTread moves thousands of flatbed loads every year and can quickly generate a reliable estimate on the go. Our extensive specs and dimensions database of 60,000+ items, ensures you spend less time researching and more time putting your equipment to work. The VeriTread Shipper quote process is the simplest way to receive competitive quotes from vetted transport providers. Follow these easy steps and you will receive a quote in under one minute:
Select Ready To Ship from the Freight Options Page
Enter a Manufacturer & Model
Verify or Edit Your Machine Dimensions
Enter Pickup & Drop Off Locations
Your Quote is Ready!
We believe our suite of innovative decision tools empower our customers to make smarter and more informed transportation decisions, reducing overall uncertainty, and saving you time and money. If you have questions contact us at (800) 880-0468 or (863) 226-0903 and let our team of experts help you with your transport needs.