7 Essential Tips for Shipping a Car
February 10, 2023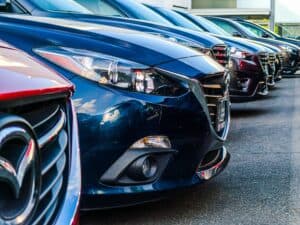 Shipping a Car Quick Links
Researching Carriers | Preparing Your Car | Finding Carriers | Insurance
Shipping a car can be a daunting task, but with the right information and preparation it doesn't have to be. In this article, we will provide an overview of everything you need to know about shipping your vehicle. From understanding freight costs and researching carriers, to preparing your vehicle for transport and selecting insurance coverage – we cover it all! We also provide tips on finding reliable shippers so that you can ensure a successful delivery of your vehicle. By the end of this article, you should feel confident in making informed decisions when it comes time to ship your car. Let's get started!
What Should You Know About Freight Costs When Shipping a Car?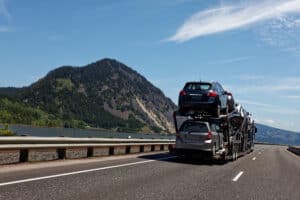 When shipping your car, one of the most important factors to consider is freight cost. This will vary depending on a number of factors, including the weight and size of your vehicle, the distance it needs to be shipped, and any additional services you may require. Additionally, you may be charged extra if your vehicle is oversized, so make sure to factor that into your cost estimates. It's also important to remember that you may be required to pay for the return freight if your car does not arrive at its destination on time.
What Should You Do When Researching Car Carriers?
It's vital that you research carriers before choosing one for your shipment. Ask for references and check customer reviews to make sure that the company you choose is reputable and reliable. Make sure to ask the following questions so that you understand exactly what they offer and can determine if they are the right fit for your needs.:
Are you dealing with a broker, an independent carrier, or large car shipping company?
What services do they offer?
What are their payment options?
Is their shipping quote comprehensive or are their any other added fees?
Is the carrier registered and licensed?
Verify that they are insured and know their policy conditions.
What are their delivery timeframes and are they guaranteed?
What documents are needed for transport?
What do they need you to do to prepare the car for transport?
What customer support do they offer?
Do they have a complaints process if something goes wrong with your shipment?
What types of vehicles are covered by their insurance policy?
How do they handle damage claims?
Are there any additional costs associated with the transport such as storage or fuel surcharges?
Do they require assistance for pickup or delivery of your car?
How Can You Prepare Your Car for Transport?
Once you have chosen a carrier, you'll need to prepare your vehicle for shipment. Make sure that all personal items are removed from the car and that it is cleaned and inspected for any damages. You should also check with your carrier about any restrictions on shipping certain items in the car or any regulations they may have concerning hazardous materials. Once your vehicle is ready for transport, keep in touch with your carrier to ensure that delivery goes smoothly.
Once your vehicle has arrived at its destination, inspect it carefully for any damages and take pictures of the car before signing off on the delivery paperwork. If you find any damages, contact the carrier immediately and file a claim if necessary.
How To Find Reliable Car Shipping Companies?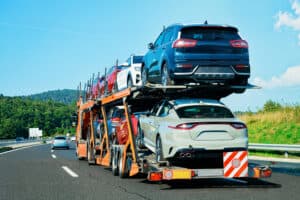 With so many transport companies available, it's important to do your research and find a reliable one. Make sure to check customer reviews, ask for references, and compare prices before making a decision. Additionally, you should also ask questions about the company's services, delivery timeframes, and payment options. VeriTread has hundreds of vetted carriers that are experienced in automotive transports. You can list your shipment for free and see reviews and freight histories on all carriers that send you a quote.
How To Ensure Successful Delivery of My Car?
When shipping your car, it's important to follow some basic tips to ensure a successful delivery. Make sure that you provide accurate information about the vehicle, such as weight, size, make and model. Additionally, take pictures of the car before shipment and document any existing damages so that you can prove its condition in case of any discrepancies. Finally, keep an eye on the delivery process and be sure to contact your carrier if there are any delays or issues.
How Can You Select the Right Transport Insurance Coverage?
It is important to select the right insurance coverage for your shipment. Many carriers will offer basic liability coverage, but you may want to opt for additional coverage to protect yourself from any potential losses or damages during transit. Make sure to research different policies and ask questions so that you can make an informed decision about which policy is best for your needs.
Finally, be sure to review the carrier's terms and conditions before agreeing to the policy. This will ensure that you are fully aware of what is covered in your insurance coverage and are able to take advantage of any additional benefits.  Knowing exactly what is covered can help protect you from any unforeseen losses or damages during transit.  With the right coverage, you can rest assured that your shipment is in safe hands.
Making Informed Decisions When Shipping Your Car
Shipping your car can be an intimidating process, but with the right knowledge and preparation you can ensure a successful delivery. Understanding freight costs, researching carriers carefully, preparing your vehicle for transport, selecting appropriate insurance coverage and finding reliable shippers are all important steps to take when shipping your car. By following these tips outlined in this article, you will have peace of mind knowing that you've made informed decisions during the entire process. If you have questions contact us at (800) 880-0468 or (863) 226-0903 and let our team of experts help you with your transport needs. With VeriTread's vetted carriers experienced in automotive transports, listing your shipment is easy and hassle-free. So don't wait any longer – get started today!