Buying a Skid Steer – 4 Tips & Things to Know
August 3, 2022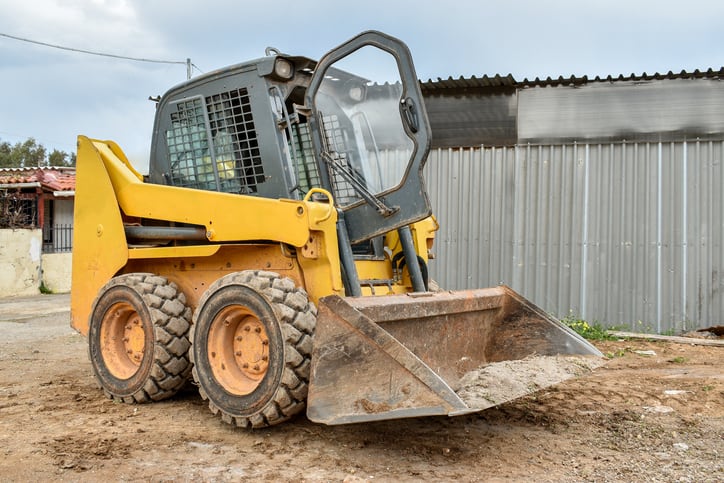 Skid steer loaders are often one of the most useful machines on the construction job site when you need versatility. Many construction projects can benefit from buying a skid steer to have onsite.  Besides making the work much easier, buying a skid steer will help you save a lot of time and money. Purchasing a Skid Steer is an important task that takes much consideration before committing to the purchase. With so many factors to think of, we have compiled a list of Things to Consider Before Buying Your Next Skid Steer:
1. What Should I look for When Buying a Skid Steer?
When determining what skid steer to buy you must first ask yourself what will you need the machine for? Knowing the requirements of the job you will be performing is essential before you buy a skid steer.
Consider the Size and Power you Need
There are 3 main segments of skid steer sizes – Small frame, Mid frame and Large frame.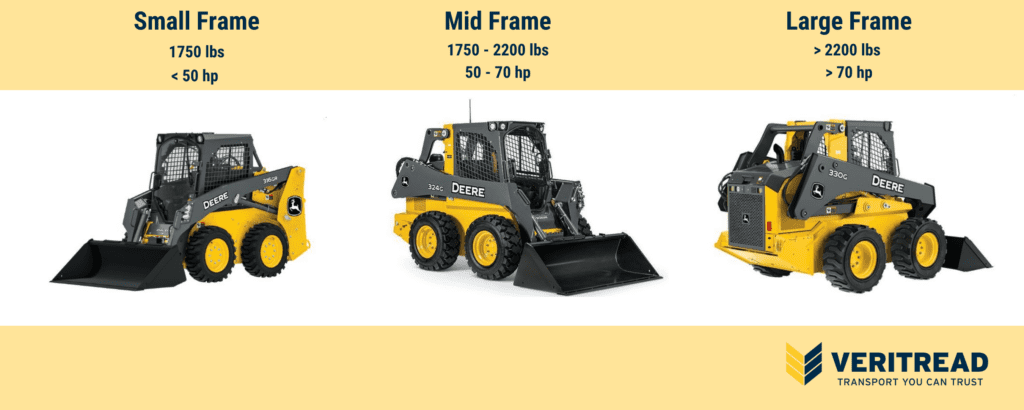 Small Frame Skid Steers are classified as any skid steer 1750 lbs and under 50 hp. They are the best choice for small jobs as well as those with tight spaces to work in. These small skid steers are most common at rental facilities for the average user. They require the least amount of power and will also do the least amount of damage to the road, sidewalk or any areas you are working around. Small Frame Skid Steers are ideal for light landscaping and home projects.
Medium Frame Skid Steers are larger than 1750 lbs and less than 2200 lb with a horsepower range of 50-70. This versatile piece of equipment work well for most any type of job and space. A medium frame skid steer is the most common skid steer on the construction job site. They can handle mid sized earth moving jobs.
Large Frame Skid Steers are larger than 2200 lbs and can have over 70 hp. These machines are the industrial workhorses of skid steers. When you think of size and power, a large skid steer will be your best bet. Any commercial demolition and excavation job would be perfect for a Large Frame Skid Steer.
Skid Steer Attachments & Hydraulics
The hydraulic system drives the machine's lifting strength and responsiveness, enabling the machine to work faster throughout the work cycle. Consider the attachments you plan on working with, and understand the hydraulic flows required for each. Equipping your skid steer with the right attachments will give you versatility to get the most out of your investment. Also, be sure to ask about the machine's coupler options. This will often help determine the scope and variety of attachments you can use with the machine. Skid steers are known as the swiss army knife of machinery. With attachment options from buckets and grapples to stump grinders, you can complete many jobs with a skid steer.
Skid Steer Transportation & Access
When purchasing a new machine, transportation is always an important consideration. You need to consider what trailer size is needed for transport and if you will need any attachments to complete the job. If you do not plan to purchase your own trailer, VeriTread can connect you with the best carrier with the right equipment to transport your new skid steer to the job site.
Controls
Many skid steers offer a standard control system invented by Bobcat. This control system continues to be one of the most popular styles today.  Dual levers control the drive function while dual foot pedals control the lift and tilt function. Select models come equipped with ACS (Advanced Control System). ACS offers two control styles: the standard style or H pattern hand controls.
Tires or Tracks
It's important to understand the options available and the impact that they have on the productivity of the machine. Skid steers can come standard with tires or tracks. Track types are available in Rubber or Steel and provide excellent traction. Tires come in various tire sizes and have the options of adding tire chains when condition get slick.  Tires are also much more gentle on hard surfaces like asphalt or concrete, while tracks can damage the surface. Rubber tracks wear out more quickly than steel, so there are a large variety of aftermarket track types available with varying widths and tread depth. You'll even see aftermarket track options that mount over your existing tires. Rubber tracks are your best choice for grass or dirt, but if you'll be in wet or muddy off-road conditions they will have to come with an aggressive tread pattern to prevent you from getting stuck. Steel tracks can offer more traction specifically for hillsides and uneven surfaces, but they will leave their path imprinted. When evaluating track options you should consider the ground conditions and applications in which you intend to utilize the skid steer.
2. What Is the Average Price of a Skid Steer?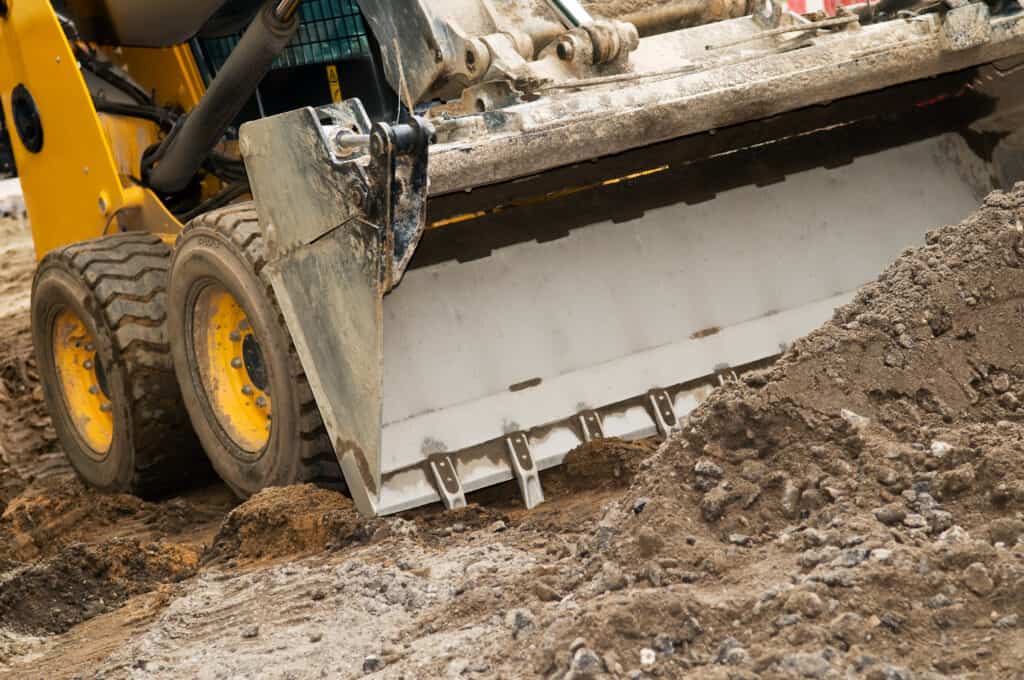 Skid Steer prices vary based on several factors including size, brand, and performance. A skid steer can range between $25,000 to $55,000 and even higher. Whether the skid steer comes equipped with attachments also influences the cost. You will need to determine what you will be using the skid steer for and what your budget will be before looking to buy a skid steer. You can easily customize your skid steer to the exact application needed. There are several manufacturers ready to build your skid steer. Visit Bobcat, Takeuchi, Caterpillar, John Deere, Komatsu or your favorite dealership to get started.
3. Should I Buy a New or Used Skid Steer?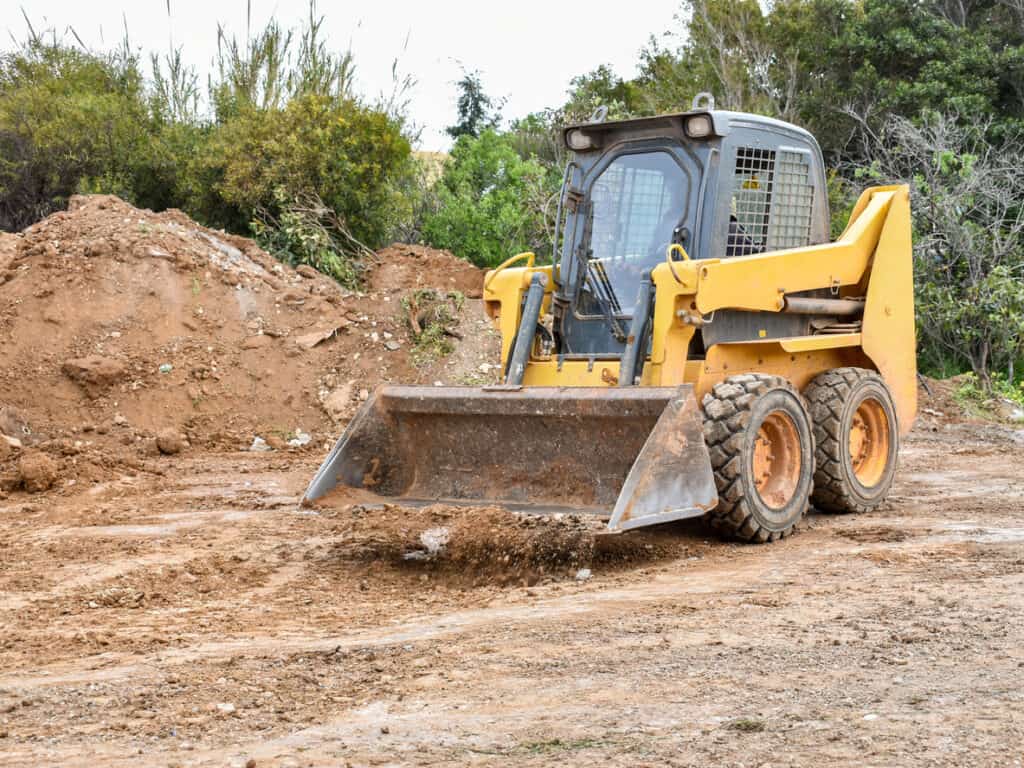 While most brand new skid steers loaders can range from $25,000 to $55,000+, many look to buy a used skid steer. Used skid steers loaders can be discounted from 25 – 50% making them an attractive solution to your budget needs. Many factors determine the cost of used skid steers like the current hours on the odometer. You will want to have a full inspection completed before considering the purchase. This will be performed by a licensed mechanic who will look over the entire machine as well as any attachments to give you a guide of the current wear and tear. You can use this inspection to estimate the life span left on the used machine. You'll also want to consider the maintenance of a used skid steer as those tend to increase as the machine ages. Skid steer can hold their value well, so you should think about if this is a machine you are going to keep around for a while. If it is, consider buying new. If you are still leaning toward a used the try a Google search using "used skid steer for sale" to find several sites that cater to the used marketing.
Renting a skid steer is another great option to complete your project, especially if it is only needed for one time. Rental costs will fluctuate and can be based on things like location, how many days you are renting it, attachments you are also renting, etc.
4. What to Look for When Buying a Used Skid Steer.
These 5 tips can help determine the value of a used skid steer.
Play or Movement
Cracks, Bends, or Dents
Leaks
Inaccurate or Broken Hours Meter
Worn Cable and Welds
When looking to buy used equipment you should always check the Undercarriage, Engine, Final Drives, Swing Motor and Swivel Motor where applicable. The cosmetics of the machine can give you insight of how well the machine has been maintained as well as how rough the previous user was on the machine. Look for low hours, one owner, great shape and a great price!
Why Choose VeriTread?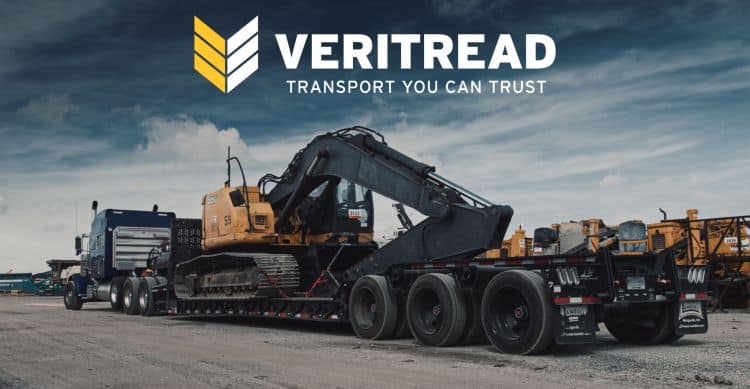 Once you've purchased your skid steer look to us for all of your transportation needs. VeriTread is your go to solution for hauling a skid steer. We can have your skid steer delivered to any destination in North America in a safe and timely manner. We are experts with connecting you with a transport provider that can handle all the paperwork, select the right trailer and driver, and chart the most efficient route.
VeriTread moves thousands of machines every year and can quickly generate a reliable estimate on the go. Our extensive specs and dimensions database of 60,000+ items, ensures you spend less time researching and more time putting your equipment to work. The VeriTread Shipper quote process is the simplest way to receive competitive quotes from vetted transport providers. Follow these easy steps and you will receive a quote in under one minute:
Select Ready To Ship from the Freight Options Page
Enter a Manufacturer & Model
Verify or Edit Your Machine Dimensions
Enter Pickup & Drop Off Locations
Your Quote is Ready!
We believe our suite of innovative decision tools empower our customer to make smarter and more informed transportation decisions, reducing overall uncertainty, and saving you time and money. If you have questions contact us at (800) 880-0468 or (863) 226-0903 and let our team of experts help you with your transport needs.