Buying a Forklift – 4 Tips & Things to Know
August 23, 2022
Buying a Forklift – 4 Tips & Things to Know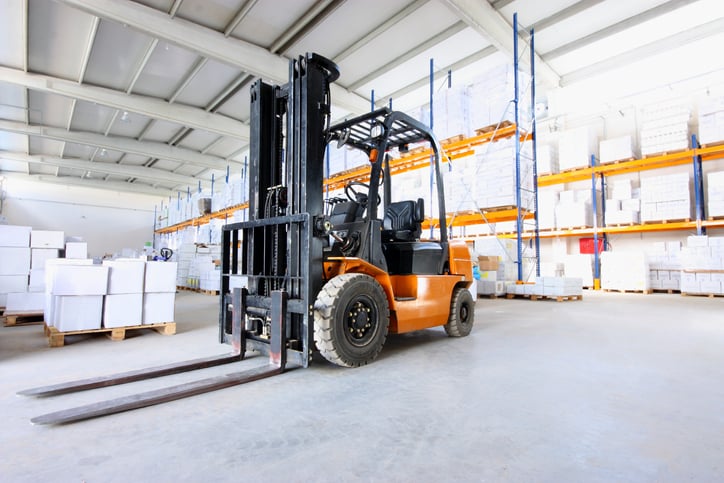 Buying a Forklift is an important task that takes much consideration before committing to a large purchase. With so many factors to think of, we have compiled a list of Things to Consider Before Buying Your Next Forklift. A forklift is used indoors in warehouses and distribution centers. They are also used outside on construction sites and loading docks. Forklifts can load, unload, transport, stack and pick your cargo safely.
1. How Do I Choose a Forklift?
When buying a forklift and trying to determine what forklift to buy you must first ask yourself what will you need the machine for? Knowing the requirements of the job you will be performing is essential before you buy a forklift.
Consider the size you need
There are 7 Forklift Classes that range from small electric lifts for indoor use up to large diesel lifts for outdoor all terrain use. Standard forklifts can measure between 4-7 ft wide and 8-10 ft in length. Rough Terrain and outdoor use forklifts can be even larger that 10 ft long. Mini forklifts, like stackers and side loaders, can measure less than 5 ft to fit within narrow aisles. It's best to familiarize yourself with the different parts of a forklift before you consider buying a forklift.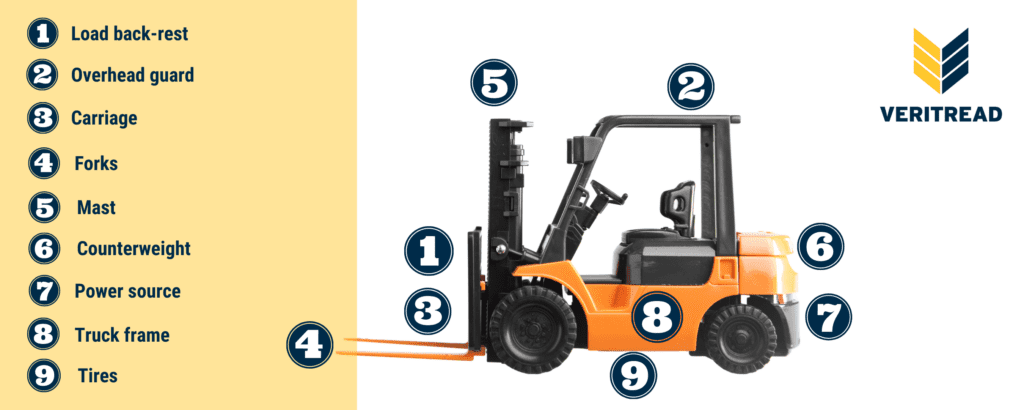 Class I – Electric Motor Ride Truck. Class I forklifts are electric powered. They are used in indoor space where air quality is a concern. The operator may sit or stand to move the forklift. The heavy battery acts as a counterweight which is also referred to as counterbalanced. This versatile lift come with cushion or pneumatic tires. Most commonly they are a 3 tired version, but can be customized as a 4 wheel variation.
Class II – Electric Motor Narrow Aisle Truck. Class II forklifts are battery powered for use indoors moving inventory within confined spaces. They use solid, cushion tires and are designed to work with attachments allowing them to do a very specialize task in an efficient manner. Cherry pickers, Reach Trucks, Stand Ups and Side Loaders are examples of Class II Forklifts.
Class III – Electric Motor Hand Truck. Class III forklifts are battery powered for use to unload delivery trucks quickly and efficiently. These motorized pallet jacks are used for tasks that require low lifts. They can easily move shipments around in the warehouse to a lower or ground level location. Hand Trucks are operated by a handle at the back of the truck while the operator stands or walks behind it, although some have seats.
Class IV – Internal Combustion Engine with Cushion Tires. Class IV forklifts are available in gas, diesel, liquid propane gas or compressed natural gas and are used in low clearance areas typically on smooth concrete surfaces. Since these forklifts are good for low clearance areas, they are commonly used on loading docks and storage areas.
Class V – Internal Combustion Engine Trucks with Pneumatic Tires. Class V forklifts are one of the most versatile forklift classes. You can use them both indoors and outdoors. These forklifts come in gas, diesel, liquid propane gas or compressed natural gas and are used in areas of rough or uneven surfaces. Having pneumatic tires makes them flexible enough to go from concrete flat surfaces onto rugged outdoor applications with ease. Solid pneumatic tires are also available to reduce the risk of puncturing the tires.
Class VI – Electric and Internal Combustion Engine Tractors. Class VI forklifts are most known for pulling luggage carts at airports.  This class of forklifts are available in battery, gas, diesel, liquid propane gas or compressed natural gas and are used to tow or haul loads, rather than lifting. That explains why they are often referred to as tuggers.
Class VII – Rough Terrain Forklift Truck. Class VII forklifts are available in gas or diesel, but the most common is diesel. They are heavy duty forklifts used on construction sites where the ground could be uneven. This class of forklifts come in both 2WD and 4WD. Rough Terrain Forklifts can reach the highest of any forklift type and are available with different mast types to meet your construction needs. These lifts have large pneumatic tires on them for rugged outdoor terrain.
2. What Is the Average Price of a Forklift?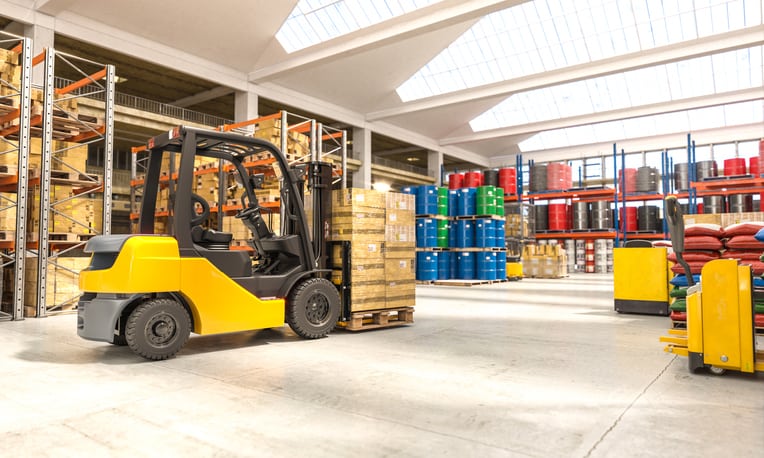 Forklift prices vary based on several factors including size, brand, and performance. A forklift can range between $20,000 to $50,000 and even higher. With 7 classes of forklifts, you will need to determine what you will be using the forklift for and what your budget will be before looking to buy a forklift. First determine whether you will be using it indoors, outdoors, or both. Then make sure you know what, if any, space requirements to consider. You will need to weigh the pros and cons of a battery powered vs IC (Internal Combustion) engine type. An electric forklift will be a more expensive initial purchase, but much lower maintenance and emissions.
They are known to have a longer life span due to less moving components. Some consider the charging time wait as a con, but most can plug up to fully charge overnight and even get a midday boost on your lunch break. If you need a heavy duty outdoor forklift that decision is already made for you. You will want a diesel powered Rough Terrain Forklift to handle the task. There are several manufacturers ready to build your forklift to your specifications. Visit Toyota, Yale, Komatsu, Hyster, Clark, Mitsubishi, or your favorite dealership to get started.
3. Should I Buy a New or Used Forklift?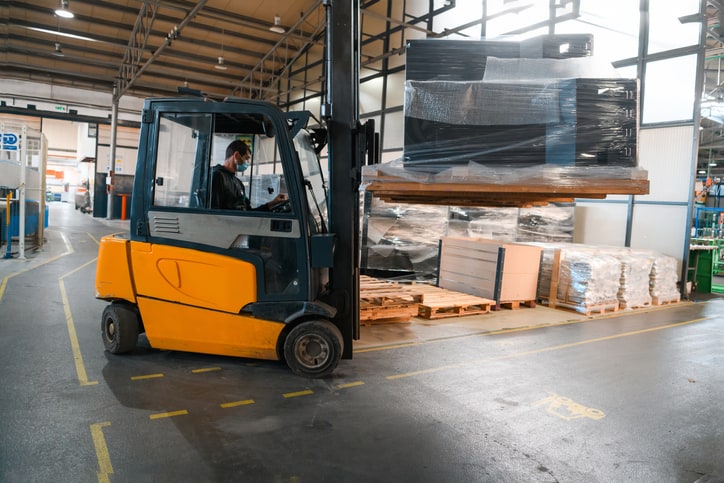 While most brand new forklifts can range from $20,000 to $50,000+, many look to buy a used forklift. Used forklifts can be discounted from 25 – 50% making them an attractive solution to your budget needs. Many factors determine the cost of used forklifts like the current hours on the hour meter. You will want to have a full inspection completed before considering the purchase. This will be performed by a licensed mechanic who will look over the entire machine as well as any attachments to give you a guide of the current wear and tear. You can use this inspection to estimate the life span left on the used machine. The average lifespan of a forklift is 10,000 – 12,000 hours of use. You'll also want to consider the maintenance of a used forklift as those tend to increase as the machine ages.
If buying a forklift seems to daunting, renting a forklift is another great option to complete your project, especially if it is only needed for one time. Rental costs will fluctuate and can be based on things like location, how many days you are renting it, etc.
4. What to Look or When Buying a Forklift That Is Used.
These 5 tips can help determine the value of a used forklift.
Play or Movement
Cracks, Bends, or Dents
Leaks
Inaccurate or Broken Hours Meter
Scalloping
Check out Atlantic Forklift Services informative video on what to look for on a used forklift. Check the tire tread and wear. Look at all hoses, even raising the mast up and down to check. Inspect the chains for tightness and ensure the forks have similar thickness from end to tip. The overhead guard should be in strong condition without a lot of dents and dings. You always want to give the forklift a test drive to listen to the engine. Compare the hour meter to the year of the lift to ensure the usage matches the wear on the machine. The cosmetics of the machine can give you insight of how well the forklift has been maintained as well as how rough the previous user was on the machine. Look for low hours, one owner, great shape and a great price!
Why Choose VeriTread?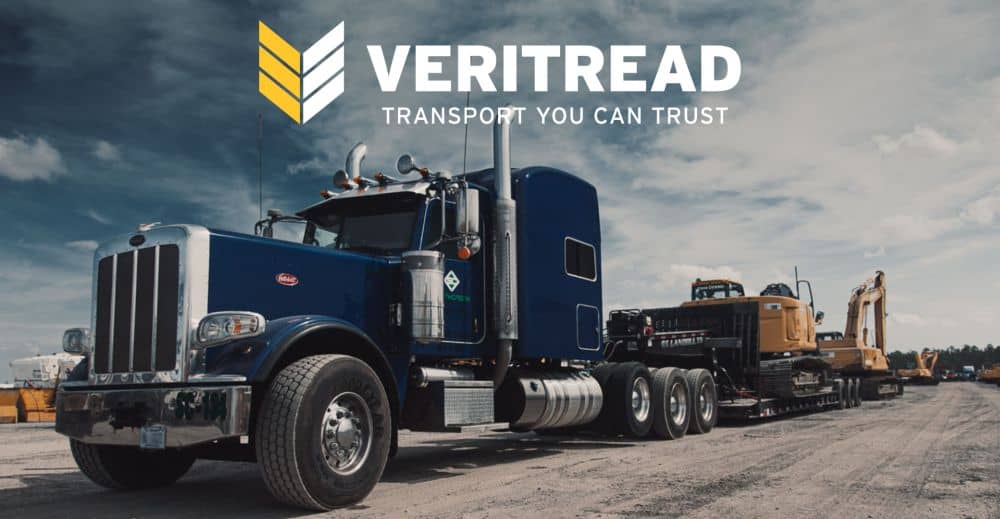 After you have completed the process of buying a forklift look to us for all of your transportation needs. VeriTread is your go to solution for hauling a forklift. We can have your forklift delivered to any destination in North America in a safe and timely manner. We are experts with connecting you with a transport provider that can handle all the paperwork, select the right trailer and driver, and chart the most efficient route.
VeriTread moves thousands of machines every year and can quickly generate a reliable estimate on the go. Our extensive specs and dimensions database of 60,000+ items, ensures you spend less time researching and more time putting your equipment to work. The VeriTread Shipper quote process is the simplest way to receive competitive quotes from vetted transport providers. Follow these easy steps and you will receive a quote in under one minute:
Select Ready To Ship from the Freight Options Page
Enter a Manufacturer & Model
Verify or Edit Your Machine Dimensions
Enter Pickup & Drop Off Locations
Your Quote is Ready!
We believe our suite of innovative decision tools empower our customer to make smarter and more informed transportation decisions, reducing overall uncertainty, and saving you time and money. If you have questions contact us at (800) 880-0468 or (863) 226-0903 and let our team of experts help you with your transport needs.