How You Should Approach Boom Lift Transport
January 19, 2022
Boom lifts are a great piece of equipment for reaching high places. They are incredibly useful for outdoor jobs and industrial tasks.
During boom lift transport, you'll need to ensure these delicate machines are well taken care of. Since boom lifts can come in all types of different weights and sizes, you'll need to partner with a transportation company with experience in boom lift transport.
You should approach boom lift transportation by getting familiar with the two common types of boom lifts and what trailers are commonly used to transport them.
What Is a Boom Lift?
We've established boom lifts are designed to reach high places, but what you might not have known is how they can extend so high.
A boom lift has three main components: the platform, the long arm, and the grounded base. The arm is what allows the platform to reach high places through a hydraulic lift system.
A boom lift can be fitted with treads, on tracks, or tires, and it can have either a two-wheel or four-wheel drive. The "boom" part of the boom lift is a reference to the arm-like piece connected from the platform to the base.
You could use boom lifts for electrical work, cable installation, and window repair or installation on a construction site.
Two Common Types of Boom Lifts Are the Articulating and Telescopic Boom Lifts.
Articulating boom lift
An articulating boom lift has an arm that will bend. This allows the articulating boom lift to move around objects easier. It's best used when you have to navigate around complex structures or crowded spaces. Genie Industries shares a demo of their Z-62/40.
Telescopic boom lift
A telescopic boom lift has a single hinged extendable arm that goes straight, which allows the telescopic boom lift to extend farther than the articulating boom lift and carry more weight. The telescopic boom lift is best used when working in an open space or on a rectangular-shaped structure.
Boom Lift Transport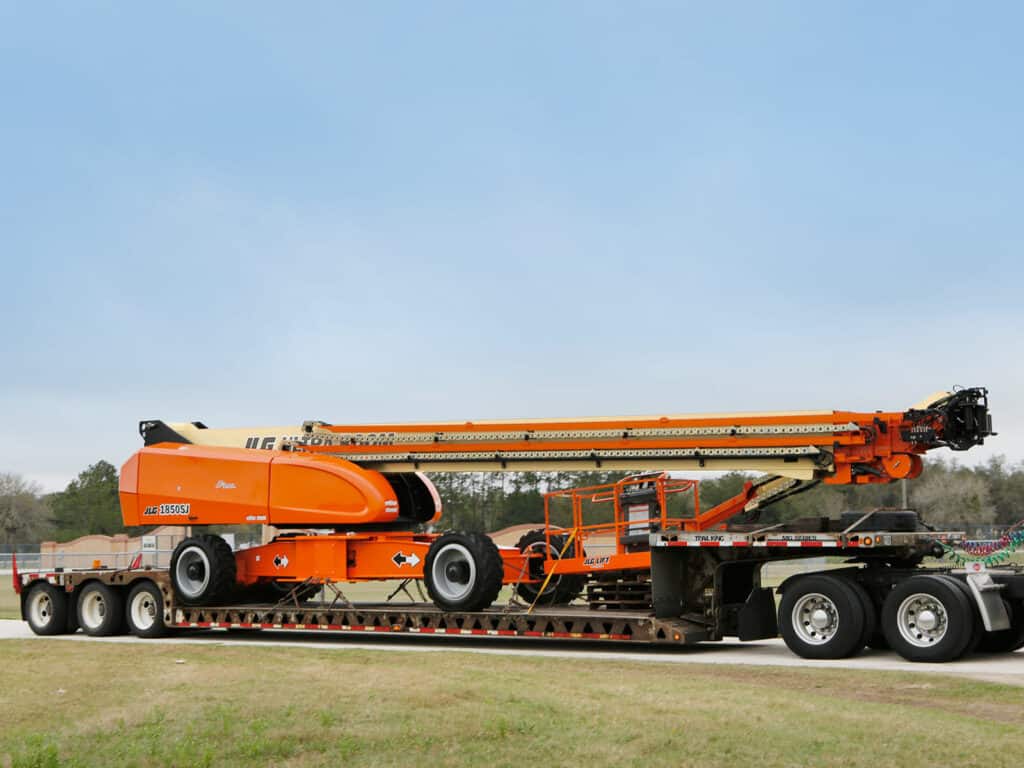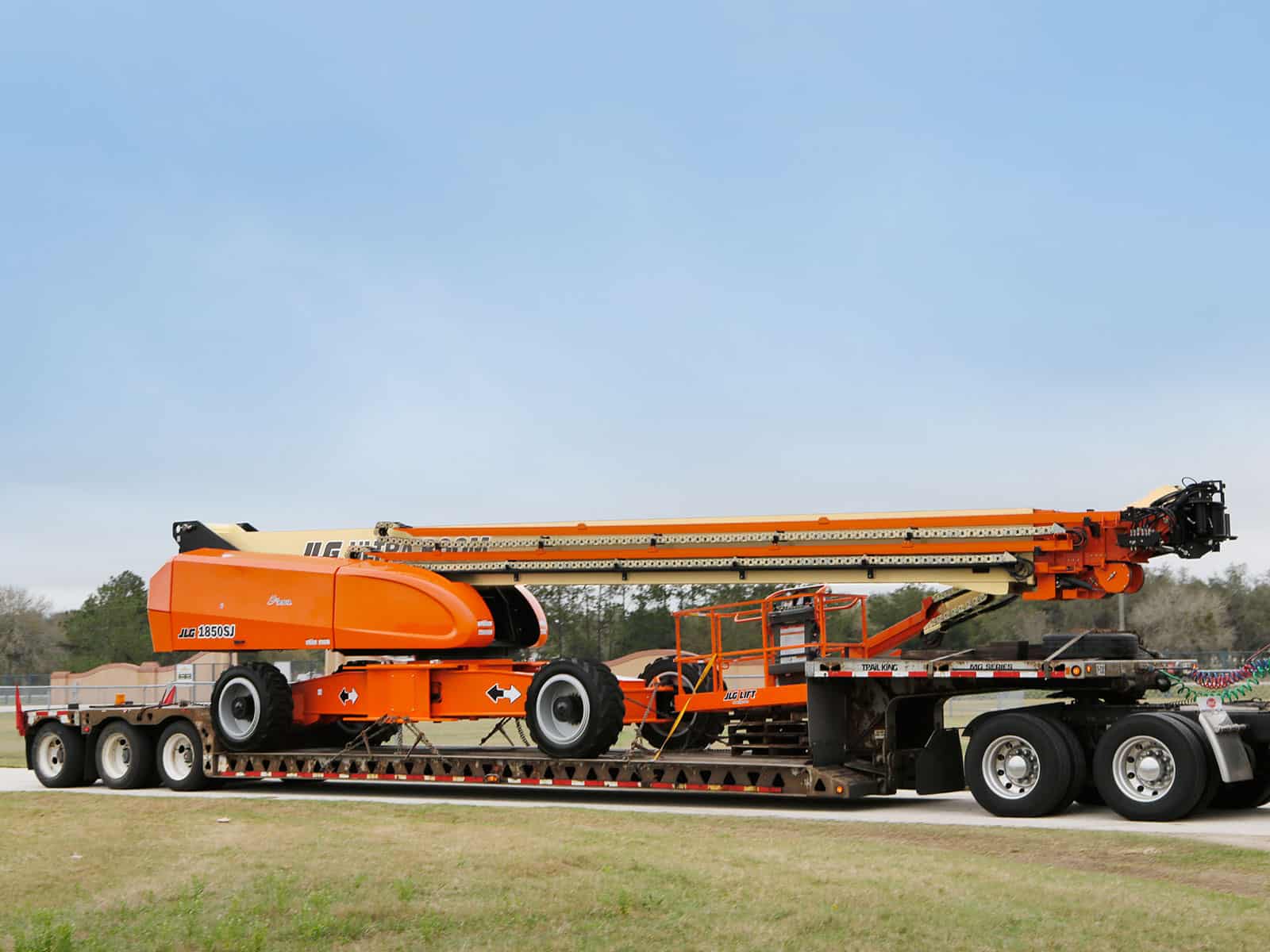 Needless to say, boom lifts aren't pieces of equipment you can really drive on the road. Their awkward shape doesn't help them out when navigating streets or highways.
Boom lifts aren't the most complicated piece of equipment to transport, but you shouldn't underestimate the specialized knowledge needed for boom lift transport. Boom lifts come in different dimensions and weights, which require specific trailers to transport them.
Since boom lifts are pretty durable, they are far less likely to suffer damage from open-air transport. Typically, you'll want to use a step deck, flatbed, Removable gooseneck (RGN), or another type of open trailer.
Flatbed trailers tend to be a cheaper alternative to an RGN and step deck trailer. This option works well if you're loading your boom lift onto a dock.
An RGN trailer is another good option. You could potentially save some money by transporting multiple boom lifts on one RGN trailer.
A step deck trailer tends to be the best option for taller boom lifts. The featured ramp on a step deck trailer is also helpful during the loading process.
Cost of Transporting a Boom Lift
The price for boom lift transportation will vary depending on the type of boom lift shipping, time of year, and the equipment we'll need to transport your boom lift.
A freight estimator can be a helpful way to save time by figuring out costs. Typically, you'll provide your machine specs and diagrams to get an estimate.
Why choose VeriTread?
At VeriTread, we'll work with you to meet your boom-lift transportation needs. We are here to ensure your boom lift arrives at its next job site in a safe and timely manner.
VeriTread knows what it takes to transport boom lifts on a local and national level. We are industry veterans dedicated to improving the boom lift transportation process.
Please feel free to contact us online or call (800) 880-0468 or (863) 226-0903 for international calls.