March 1, 2023
Boat Transport
When transporting a boat of any kind it is important to know what is needed in order to get the boat in and out of the water at both marinas, as well as if escorts, permits or additional insurance is required for road transportation. Working with an experienced carrier who has successfully transported your type of boat is a great way to start.
How to Transport a Sailboat

Loading a sailboat takes time. The sailboat mast needs to be removed and partially disassembled, properly resting in its cradle. It is best to disassemble one piece at a time, coil it, and mark where it came from, which makes it easier and quicker when reassembling it.
You need to remove the spreaders and store them below, and you need to bring the halyards uptight and coil them at the mast's base. All winches, etc. and electronic antennas need to be removed as they are delicate and do not travel well. To keep your mast, winches, and sheaves clean and dirt free, wrap them in cellophane.
Anchors ina bow roller need to be removed and stowed. When getting ready for a sailboat transport unfortunately there is additional work that needs to be done after your boat is hauled out, compared to a powerboat. All lights, winches, wind indicators, and rigging must be removed from the mast and carpet provided for the mast's tie down points, although you should expect chafing at these points, and if the mast is painted, it is nearly impossible to prevent the paint from chafing.
Make sure you are working with an experienced carrier who has transported sailboats before!
How to Transport a Houseboat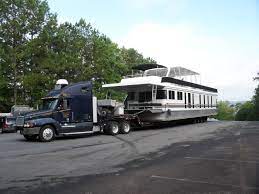 How easy it is to transport a houseboat really depends on the size. Smaller houseboats are relatively easy to take in and out of the water and it can often be done by just using a trailer but houseboats that are larger are virtually impossible to get in and out of the water without a considerable operation and a lot of expenses.
Make sure that your houseboat has the necessary license and the trailer for transportation. Adequate Insurance is necessary in order to be compensated in case of damage or loss.
Choose the right marina to begin and end the shipment, since you'll most likely need a travel lift or hydraulic trailer to load, and unload, the houseboat. Loose gear, anchors, and any other items should be securely stowed. Dinghy and PWC should not be left in their davits, but stored on board. Drain water and fuel tanks to a minimum, and remember to winterize for transport. Lock hatches, doors, and windows, to eliminate water damage & theft. Disconnect batteries, as so to protect against equipment damage.
How to Transport a Yacht
A yacht generally describes a boat that is larger than 14 feet wide, 14 feet tall and is around or over 40,000 pounds in weight.There are times when a state will put additional restrictions on their permits. These are usually due to road construction and/or the time of year move is scheduled for.
There are times when it is necessary to remove the flybridge or radar arch to reduce the overall height when preparing for your Yacht Transportation. Overall height is one of our major concerns when transporting a powerboat. Reducing the height of the boat when loaded on the transport trailer not only makes it safer but can also greatly lower the costs of the transport. You would be amazed at what the difference a few inches in height can do in reducing the overall costs of your Yacht Shipping.
Let VeriTread Help with your Boat Transport!
VeriTread makes it easy to get reliable freight quotes from the experts in equipment transport. VeriTread moves thousands of machines every year and can quickly generate a reliable quote on the go. Our extensive specs and dimensions database of 60,000+ items, ensures you spend less time researching and more time putting your equipment to work. The VeriTread Shipper quote process is the simplest way to connect with a carrier to help with your boat transport. Follow these easy steps and you will receive a quote in under one minute:
• Verify or Edit Your Boat Dimensions
• Enter Pickup & Drop Off Locations
• Your Quote is Ready!
Getting started with VeriTread is easy.
You can visit our contact form or call (800) 880-0468.